Straw Pellet Mill
---
Straw pellet mill is also called wood pellet machine and biomass pellet mill. The straw pellet mill can use mechanical pressure to press the loose crushed straw into compact and solid straw pellets. The pressed straw pellets are small in size, high in density, easy to store and transport, and can be used for burning, animal food, pet bedding and so on.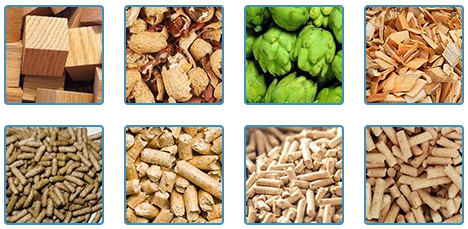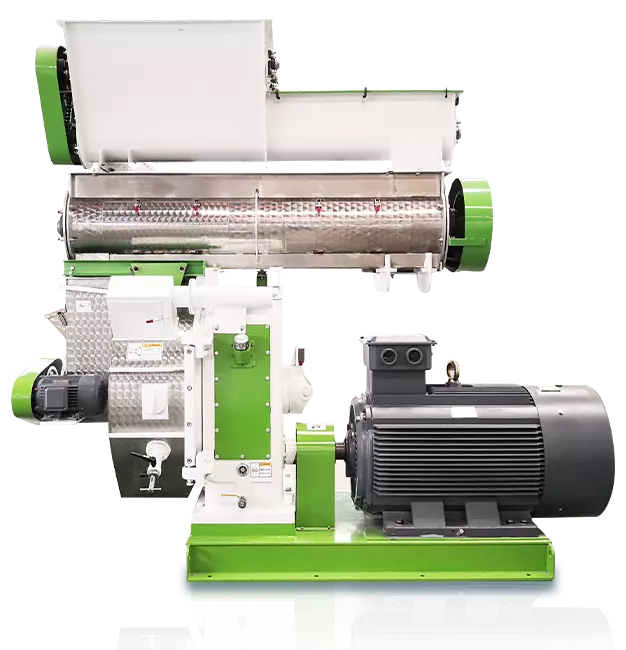 Video of straw pellet mill
This video shows RICHI Machinery's straw pellet machine, which is manufactured according to the characteristics of straw with advanced technology.
The straw pellet mill is capable of processing straw, corn stalks, wheat straw, rice straw, grass straw and other agricultural waste biomass raw materials into high-efficiency, environmentally friendly biomass pellets. Straw pellet machine is applicable and widely used.Using a straw pellet machine to make straw pellets not only promotes the development of rural economy, but also helps to protect the environment, choosing to invest in straw pellet business is a profitable choice.
If you are a farmer, animal farmer, or want to start a biomass pellet plant, it is highly recommended that you choose this straw pellet press to bring more opportunities and possibilities for your business.
RICHI Machinery is an expert in feed, wood, biomass, and organic fertilizer pelletizing solutions, we design every pellet production line according to customers' needs. We have provided thousands of customers from 127 countries with complete pelletizing projects. If you have any pelletizing needs, just send an inquiry to us.

how does straw pellet mill work?
---
To know how the rice straw pellet making machine works, you first need to know the main components of the machine is. Rice straw pellet making machine is a kind of biomass pellet machine, which is mainly composed of feeder, conditioner, pelletizing chamber, motor and so on. First of all, the crushed material through manual feeding or machine feeding into the pellet machine feeder, after the conditioner conditioning treatment into the pelletizing room, the material in the pelletizing room is compressed and extruded into compact straw pellets. The pelletizing chamber mainly relies on the two main pelletizing parts, the ring die and pressure roller, the compressed straw particles have high density and small volume, which is convenient for storing and transporting.
RICHI straw pellet press adopts the electric control system for regulation and control, which saves time and labor, the user only needs to put the crushed straw into the straw pellet mill feeder, and then the straw pellets which are smooth in performance, compact inside and even in size come out from the machine's discharge port!
Advantages of straw pellet machine
Highly practical, it can convert biomass waste such as crop straw into high-efficiency and high-value biomass pellets.
The produced straw pellets can replace the traditional energy sources such as coal and wood, which is good for environmental protection. In addition, straw pellets can also be used as animal feed, pet pads and so on.
The pelletizing process of straw pellet mill does not need to add any chemical substances, simple operation, and will not cause pollution to the environment.
High degree of automation, just put the crushed materials into the feeder, the machine will automatically run to produce high quality straw pellets.
Multi-functionality, not only can be used in biomass pellet plant to produce fuel pellets, but also widely used in processing animal feed, organic fertilizer and other fields.
Simple structure, easy to operate, long service life, high economic efficiency.
The straw pellets generated through high temperature and high pressure have high degree of maturity, easy to digest and absorb, increase the palatability of cattle and sheep and other ruminants, and have high utilization rate of feed.
Humanized design, small size, low noise, low maintenance, equipped with safety pins, can effectively prevent the machine overload caused by the damage to the machine
Factory direct sales, cheap price, and can be customized according to the specific needs of customers!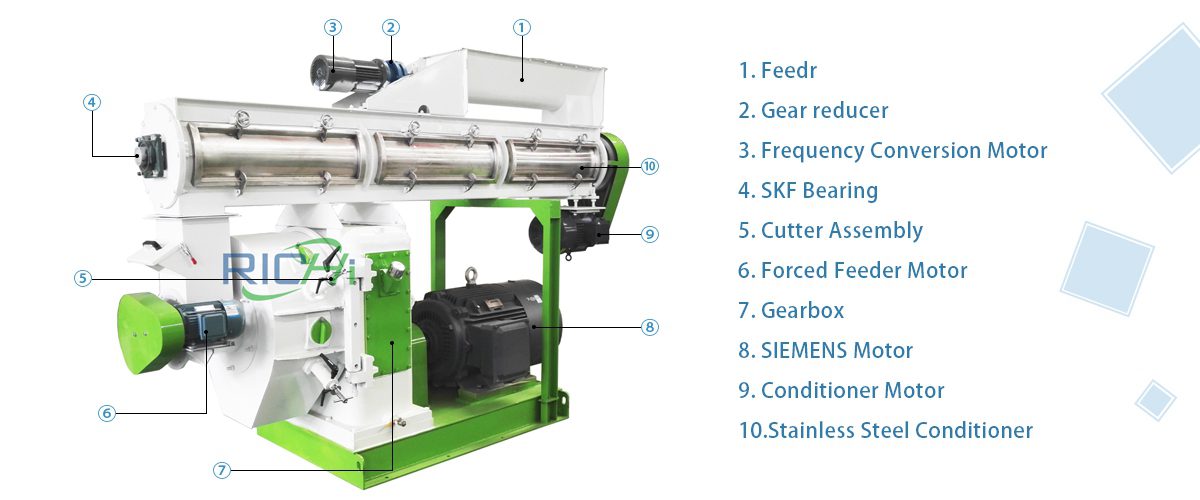 High quality straw pellet press make high-quality straw pellets
Choose reliable straw pellets machine manufacturers
RICHI provides straw pellet mill for various production capacities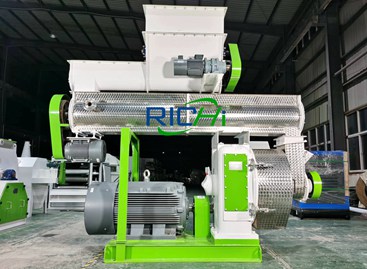 MZLH320 Straw Pellet machine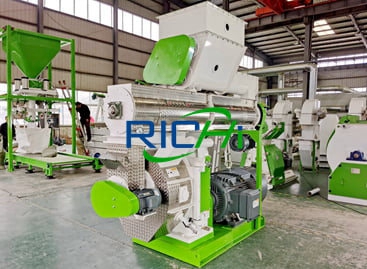 MZLH350 rice straw pellet making machine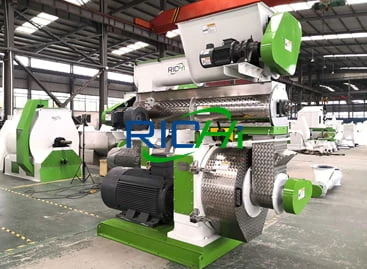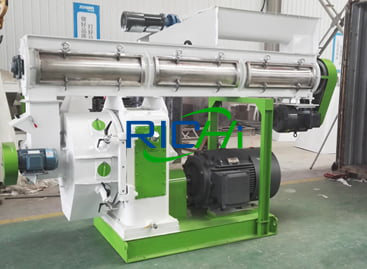 MZLH520 straw pellet press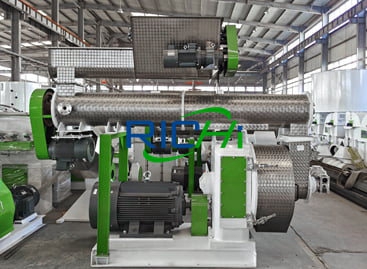 MZLH768 straw pellet mill for sale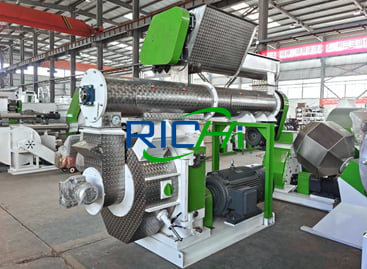 MZLH858 Straw Pellet mill
Specific parameters are as follows:
Model
MZLH320
MZLH350
MZLH420
MZLH520
MZLH768
MZLH858
Capacity(T/H)
0.6-0.8
0.8-1.0
1.5-2.0
3.0-4.0
5.0-7.0
8.0-10
Main Motor
Power(kw)
37
55
110
132
250
280
Main Motor Series
6/8P
Ring Die Diameter (mm)
320
350
420
520
762
858
Pellet Length(mm)
6-12
(Note: RICHI Machinery's products are always updated and improved. Therefore, if there is any difference between the pictures, feature descriptions and performance parameters of the actual model, please refer to the actual product.)
What are straw pellets?
Straw pellets are pellet-shaped products made from corn stalks, wheat straw, rice straw, rice husk, peanut shells and other crop wastes that are pressed at high temperatures in a straw pellet mill. Straw mainly refers to the rhizome of oat plant, which is the residue left after harvesting grain. In the traditional cognition, people think that straw is a waste without any value, how to deal with straw is a problem for people. If it is burned directly, it will emit carbon dioxide and other harmful substances that are not good for the environment.
Now people have found a way to utilize straw efficiently and turn straw into treasure, that is to make straw into high-efficiency, environmentally friendly biomass pellets. Biomass straw pellet is a kind of pressed pellet, with the advantages of renewable, low pollution, economic, clean, easy to use and transportation. Straw has a high calorific value and can be used as fuel, in addition, it can also be used as livestock feed or horse bedding, etc. Moreover, it is very easy to make straw pellets, only need the above mentioned straw pellet machine to produce smooth and dense straw pellets.

What are straw pellets used for?
There are two common use of straw pellets, one is as biomass fuel for combustion and the other is as animal feed.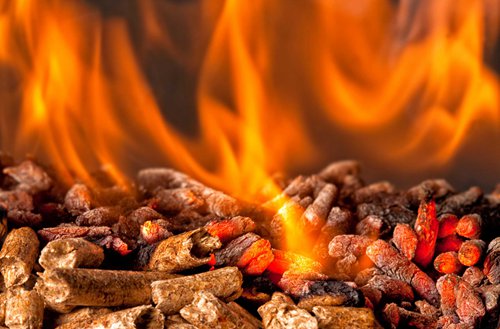 Straw pellets as fuel
As a biomass fuel, straw pellets have high combustion density and high calorific value, and can be used to replace coal for home heating or for power generation in enterprises. Straw itself can be used as fuel, but direct combustion of straw is not only low calorific value, large footprint, but also cause pollution to the environment. The straw pellet machine made of straw particles resistant to combustion and environmental protection, can improve people's living environment, make full use of agricultural and forestry waste, a win-win situation.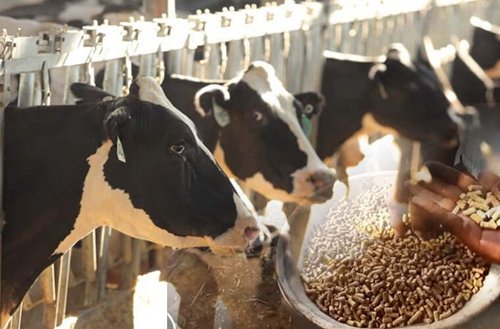 Straw pellets as feed
Straw pellets can be used as feed for poultry and livestock, for farms and so on. Some data show that corn stover contains more than 30% of carbohydrates, 2%-4% of protein and 0.5%-1% of fat, which can provide sufficient nutrients for animals.For ruminants such as cows and sheep, 2kg of corn stover can be equivalent to 1kg of corn kernels, using straw pellets as feed can alleviate the problem of resource scarcity and solve the problem of "animal and human competition for food".
In addition, straw pellets can also be used as animal bedding, such as horse bedding, cat litter and so on. In short, straw pellets have many uses and high practical value, make your straw pellets quickly! I will briefly introduce how to make straw pellets.
How to make straw pellets?
Here I take straw pellet plant production process to briefly introduce how to make straw pellets.
Straw pellet plant production process is generally: raw material reception and storage, crushing, drying, pelletizing, cooling, packaging of finished products.
Commonly used straw pellet processing equipment are: straw crusher, drying cylinder, straw granulator, cooling machine, baler, conveying equipment and other auxiliary equipment.
The production capacity of straw pellet plant is between 0.5-40T/H, which can be customized according to customers' needs. The pellet production line can be used to process raw materials such as corn stover, soybean meal, grass, straw stalks, wheat bran, etc. It is suitable for use in biomass pellet production lines of various sizes.

01

Preparation of raw materials
First of all, collect sufficient raw materials according to local conditions. Raw materials should be cleaned before entering the pulverizer, that is to say, decontamination, which can ensure the machine is free from the damage of impurities. In addition, if your raw material is a large size of corn stalks, you also need to use the slicer for slicing, and then enter the crushing section.
02

Crushing system
After processing the raw materials through the conveying equipment into the bin to be crushed, where the general use of straw crusher, the raw material will be crushed to 2-3mm powder. This can ensure that the pelletizing effect of the granulator, but also to improve the calorific value of straw particles, to ensure that the straw particles can be fully combusted later.
03

drying section
The most critical technology for processing straw pellets is to adjust and control the moisture content of straw. It is necessary to measure the moisture content of the raw material first, and then dry the straw to the moisture content required for processing. According to the estimation, the most suitable moisture content of raw materials for processing straw pellets is around 15%. If the moisture content of your raw material is too high, it will affect the pelletizing effect, and the pellet burning effect is not good, so it is recommended that you can use the dryer to dry the raw material.
04

Pelletizing section
After drying, the material enters into the granulation section. The material is subjected to high temperature and high pressure in the pelletizing process, and is extruded from the die hole under the extrusion of pressure rollers and ring dies. RICHI Machinery straw pellet mill is customized by combining the characteristics of straw, and is equipped with arch-breaking silo and mandatory feeder, which prevents the material from arching and ensures that the material can enter the pelleting chamber to complete the pelleting process smoothly. If you have pelletizing needs, this is the pelletizer for you.
05

Cooling and packing system
The straw pellets extruded from the mold hole have high temperature and high humidity, which are easy to break. It is necessary to use cooling machine to cool the straw pellets to room temperature before baling. The cooled straw pellets can be baled and weighed and bagged according to your requirements.

Why choose RICHI Machinery?
Devoted to the pellet machinery industry for 27years
All products have passed ISO, CE, SGS, BV, and other international certifications.
Have a perfect sales system and a complete service network
Can customize a turnkey pellet production line project according to your need.
Project cases related to straw pellet mill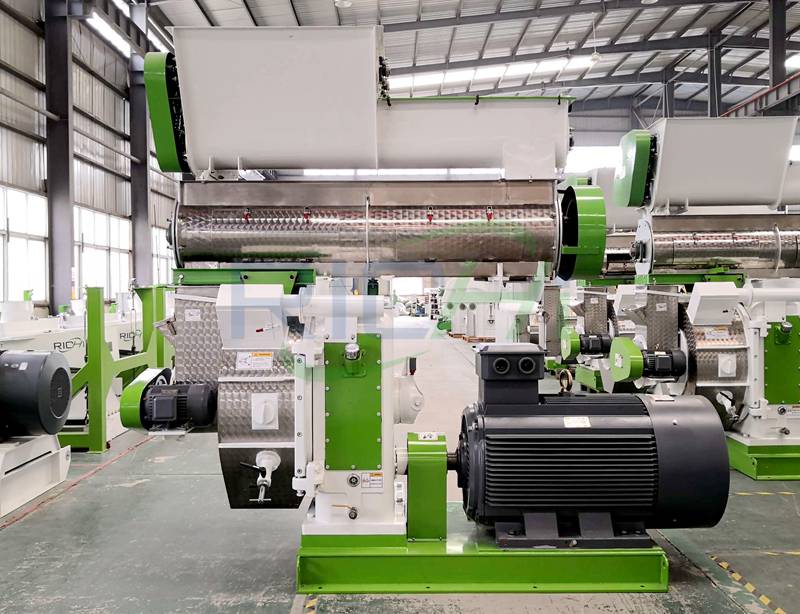 straw pellet mill for sale Germany
Countruy: Germany
Date: January 6, 2020
Capacity: 1-2T/H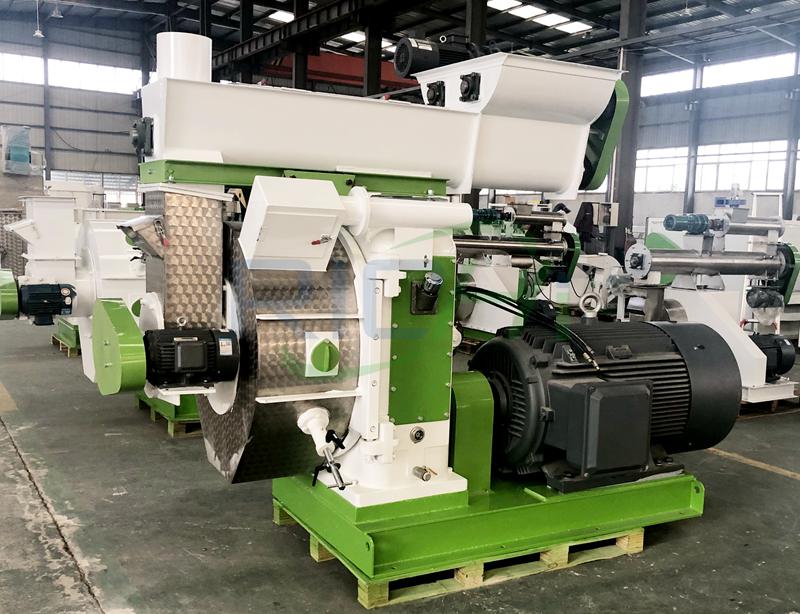 straw pellet machine for sale Uzbekistan
Countruy: Uzbekistan
Date: November 28, 2019
Capacity: 600-800kg/h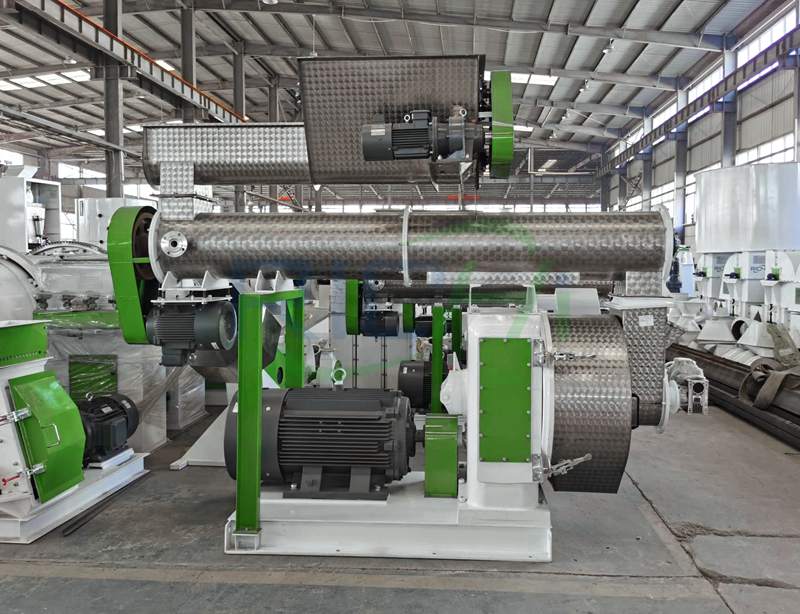 straw pellet mill for sale Mexico
Countruy: Mexico
Date: April 20, 2021
Capacity: 3-4t/h
FAQ of straw pellet machine

how much does a straw pellet mill cost?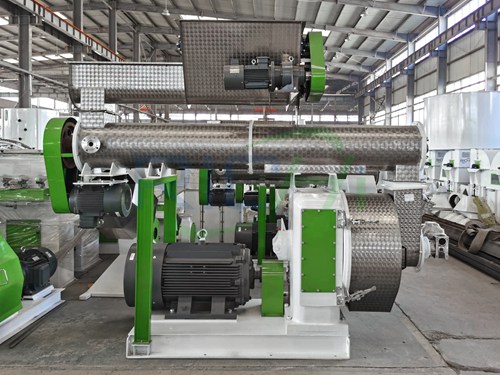 Generally the price of straw pellet mill is between $10,000-$50,000, the larger the output, the more expensive the pellet mill price will be.
Users want to be able to choose a cost-effective straw pellet mill equipment, but in the selection of granulator must not only focus on the price of the pelletizer, or buy back the low price of low-quality pelletizers not only make out of the poor quality of straw pellets, after-sales service is also not guaranteed, it seems that the price is preferential, but in fact, the loss caused by the loss should not be underestimated.
In order to avoid users being deceived, it is recommended that users choose a regular large-scale straw pellets machine manufacturers, you can go to a number of manufacturers on-site inspection, a comprehensive comparative consideration before making a decision.

What kind of raw materials can be pressed by straw pellet mill?
Straw pellet mill has wide applicability and can press a wide variety of crop raw materials and biomass raw materials. Here are some of the raw materials we summarize that the straw pellet mill can handle.
Corn stover, rapeseed straw, rice straw, soybean straw, wheat straw, cotton straw, rape straw and other agricultural straw waste.
Grain crops such as soybean meal, fishmeal, corn, wheat, bran, etc.
Biomass raw materials such as wood chips, pasture, rice husk, peanut shells, bamboo shavings, shavings, etc.

There are very many raw materials that can be processed by the rice straw pellet making machine, but what you need to pay attention to is the treatment of raw materials and sizes. If it is wood chips as raw material, it does not need to be crushed and dried, and can be put into the straw pelletizing machine for pelletizing directly after screening. But if the size of the larger humidity is high, then need to be crushed and dried.
Contact Address
Office Add: E-commerce Industrial Park, Zhengzhou City, Henan Province, China
Factory Add: Longhai 2nd Rd & 10th St, Longting District, Kaifeng City, Henan Province, China
Mail Address
enquiry@richipelletizer.com
Fax: 0086-371-63752859
Telephone
0086-158-37153047