Leaf Pellet Mill
---
RICHI leaf pellet mill is a kind of biomass pellet machine with high production capacity and low power consumption. It is designed for producing leaf pellets and other biomass pellets.
Capacity: 0.6-15T/H
Main power: 37-280KW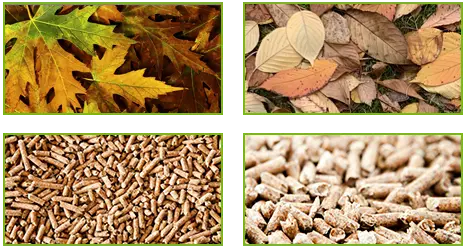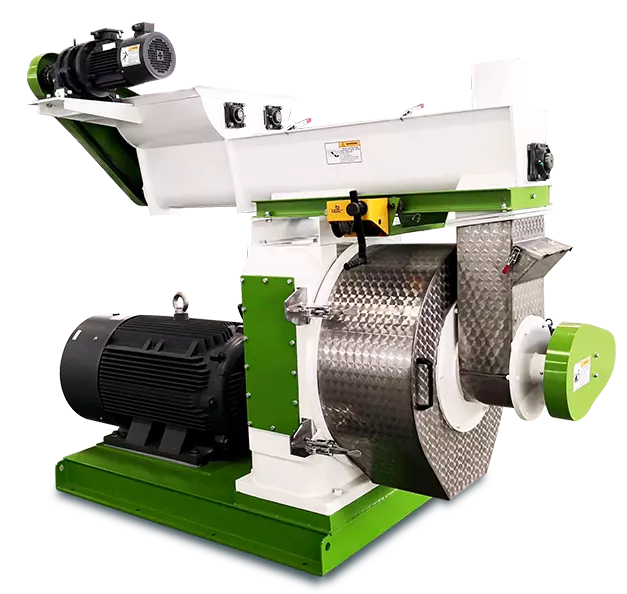 Video of leaf pellet mill
This video shows you how to make leaf pellets from leaves with a leaf pellet mill. Put the crushed leaves into the inside of the pelletizer and the pelletizer runs at high speed to produce high quality leaf pellets.
The leaf pellet maker converts seemingly useless leaves into biomass fuel pellets. These biomass pellets have a high density and combustion value as a fuel, which makes good use of the earth's resources and at the same time helps to protect the earth's environment.
Of course, the leaf pellet machine can be used to produce not only leaf pellets but also all kinds of biomass pellets, such as wood pellets, straw pellets, rice husk pellets, grass pellets, and so on.
RICHI Machinery is an expert in feed, wood, biomass, and organic fertilizer pelletizing solutions, we design every pellet production line according to customers' needs. We have provided thousands of customers from 127 countries with complete pelletizing projects. If you have any pelletizing needs, just send an inquiry to us.

High quality leaf pellet mill make high-quality leaf pellets
Choose a high quality leaf pellet maker
Various capacities of RICHI's leaf pellet mill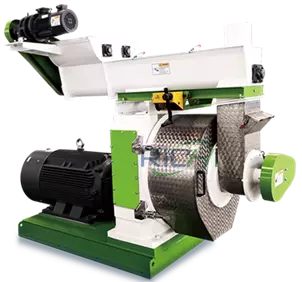 Leaf pellet machine is one kind of biomass pellet machine, which can process all kinds of biomass raw materials. Such as straw, rice straw, trees, rice husk and so on. Leaf pellet mill can be divided into ring die pellet mill and flat die pellet mill.
Generally speaking, flat die pellet mill has low output and is more suitable for small farmers and individual production, while ring die pellet mill has large pressing force, high output and low energy consumption, which is more suitable for large-scale production of leaf pellets.
RICHI MZLH leaf pellet mill adopts advanced pelletizing process and stainless steel ring die design. There are many models to choose from, and in addition to the models listed below, we can also customize your pellet mill according to your needs. In addition, we can also customize the design of the production line process for you, to provide you with the entire line of granulation equipment.
Below are the specific models of our pelletizers and the parameter table.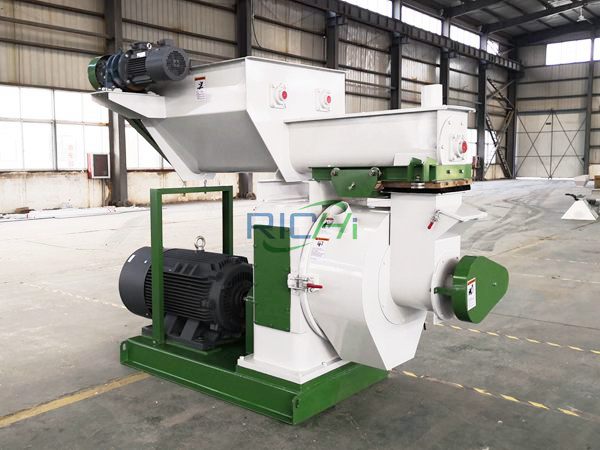 MZLH320 leaf pellet maker
The leaf pellet maker is designed for making various biomass fuel pellets.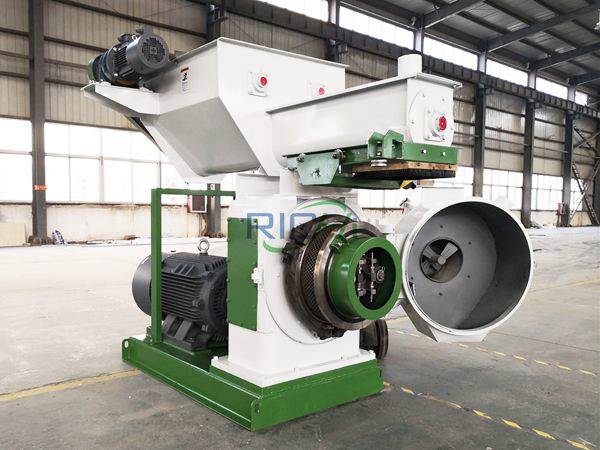 MZLH350 leaf pellet mill
The leaf pellet mill is based on the ring die type, long working service time.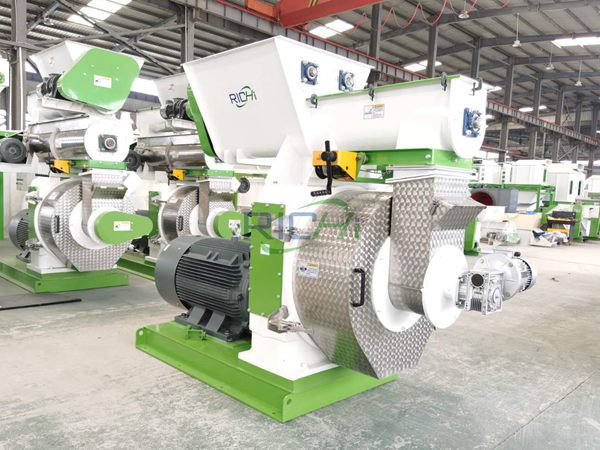 MZLH420 leaf pellet machine
The leaf pellet machine has a wide application, can be used in biomass pellet line for various capacity.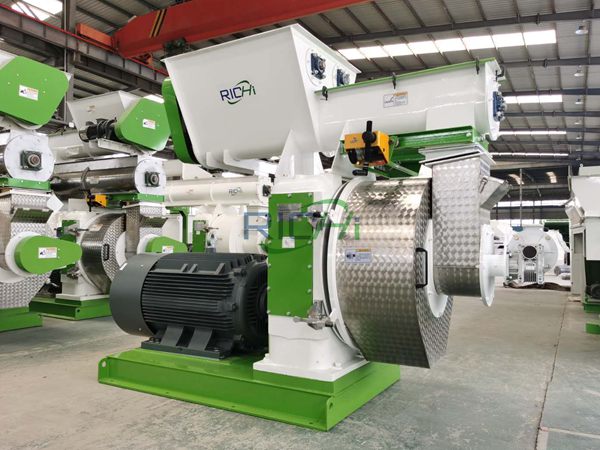 MZLH520 leaf pelletizer
The machine is well loved by our customers due to its high capacity and easy operation.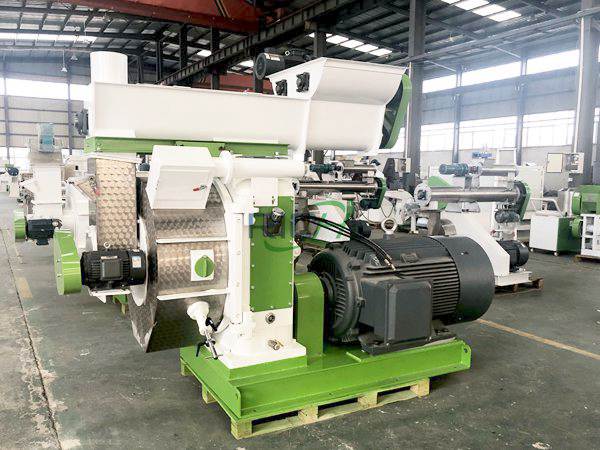 MZLH768 leaf pellet making machine
The leaf pellet making machine adopts gear rotation with higher output than belt type.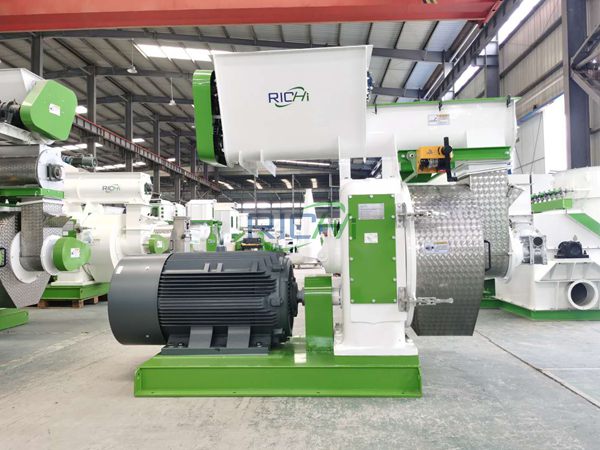 MZLH858 leaf pellet mill
The large-capacity leaf pellet mill is always used in large scale biomass pellet production line.
Specific parameters of RICHI leaf pellet mill are as follows:
Model
MZLH320
MZLH350
MZLH420
MZLH520
MZLH768
MZLH858
Capacity(T/H)
0.3-0.4
0.5-0.7
1.0-1.2
2.0-2.5
2.5-4.0
3.0-4.5
Anti-caking
Feeder Power(kw)
1.5
1.5
1.5
2.2
3
3
Forced
Feeder Power(kw)
0.55
0.55
0.55
0.75
1
1
Main Motor
Power(kw)
37
55
110
160
250
280
Weight(KG)
2500
3500
4000
4500
5000
5500
Main Motor Series
6/8P
Ring Die Diameter (mm)
320
350
420
520
762
858
Pellet Length(mm)
6-12
(Note: RICHI Machinery's products are always updated and improved. Therefore, if there is any difference between the pictures, feature descriptions and performance parameters of the actual model, please refer to the actual product.)

Why Make Leaf pellets
---
It compresses the volume, saves storage space and is easy to transport, reducing transportation costs.
High combustion efficiency, easy to burn out, less residual carbon, saving energy
Easy to environmental protection, combustion does not produce sulfur dioxide and carbon pentoxide and other harmful gases, with environmental benefits.
Economical and reasonable, wide range of use
High density, small size, convenient storage and transportation;
Combustion resistance, full combustion, no sulfur and phosphorus, will not corrode the stove, no odor, can replace coal use;
Clean and hygienic, the ashes after burning can also be used as organic fertilizer
The combustion process does not produce harmful gases to the environment
What is the process of making pellets from leaves?
The process of making pellets from leaves mainly includes: crushing, drying, pelletizing, cooling, and packing.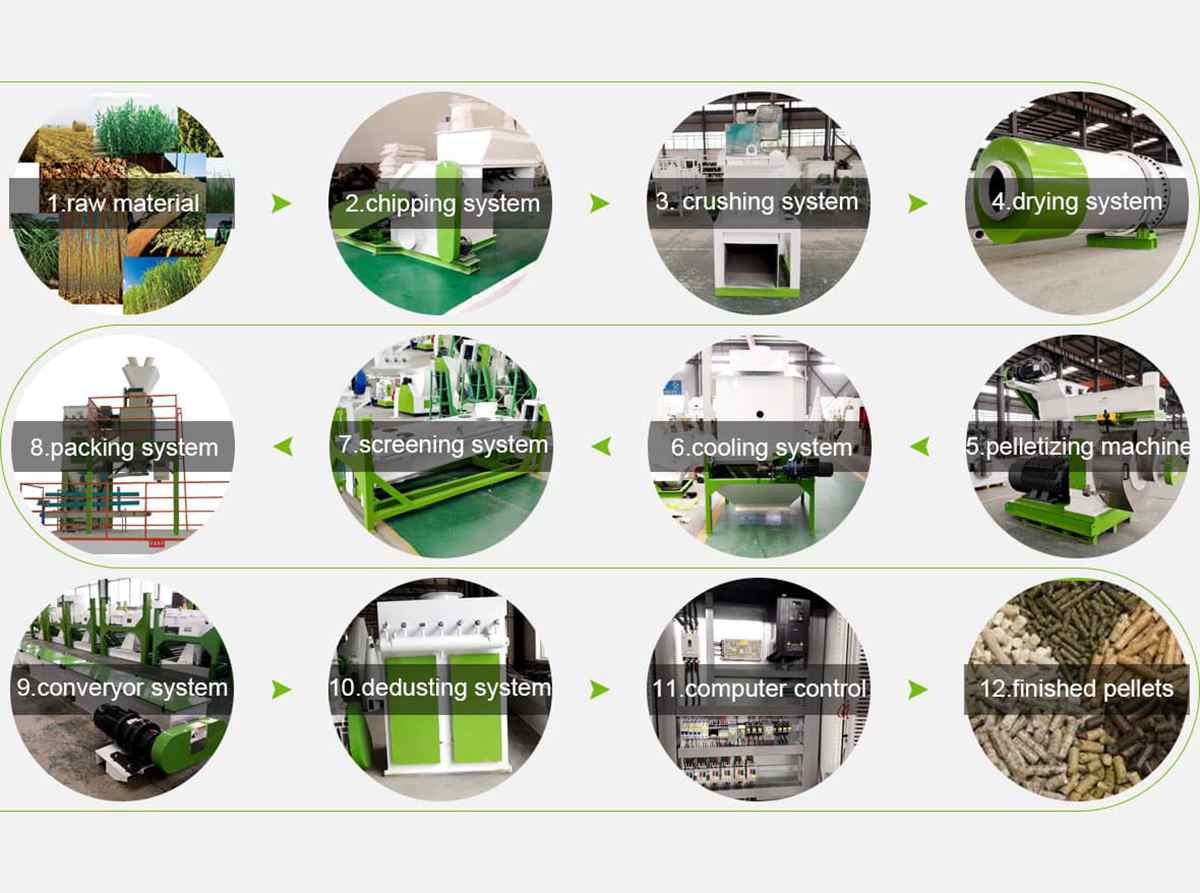 01

Crushing process: leaf crushing machine
First of all, the collected leaves are generally large and not suitable for immediate pelletizing. Because the leaf pellet mill has strict requirements on the size of the raw material, it is generally necessary to crush the raw material to 2-3mm of the powder before it can enter the pelletizing chamber for pelletizing.
02

Drying process: leaf dryer
Fresh leaves are moist and have a high water content. Older leaves are dry and have a low water content. However, the water content is too high or too low to be suitable for granulation, so the leaves need to be dried or moistened with water. This also depends on the specific conditions of your raw materials.
03

Pelletizing process: leaf pellet mill
The leaf fragments of appropriate size and moisture content are put into the feeder, and the material passes through the feeder to the conditioner for heating and conditioning. Because the leaves are relatively light and cannot naturally enter the pelletizing chamber, we have a forced feeder on the outside of the pelletizing chamber, which helps the leaves to enter the inside of the pelletizing chamber smoothly and complete the pelleting section. The process of producing pellets in the granulation chamber is mainly that the material is gradually extruded from the die hole under the extrusion of the ring die and the press roll, and then the cutting device is used to reach the ideal length.
04

Cooling process: Leaf pellet cooling machine
After the completion of the pelletizing process, the packaging bag can not be immediately carried out. Because leaf particles undergo high temperature and pressure in the production process, the temperature of leaf pellets is relatively high, and the surface of leaf pellet is easy to be damaged at this time, and direct storage will lead to deterioration. So you need to use a cooling machine to cool the leaf pellets to about room temperature before packaging.
05

Packaging process: leaf pellet packing machine
After cooling, the leaf pellets have a smooth surface and a compact interior, which can be packaged and stored directly. How you package depends on your output, and your production needs. Most customers choose automatic packing machines for large packaging bags, saving time and effort and high efficiency.


Why choose RICHI Machinery?
Devoted to the pellet machinery industry for 27years
All products have passed ISO, CE, SGS, BV, and other international certifications.
Have a perfect sales system and a complete service network
Can customize a turnkey pellet production line project according to your need.
Project cases related to leaf pellet mill
Leaf pellet mills are commonly used in biomass pellet production lines, if you want to know more about the projects RICHI Machinery has undertaken, you can see project cases.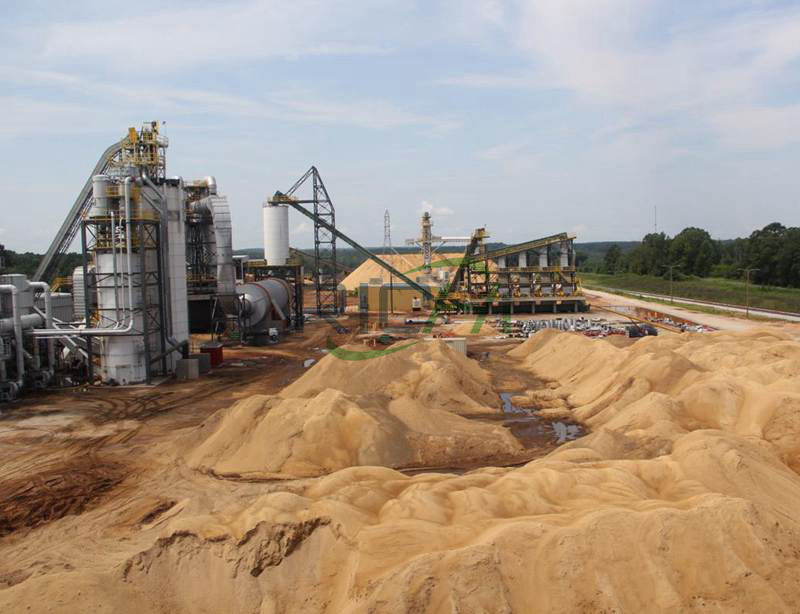 1-2T/H biomass pelletizing line project in Brazil
Country:Brazil
Date:2017
Total Power:227kw
Workshop size about this project: 19m*16m*15m (L*W*H)
Main Machines in this complete line: crushing machine, leaf pellet machine, new technology rotary dryer,packing machine and other auxiliary equipment.
Customer's Final Pellet Size: 6-8mm
The install period: 30 Days
Number of installation engineers assisted by our company: 2 person
The operate worker in this line: 3-4 person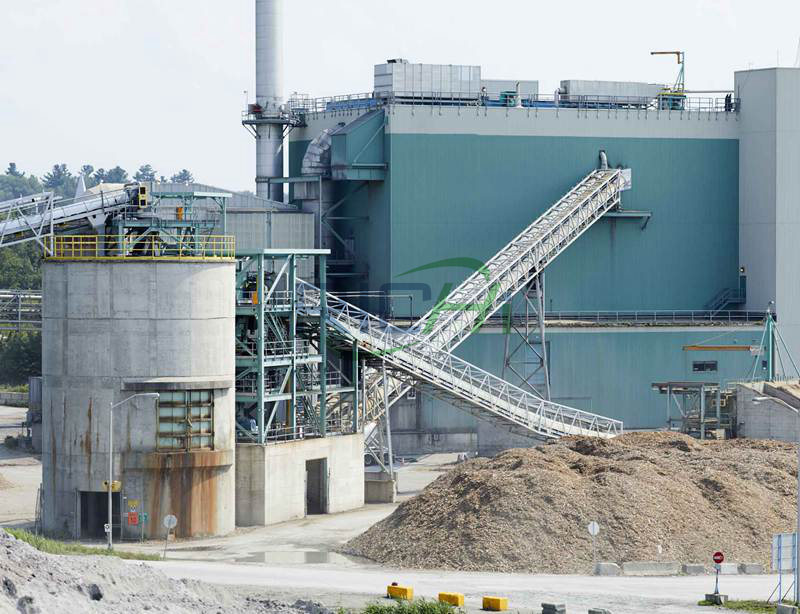 2-2.5 T/H biomass pellet production line project
Country: Australia
Date: May 2021
Capacity: 2-2.5T/H
Total Power: 173KW
Workshop size about this project: 13M*16M*22M (L*W*H)
Main Machines in this complete line: ring die leaf pellet mill, crusher machine, cooling machine, vibrating screener machine, and etc
Guiding Price: $50000-$80000
The install period: 45 days
Number of installation engineers assisted by our company:1 person
The operate worker in this line:3-4 person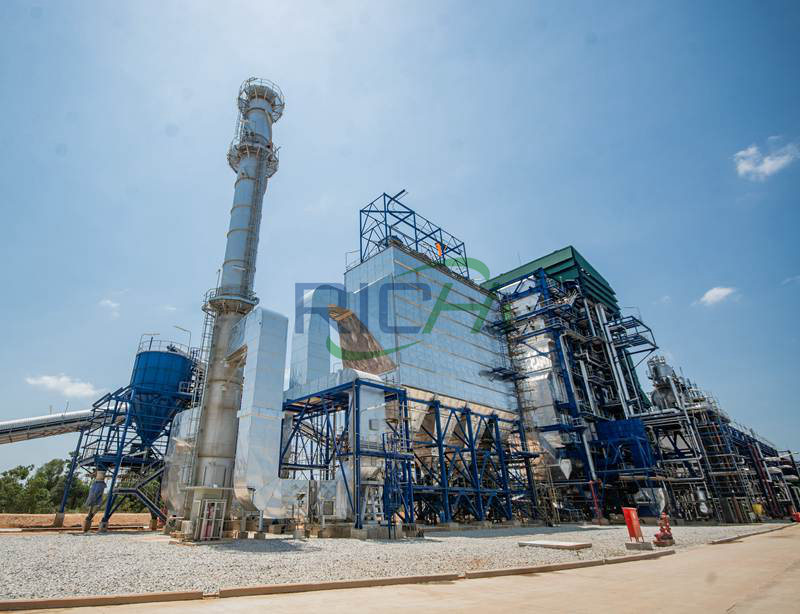 2-3T/H Automatic Biomass Pellet Line In Canada
Country:Canada
Date: Aug 00th,2018
Name: Biomass Pellet Line
Capacity: 2-3T/H
Total Power: 385KW
Workshop size about this project: 26m*20m*12m(L*W*H)
Main Machines in this complete line: crusher machine, drying machine, storage bin, leaf pellet maker, counterflow cooling machine, packing machine and other auxiliary equipment.
Customer's Final Pellet Size: 6-12mm
The install period: 60 Days
Number of installation engineers assisted by our company:1 person
The operate worker in this line:5-6 person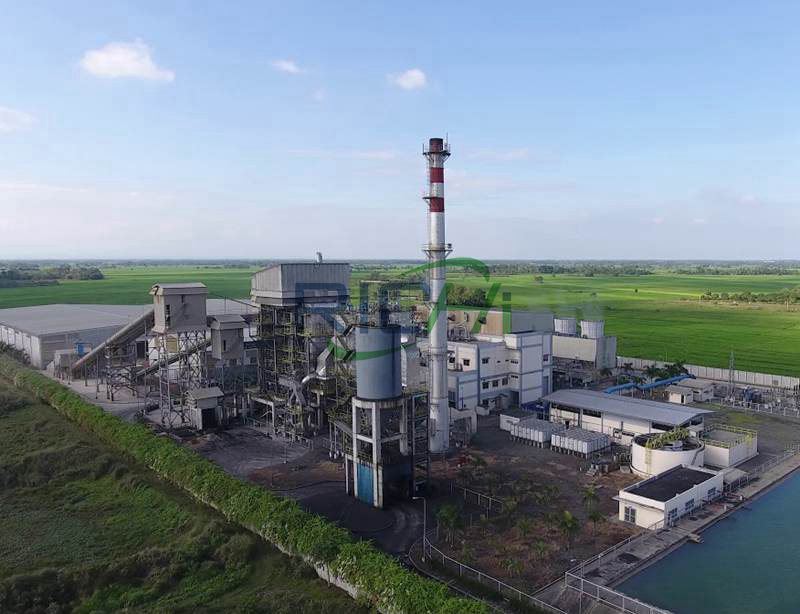 20 T/H biomass pellet production plant project in China
Country:Hainan Province, China
Date: 2017
Name: Wood waste pellet making plant
Capacity: 20T/H
Total Power:1458 KW
Workshop size about this project: 50861.6m²
Main Machines in this complete line: Industrial leaf pelletizer, wood hammer mill, high efficiency rotary dryer , , drum pellet cleaner, belt conveyors, control cabinet, counterflow cooler for biomass pellet plant, vibrating grading screener, automatic packaging scale, etc.
Main Raw materials: branches, leaves, shavings, sawdust, urban waste wood, etc
The install period: 8 months
The operate worker in this line:12

CUSTOM SOLUTIONS
—— GET A QUOTE ——
Accurate control of cost accounting, scientific calculation of expected profits, to achieve cost reduction and efficiency, profit can be expected.From equipment selection and program planning in the early stage
Quality Test Before Delivery
FAQ about the Leaf pellet mill

Three problems that need to be paid attention to when the leaf pellet machine produces fuel
Leaf pellet machine uses leaves, sawdust, straw and other new biomass energy sources to produce fuel pellets that can replace coal, making a significant contribution to the cause of environmental protection and energy. Leaf pellet machine needs to pay attention to the following three problems when producing fuel:
Storage of raw materials
To pay attention to the storage of raw materials, it is best to stack upright, the middle should have a certain stacking distance, to facilitate the evaporation of water within the leaves, need to be often exposed to the sun, to prevent the occurrence of mold.
Quality of leaves
Freshly harvested leaves have more moisture content, stacked up easy to mold, so they should be separated to dry, keep ventilated and dry, and then stored. Leaf pellet machine also has requirements for the moisture content of the leaves, to do a good job of moisture control, moisture content of about 17% when the success rate is higher.
Processing and pressing
Before feeding the machine should be test run to see whether the parts parts are normal, and deal with irregularities in a timely manner, and the feeding should be uniform, to ensure that the straw pellet machine is working. Because the fresh output of leaf pellets is relatively hot, so it should be dried before storage and packaging factory.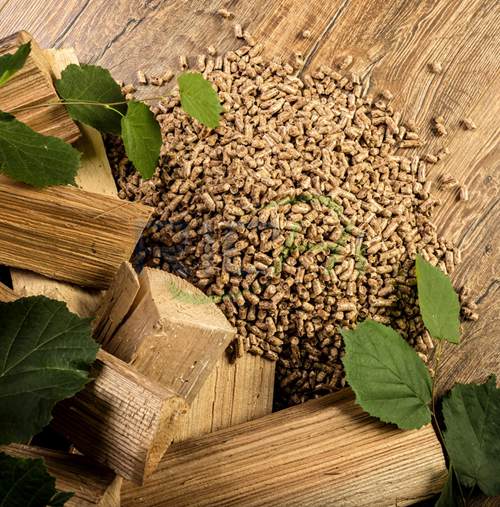 Leaf pellet mill solves the problem of leaf surplus, so that it turns waste into treasure, its own superior technical performance, by the majority of users, deal with the above three problems, make production easier.

how does leaf pellet mill work?
Leaf pellet mill mainly consists of stainless steel feeder equipped with anti-caking arch bin, tempering device, pelletizing chamber, Siemens motor, base and so on.
Its working principle is that the material is put into the feeder by manual feeding or conveying equipment, and the powdered leaves are put into the feeder.
The feeder adopts the frequency conversion speed regulator feeder, which can control and adjust the feeding amount and feeding speed according to your personal demand. Then the material enters into the pelletizing chamber through the feeder for pelletizing. Inside the pelletizing chamber, the main working parts are stainless steel ring die and pressure roller.
The material is mainly converted into leaf pellets by the continuous extrusion of the ring die and pressure rollers, and extruded out from the die holes. The pelletizing chamber is equipped with a cutter to cut the leaf pellets to the desired length.

how much does a leaf pellet mill cost?
Like most machines, the price of leaf pellet mill is mainly determined by the output of the machine. The larger the output the higher the configuration and of course the more expensive the machine. The price of a leaf pellet maker usually ranges from $10,000-$50,000. The specific price depends on the type of machine you want to choose to decide, if you want to get a detailed quote, you can leave your contact information, we will contact you within one business day to give you a quote.

Generally speaking, it is recommended that customers choose a machine model with a production capacity larger than their production needs, because in order to meet their production needs and at the same time avoid the wear and tear of the machine due to various reasons or raw materials resulting in inefficient discharge resulting in a reduction in production.
Contact Address
Office Add: E-commerce Industrial Park, Zhengzhou City, Henan Province, China
Factory Add: Longhai 2nd Rd & 10th St, Longting District, Kaifeng City, Henan Province, China
Mail Address
enquiry@richipelletizer.com
Fax: 0086-371-63752859
Telephone
0086-158-37153047