alfalfa Pellet Machine
---
Alfalfa pellet machine is a pelletizing equipment that can make alfalfa pellets for heating fuel and animal feed. If you are interested in joining alfalfa pellet making business, we strongly recommend RICHI Machinery, which is a professional biomass pellet machine manufacturer with nearly 30 years industry experience. We can not only sulpply you with high quality pelletizing equipment, but also can customize an alfalfa pellet plant for you according to your production needs.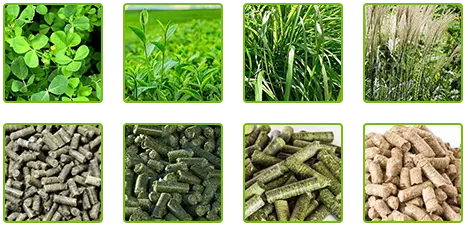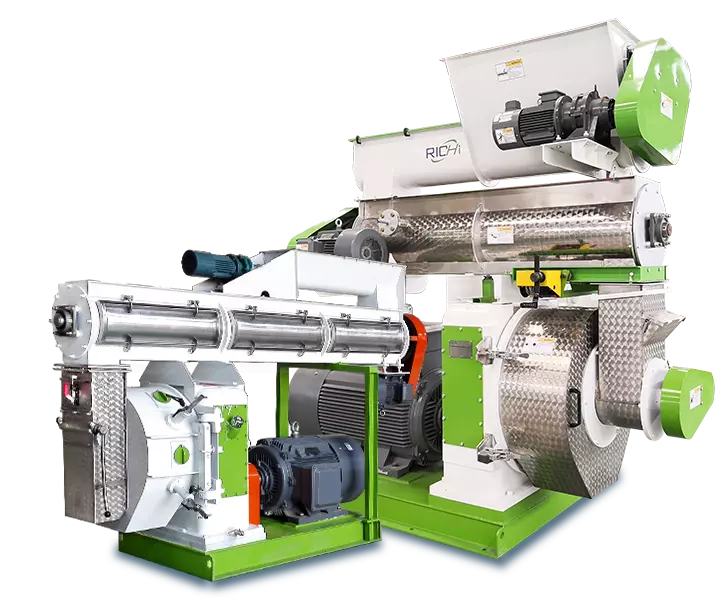 Video of alfalfa pelleting machine
This video shows you how to make alfalfa pellets and the details of an alfalfa pellet machine. Put the crushed alfalfa into the stainless steel feeder, then the alfalfa enters the pelletizing room and become alfalfa pellets automatically.
The alfalfa pellet machine adopts the most advanced technology, durable and stable. It can produce 2-12mm alfalfa pellets with a production capacity of 0.6-10 T/H.
The machine has a wide application, can not only process alfalfa pellets, but also can process grass pellets, rice husk pellets, straw pellets, hay pellets and other biomass pellets.
Various capacities of RICHI alfalfa pellet machine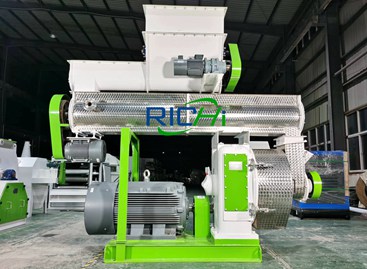 The alfalfa pellet mill for sale is designed for making alfalfa pellets from powered alfalfa with customized capacities.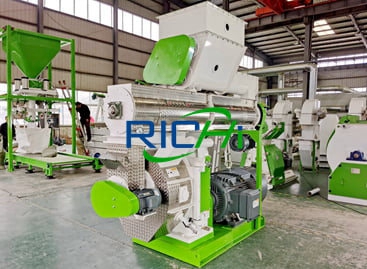 MZLH350 alfalfa pellet making machine
Alfalfa pellet making machine is a new type ring die biomass pellet machine with capacity of 800-1000kg/h.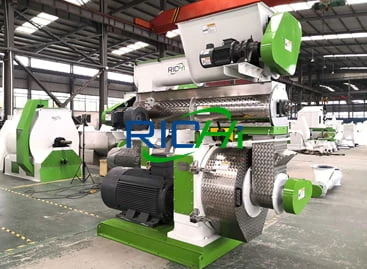 MZLH420 alfalfa pelletizer machine
The alfalfa pelletizer machine is featured with special advanced design, suitable for make alfalfa pellets for heating or animal feed.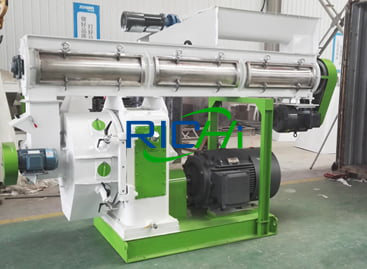 MZLH520 alfalfa pelleting machine
The machine has the advantages of stable performance, long working time, eas operation and installation.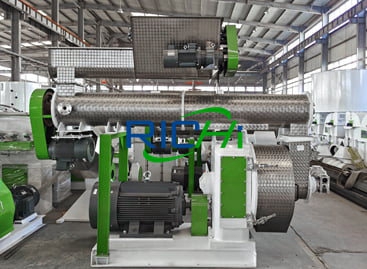 MZLH768 alfalfa pelletizer
The high-efficiency alfalfa pelletizer is specially designed for mass industrial production of alfalfa pellets.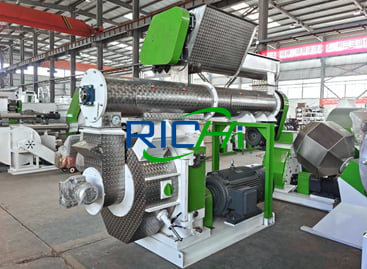 MZLH858 alfalfa pellet machine for sale
This kind of biomass pellet mill is mainly designed for for large scale production of alfalfa pellets.
Specific parameters of the alfalfa pellet machine for sale are as follows:
Model
MZLH320
MZLH350
MZLH420
MZLH520
MZLH768
MZLH858
Capacity(T/H)
0.6-0.8
0.8-1.0
1.5-2.0
3.0-4.0
5.0-7.0
8.0-10
Anti-caking
Feeder Power(kw)
1.5
1.5
1.5
2.2
3
3
Forced
Feeder Power(kw)
0.55
0.55
0.55
0.75
1
1
Main Motor
Power(kw)
37
55
110
160
250
280
Weight(KG)
2500
3500
4000
4500
5000
5500
Main Motor Series
6/8P
Ring Die Diameter (mm)
320
350
420
520
762
858
Pellet Length(mm)
6-12
(Note: RICHI Machinery's products are always updated and improved. Therefore, if there is any difference between the pictures, feature descriptions and performance parameters of the actual model, please refer to the actual product.)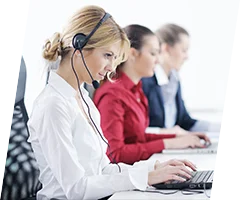 Can't find the alfalfa pelletizer machine you want?
Contact us to customize for you
technical features of alfalfa pellet making machine
The alfalfa pellet making machine is featured as small volume, low power consumption, low noise and adjustable feeding. It has the characteristic of compact structure, beautiful appearance and stable performance
The main drive box is made of castings with large load capacity, good stability and long service life.
The main transmission system adopts gear drive with high efficiency, and its output is 15% higher than the belt type; it adopts high-precision aerospace-grade gear grinding process to ensure smooth gear transmission and low noise.
The feeding system of this machine adopts stepless frequency conversion motor control, which is convenient for speed adjustment.
Equipped with a safety pin, such as the main motor overload, the safety pin breaks, play a role in overload protection.
Equipped with 2 cutting devices, which can effectively control the length of finished granule material.
The feeding screw, conditioner, and big door cover are made of stainless steel to avoid contamination of raw materials due to corrosion of the equipment and have a longer service life.
It has the advantages of high output, low noise, low energy consumption, long working life and easy operation and maintenance.
Humanized design, focusing on the safety of operation and use: the large door cover is equipped with a travel switch, when open the main motor automatically cut off, to achieve active protection, in addition to the transmission parts are closed shell.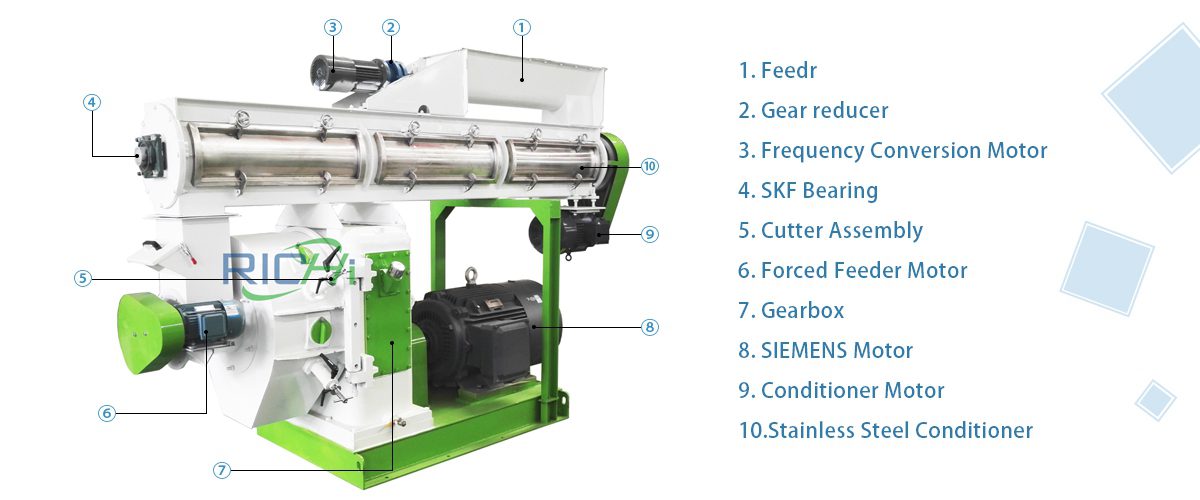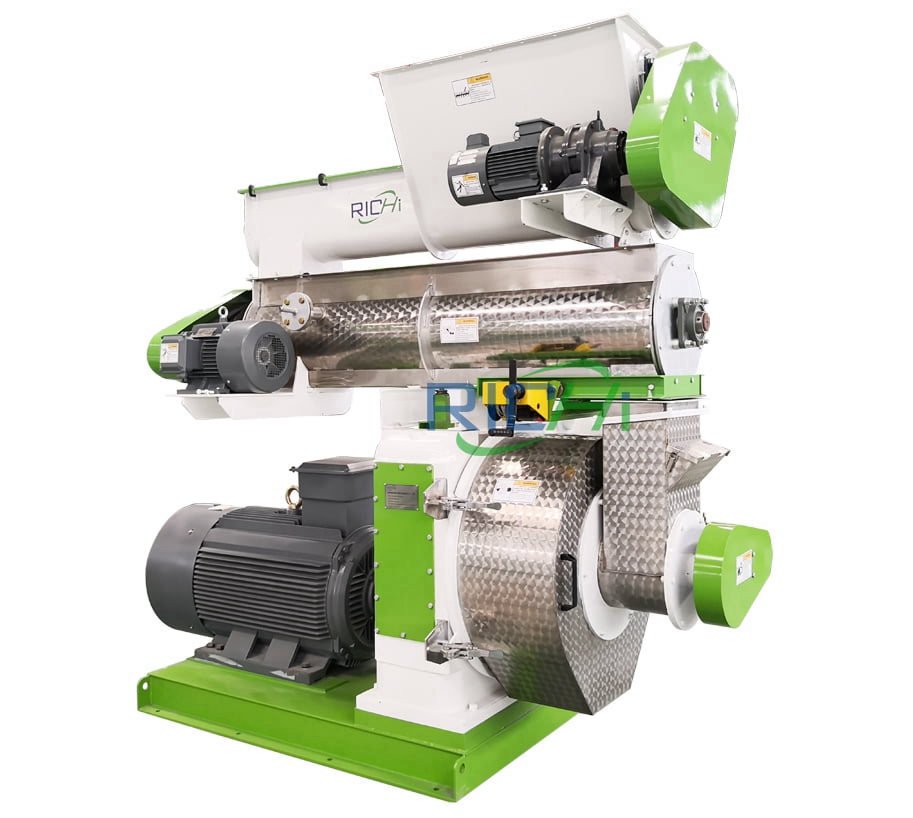 Application of alfalfa pellet machine
RICHI alfalfa pellet machine can not only be used individually to make alfalfa pellets but also can be used in the alfalfa pellet production line.
MZLH ring die alfalfa pellet machine is mainly suitable for large and medium-sized biomass pellet production lines to process and make all kinds of biomass as well as feed mill plants for ruminant feed.
Processing grass, straw, alfalfa, hay, and other biomass materials into biomass pellets.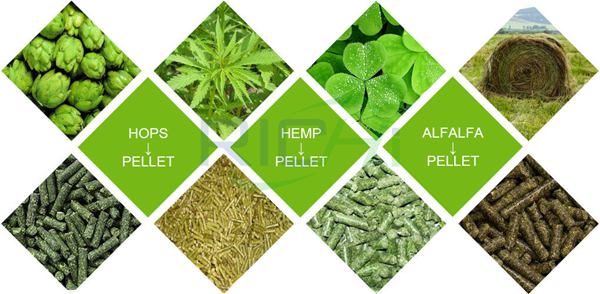 Production process of alfalfa pellet production line
RICHI Machinery not only has first class alfalfa pellet mill for sale, but also can provide a complete turnkey alfalfa pellet plant from raw material processing to final alfalfa pellets. The line can be used to produce alfalfa pellets, alfalfa pellets, grass pellets, forage pellets, ruminant feed pellets and so on. The following is the detailed introduction of alfalfa pellet process production flow.
The manufacturing process of alfalfa pellets is similar to other biomass pellet production lines, raw material receiving, crushing, drying, pelletizing, cooling and packing. The main equipment used are: alfalfa grass crushing equipment, drying equipment, alfalfa pelleting machine, alfalfa pellet cooling machine and automatic packing scale.

01

Raw material receiving and pre-treatment
First of all, prepare sufficient raw materials. In order to better guarantee the quality of raw materials, the raw material receiving section should do a good job of cleaning the sand, metal and other impurities. Generally, in order to avoid the equipment into the impurities, to set up fences on the feeding pit. Before entering the crushing, do a good job of iron removal and magnetic selection in time to reduce the chance of equipment damage.
02

Crushing section
Alfalfa grass is usually large, you need to crush it into smaller sizes so that it can be fed into the following section for drying and pelletizing. During the crushing process, it is important to control the size of the pellets and crush them evenly. A hammer mill is used to crush the alfalfa into a powder suitable for pelletizing and to prevent it from clogging the pelletizer.
03

Drying section
To make alfalfa pellets with an alfalfa pellet mill, the moisture content of the raw material needs to be controlled at about 15%. If the moisture content of the raw material used to make alfalfa pellets is too high, a dryer is needed to reduce the moisture of the raw material.
04

Pelletizing Section
The crushed and dried material is fed into the pelletizer to be pressed into high-density solid cylindrical pellets. The pelleting section is mainly combined with pelleting demand, if it is used to make cattle feed pellets, pay attention to controlling the steam pressure, regulate the time, temperature, and moisture.
05

Packing system
The temperature of newly pelletized alfalfa pellets is high. After cooling to room temperature, it can be loaded into big bags or small bags with a packing machine as needed.

Why choose RICHI Machinery?
Devoted to the pellet machinery industry for 27years
All products have passed ISO, CE, SGS, BV, and other international certifications.
Have a perfect sales system and a complete service network
Can customize a turnkey pellet production line project according to your need.
FAQ about the alfalfa pellet machine

what are the advantages of alfalfa pellets?
Alfalfa as the "king of pasture", it is featured as high yield, nutrious, high in protein. So the alfalfa is always used as animal feed for livestock and poultry. Besides, the alfalfa has good burning property, can be used for burning. But now, more and more people choose to process alfalfa into pellets for animal feed or biomass buring fuel. Making alfalfa into pellets not only can maintain nutritional value, but also have a lot of advantages.

Below are some advantages of alfalfa pellets:
As biomass buring fuel:
High calorific value and high combustion efficiency
The alfalfa pellets are small in size, high density, easy to store and transport.
Burning with little or no pollution, which is good for the protection of the environment
As animal feed
Can provide rich nutrition for animals
Prevent animal from picky eating
Can reduce feed waste

What are the raw materials suitable for the alfalfa pellet machine?
The lucerne pellet machine can process almost all kind of biomass materials. The raw materials suitable for alfalfa pellet machine are listed below.
Rice straw, rice husk, peanut shells, corn cobs, oil tea husk, cottonseed husk, etc.
Tree and logging processing residues are mainly various tree stumps, branches, roots, leaves, etc., as well as shavings, wood chips, broken wood and other forestry processing waste and other resources
Straw and agricultural residues are mainly crop stalks, grasses, husks and waste residues from the processing of agricultural by-products.


How to make alfalfa pellets?
Many peoplet have doubt in how to make alfalfa pellets. In fact, making alfalfa pellets only takes the following steps. An alfalfa pellet machine can help you make high quality alfalfa pellets for fuel or for animal feed.

First of all, prepare the raw materials needed that used to make alfalfa pellets.
Make sure the raw materials can meet your production needs, and Keep enough space to store them. As for the raw material silo, we can customize it for you according to your alfalfa pellet plant and production needs.
Second, prepare the required equipment.
The main equipment in making alfalfa pellets is alfalfa crusher, alfalfa dryer, alfalfa pellet machine, alfalfa pellet cooling machne, alfalfa pellets packing machine.
Third, crushing and drying the alfalfa
You need to crush and dry the raw materials before they enter the pelletizer. This step is according to the conditions of your raw materials and your production needs.
Fouthly, pelletizing the alfalfa
Put the alfalfa mateirals into the variable frequency speed feeder, and the alfalfa pellets are formed automatically.
Finally, cooling and packing the alfalfa pellets.
Don't pack the alfalfa pellets right now after pelletizing, in case the surface of the pellets get cracked and easily get bad. You can cool them by leaving them in a good ventilation status or through a cooling machine. Then you can packing the alfalfa pellets according to your needs.
Contact Address
Office Add: E-commerce Industrial Park, Zhengzhou City, Henan Province, China
Factory Add: Longhai 2nd Rd & 10th St, Longting District, Kaifeng City, Henan Province, China
Mail Address
enquiry@richipelletizer.com
Fax: 0086-371-63752859
Telephone
0086-158-37153047