Hay pellet machine for sale
---
RICHI hay pellet machine for sale, featured with strong power and even pelletizing, which can be used in livestock and poultry farms as well as biomass pellet industry.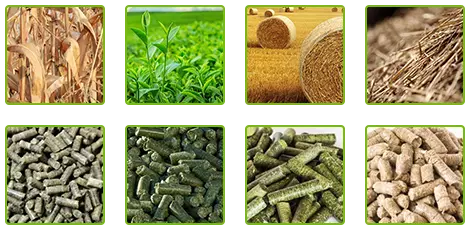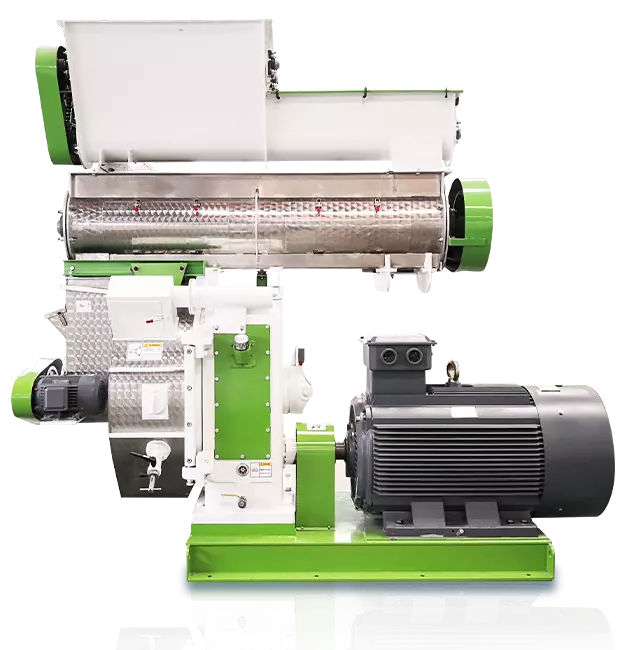 RICHI hay pellet machine for sale


Hay pellet machine is always the first choice for making hay pellets due to its high output and low power consumption. RICHI hay pellet mill has various models with power 37-280 kW and can make alfalfa pellets from 0.6 tons to 12 tons per hour.
Hay pellet making machine can be combined with a grass crusher, hay cutter, conveyor, mixer, and so on to form a production line. That is to say, from crushing and mixing to pelletizing only these are needed, and if needed, you can also add cooling machine and packing machine and so on.
Hay pellet making machine is a kind of biomass pellet machine to make hay into pellets. Our hay pellet making machine is an efficient pelletizing equipment, You just leave your contact information, after we know your needs, we can provide you with professional hay pellet mill configuration solutions.

ABOUT HAY iNTRODUCTION
---
Hay is usually a kind of waste, includes dried grass, straw, alfalfa, etc. It is always processed into hay pellets, which have a wide range applications, such as they can be used as animal feed, in addition, hay can be utilized as pellets for burning.
Benefits of making hay pellets
There are lot of advantages of hay pellets, such as they are convenient for storage and transportation, can reduce the waste in feeding, increase the feed intake and improve the production performance, prevents sheep from selecting food and improves hay utilization, and so on.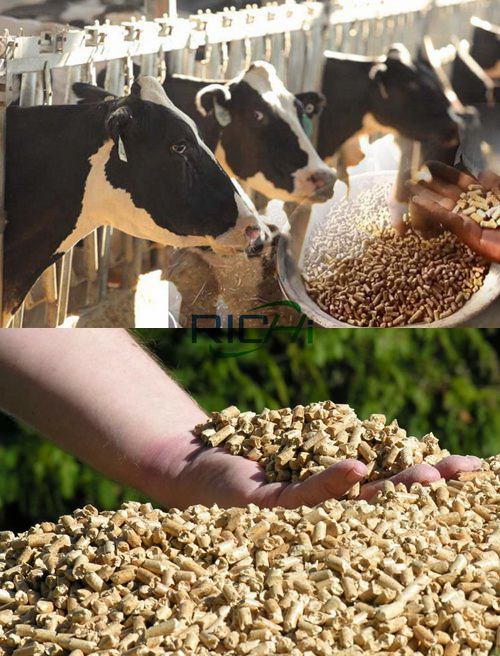 Benefits of hay pellets For feed
Convenient for cattle and sheep digestion, natural fattening fast the high temperature generated in the pelleting process so that the internal cellular tissue of its hay is broken, after modulation and ripening, resulting in flavor, increasing the palatability of cattle and sheep, and improving their intake. Some data show that the digestibility of the made feed pellets is 25% higher than the direct use of hay.
Balanced nutrition, preventing picky eating of cattle and sheep can be processed into pellets with crushed materials containing other ingredients to avoid picky eating of cattle and sheep,
In addition, high temperature can also make the crude fiber decomposition of straw materials, lignin dextrinization, water-soluble sugar components increase, nutrition is more balanced and comprehensive.
Can kill salmonella in animal feed. Salmonella is ingested by the animal body will remain in the animal tissue, people eat the animals infected with this bacteria will get salmonella gastrointestinal disease. Adopting the method of steam high temperature tempering and then granulation can kill the salmonella in animal feed.
Nutrition can be controlled by yourself, reduce the cost of breeding, animals can eat fresh feed at any time.
Nowadays, some cattle and sheep farmers choose to buy hay feed pellet machine for their own processing, in this way, not only to save feed costs, reduce labor costs, but also provide livestock with high-quality pellet feed, and pellet material is convenient for transportation and storage, unlike the powder that is easy to moldy and deteriorate, to a certain extent, reduce the feed care of the labor costs.
Benefits of hay pellets For Burning fuel
Storage is more economical. After granulation, generally increase the bulk density of hay 40% -100%, can reduce the warehouse capacity, saving storage costs.
High calorific value, As a kind of biomass, hay can be easily burned to provide heat. We can directly gather the hay and make it into high density pellets with hay pellet making machine. Then the wood pellets will have higher calorific value and continuous heat source.
Environmental protection, burning hay pellets has no smoke, fly ash, carbon emissions or any other polluting gases. Therefore, it is an environmentally friendly heat energy. What's more, the hay pellet mill is pollution-free during the pelletizing and production process.
Easy to transport, usually, hay pellets can be packed in bags. After packing, they are easy to take away. You can use folk life or conveyor equipment to load them into cars. Then, you can transport them and sell them in the market.
Due to its high calorific value, biomass hay pellets are a good alternative to coal. Meanwhile, hay pellet is an environmentally friendly energy source with no pollution to the atmosphere. It can be used not only for large-scale power plants, but also for barbecue, cooking, room heating system or other heating systems. With one hay pellet making machine, the large-scale production of hay pellets can be realized. You can get a high return on investment from your hay pellet manufacturing project, something we all look forward to seeing.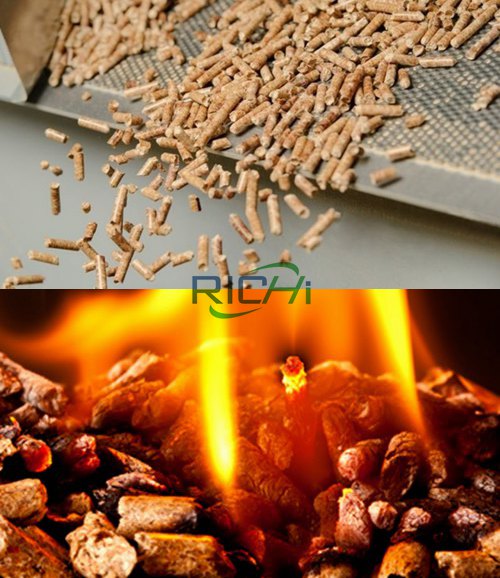 High quality hay pellet mills make high-quality hay pellets
RICHI can provide you high grade pelletizing equipment
RICHI Various Capacities hay pellet machine
RICHI Machinery is a professional pellet machine manufacturer, here are the parameters of various hay pellet machine for your reference. If you want to know more about our grass pelletizing equipment, you can see grass pellet mill.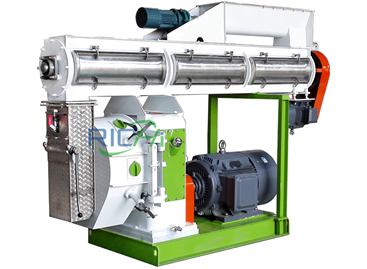 600-800kg/h hay pellet mill for sale
| Model | MZLH320 |
| --- | --- |
| Capacity(T/H) | 0.6-0.8 |
| Pellet Machine Power(KW) | 37 |
| Anti-caking Feeder Power(KW) | 1.5 |
| Forced Feeder Power (KW) | 0.55 |
| Finished Pellet Diameter (mm) | 6-12 |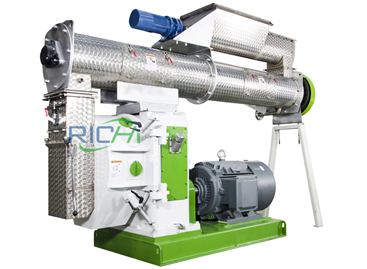 800-1000kg/h hay pelletizer
| Model | MZLH350 |
| --- | --- |
| Capacity(T/H) | 0.8-1.0 |
| Pellet Machine Power(KW) | 55 |
| Anti-caking Feeder Power(KW) | 1.5 |
| Forced Feeder Power (KW) | 0.55 |
| Finished Pellet Diameter (mm) | 6-12 |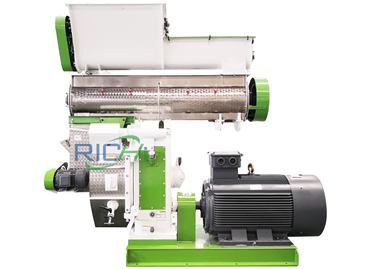 1.5-2 t/h hay pellet mill For sale
| Model | MZLH420 |
| --- | --- |
| Capacity(T/H) | 1.5-2 |
| Pellet Machine Power(KW) | 110 |
| Anti-caking Feeder Power(KW) | 1.5 |
| Forced Feeder Power (KW) | 0.55 |
| Finished Pellet Diameter (mm) | 6-12 |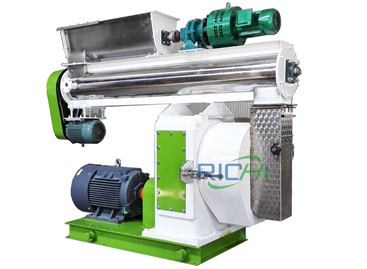 3-4 t/h hay pellet making machine
| Model | MZLH520 |
| --- | --- |
| Capacity(T/H) | 3-4 |
| Pellet Machine Power(KW) | 160 |
| Anti-caking Feeder Power(KW) | 2.2 |
| Forced Feeder Power (KW) | 0.75 |
| Finished Pellet Diameter (mm) | 6-12 |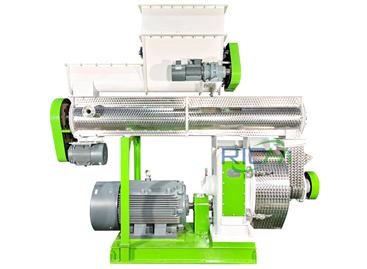 5-7 t/h hay pellet maker
| Model | MZLH768 |
| --- | --- |
| Capacity(T/H) | 5-7 |
| Pellet Machine Power(KW) | 250 |
| Anti-caking Feeder Power(KW) | 3 |
| Forced Feeder Power (KW) | 1 |
| Finished Pellet Diameter (mm) | 6-12 |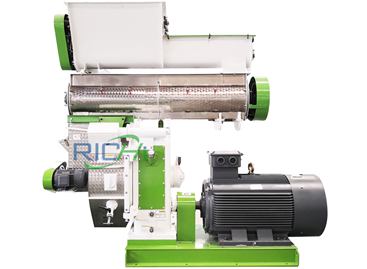 8-10 t/h Hay pellet machine for sale
| Model | MZLH858 |
| --- | --- |
| Capacity(T/H) | 8-10 |
| Pellet Machine Power(KW) | 280 |
| Anti-caking Feeder Power(KW) | 3 |
| Forced Feeder Power (KW) | 1 |
| Finished Pellet Diameter (mm) | 6-12 |
Features of RICHI Hay pellet machine
No binder is needed. Using the organic materials in a certain force, can set each other to grow up the characteristics of the pelletizing does not need to add a binder.
Simple principle, fast pelletizing speed and high quality.
The qualified pelletizing rate of this machine is as high as 95% or more, adapting to a variety of different formulas, and the size of the pellet can be adjusted according to the user's requirements by replacing the ring die.
High pelletizing strength, good appearance quality, corrosion resistance, wear resistance, low energy consumption, long service life, easy operation and maintenance.
Smooth operation, equipment, durable, long service life, and by the majority of users to choose as the ideal product.
The enclosure of the hay pelletizer is made of thickened stainless steel, which is durable and never deformed, together with the solid base design, it makes its operation more stable.
Reasonable design, small footprint and low noise.
The water content of the pellets is suitable for storage.
The hardness of the cooked pellets is high, which improves the feed intake.Suitable for pigs, cows, sheep, chickens, ducks and geese.
The main gear of the hay pelletizer adopts high precision gear transmission and imported SKF bearings, and the ring die is of quick-release clamp type, which makes the output about 15% higher than that of the belt.
The ring die and pressure roller are made of stainless steel, which is nearly ten times more wear-resistant than the general heat treatment process, and it can greatly save the production cost.
The machine can realize 24 hours continuous operation. And has applied for a number of national patents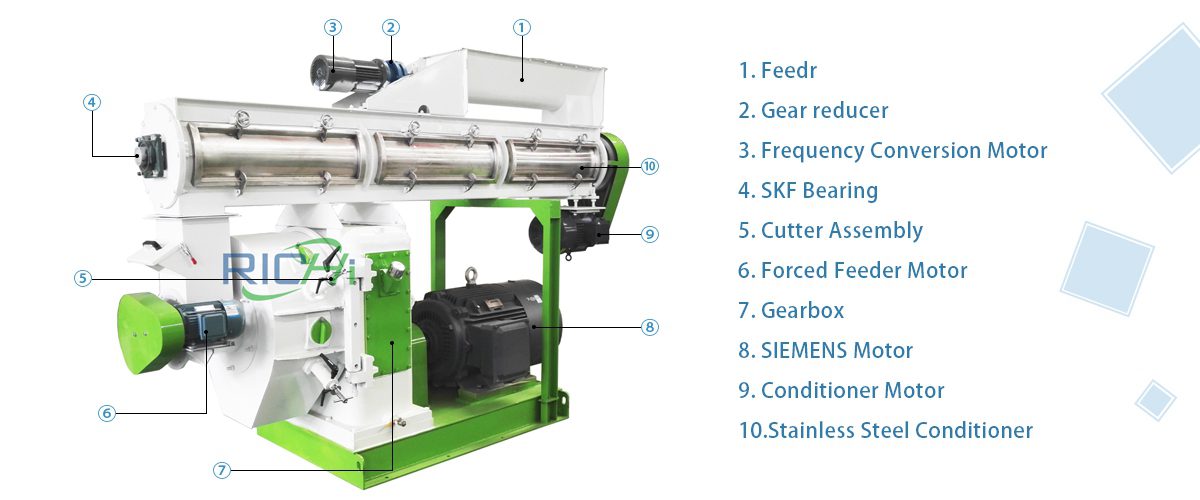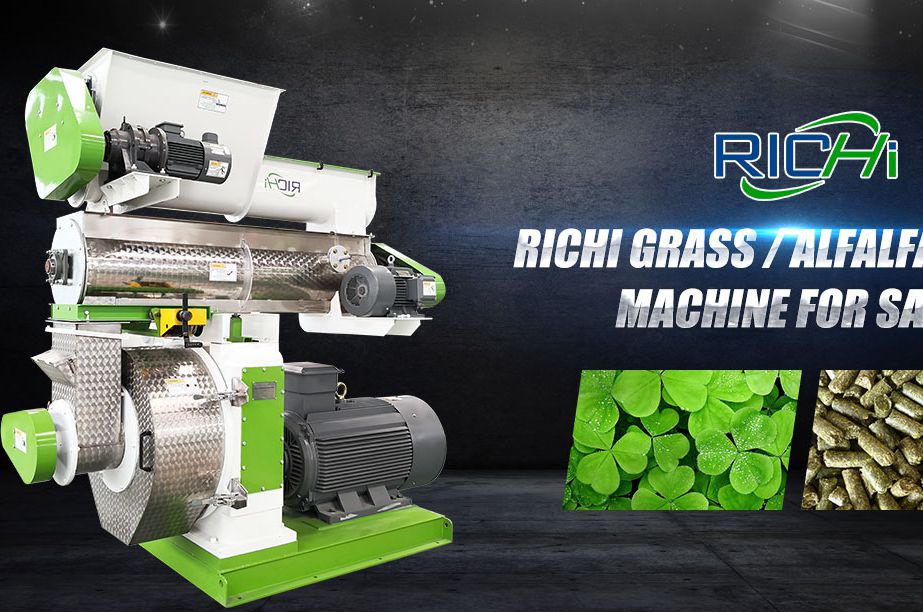 How much does a hay pellet machine cost?
Many customers consulting equipment will come up to ask "how much is a hay pellet mill", this question really can not answer at once. Because hay particles is not so simple, not that a hay pellet mill equipment can be produced. The guding price of the hay pellet mill for sale is between $10,000-$100,000.
there are many factors to determine which equipment to use and capacity requirements to determine the price.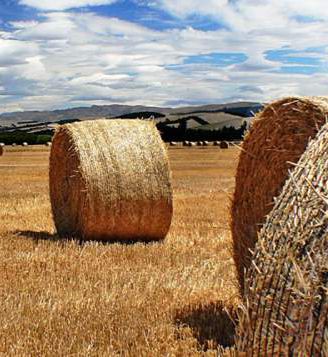 Raw materials
To understand how much hay pellet maker, first of all to determine the raw material, according to the type of raw material and moisture to determine the need for other related equipment, such as crusher, pulverizer, dryer and so on.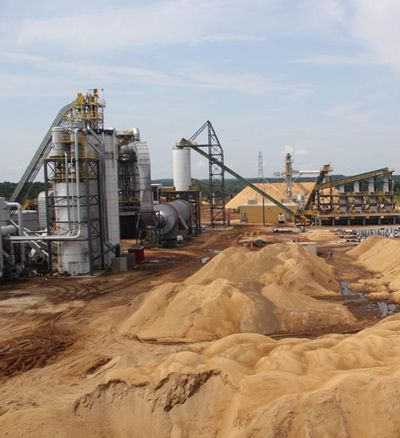 output requirements
Secondly, the output requirements, generally consider the supply of raw materials and their actual situation to determine how much daily output or hourly output, of course, the larger the output of equipment, the higher the price.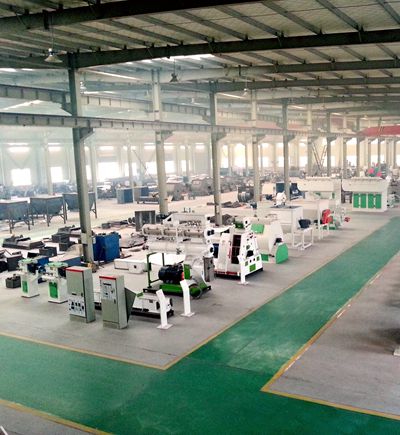 Other factors
Finally, we also need to consider other factors, such as the power situation, the local transformer can drive how many kilowatts; site area is enough; the degree of automation and so on.
How to make hay pellets for feed and fuel?
Below I will give the majority friends a rough talk about how to make hay into a hay pellets for feed and burning fuel. Related post: biomass pellet production line
01

Crushing system
First of all, the need to crush the hay, because the hay volume is relatively large, can not be put directly into the pellet machine equipment for direct processing, so before the feed processing of the most commonly used equipment is the hammer mill equipment, mainly can be the volume of raw materials for crushing processing, can improve the palatability of sheep and cattle, more conducive to sheep and cattle digestion and absorption, so that sheep and cattle to absorb the nutrients in the feed.
02

Mixing system
Next, the need to mix, after crushing the raw materials can not be directly processed feed to feed cattle and sheep, the need for crushed raw materials with other concentrated feed together with the mixing of uniform and then granulation.
In general, for the output demand than the large feed processing plant for single-shaft paddle mixer is more appropriate.
03

Pelletizing system
Hay pelletizer granulated finished feed, in addition to feed milling equipment, cattle and sheep hay pellet feed machine is to do one of the most important members of the feed, if the raw materials are powdered, then a hay pellet feed machine can be fully capable of, but for the farms with a crusher mechanical efficiency will be higher.
04

Cooling system
The temperature of the freshly pressed particles is high, the structure is loose and easy to be broken, it should be cooled to room temperature.
05

Packing system
The finished hay pellets will be sent to the finished product warehouse through the elevator, and the licorice pellets can be transported in bulk or packaged to the customers according to your needs.

Why choose RICHI Machinery?
Devoted to the pellet machinery industry for 27years
All products have passed ISO, CE, SGS, BV, and other international certifications.
Have a perfect sales system and a complete service network
Can customize a turnkey pellet production line project according to your need.
Projects cases of hay pellet machine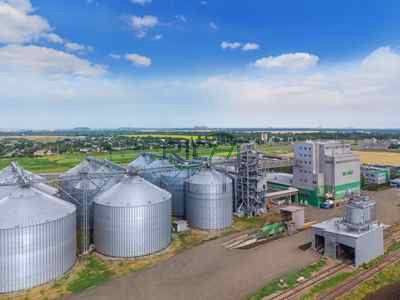 16t/H Livestock Feed pellet Processing Plant Project
Country: China
Date: June 2016
Capacity:16T/H
Total Power: 805KW
Workshop size of this project: 20000m²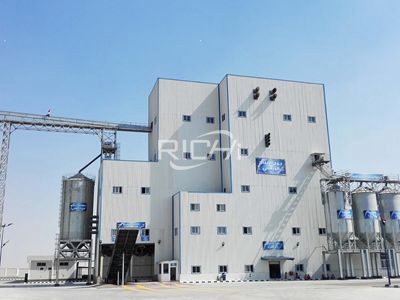 3-4T/H Ruminant Animal Feed Pellet Line
Country: Hong Kong,China
Date: Nov 1th,2019
Capacity: 3-4TPH
Total Power:215kw
Workshop size of this project: 60m*24m*12m (L*W*H)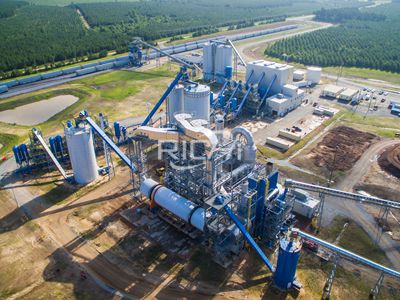 20 T/H biomass agricultural and forestry waste pellet production line
Country: Hainan Province, China
Date: 2017
Capacity: 20T/H
Total Power:1458 KW
Workshop size of this project: 50861.6m²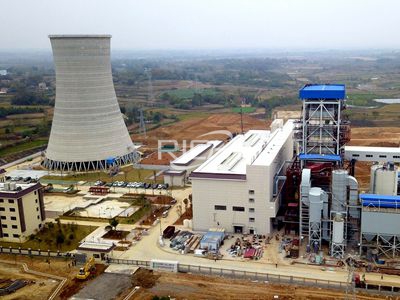 10-12T/H Hay Pellet Production Line In The United States
Country: America
Date:March 15th,2020
Capacity: 10-12T/H
Total Power: 977KW
Workshop size about this project: 16m*7m*7.5m(L*W*H)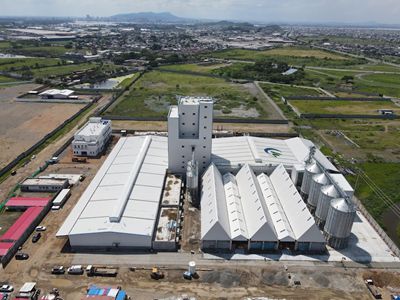 10T/H Cattle Feed Pellet Line In South Africa
Country: South Africa
Date: March 17th,2017
Capacity: 10-12T/H
Total Power:335KW
Workshop size about this project:19m*6m*25m(L*W*H)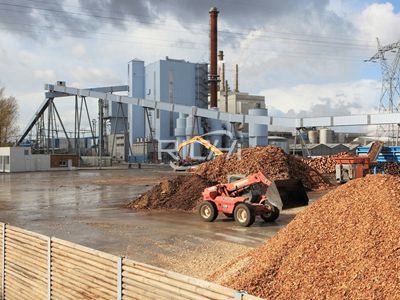 2-2.5 T/H biomass pellet production machine line
Country: Australia
Date: May 2021
Capacity:2-2.5T/H
Total Power: 173KW
Workshop size about this project: 13M*16M*22M (L*W*H)

CUSTOM SOLUTIONS
—— GET A QUOTE ——
Accurate control of cost accounting, scientific calculation of expected profits, to achieve cost reduction and efficiency, profit can be expected.From equipment selection and program planning in the early stage
Quality Test Before Delivery
FAQ of hay pellet machine

what is the difference between Making hay pellets for fuel and for feed?
Hardness
If you are going to do fuel then straw made out of particles to ensure that there is hardness, burning time longer;on the contrary, the hardness of the feed particles do not need so high hardness.
Pellet Size
General fuel particles require a length of 5 centimeters, diameter 8mm, feed 1 centimeter long, diameter 6mm.
pellet machine mold
Change a matching mold can do fuel or feed. Why change a mold, according to the different raw materials equipped with the corresponding compression ratio has been configured mold.


3 problems need to pay attention to when producing fuel in hay pellet machine
The hay pellet maker utilizes hay, waste plates, sawdust, straw and other new biomass energy sources to produce fuel pellets that can be used in place of coal, making a significant contribution to the cause of environmental protection and energy. Biomass pellet mill in the production of fuel, need to pay attention to the following three issues:
Storage of hay.
To pay attention to the storage of hay, it is best to stack upright, there should be a certain stacking distance in the middle, to facilitate the evaporation of water within the hay, need to be often exposed to the sun, to prevent the occurrence of mold.
Quality of hay.
Just harvested grass moisture content is more, piled up easy to mold, so it should be separated to dry, keep ventilated and dry, and then stored. Hay pellet making machine also has requirements for the moisture content of straw, to do a good job of moisture control, moisture content of about 17% when the success rate is higher.
Processing and pressing.
Before feeding to test run the machine, check whether the parts parts are normal, deal with irregularities in a timely manner, and feeding to be uniform, to ensure that the straw pellet machine is working. As the output of the feed block is just hot, so it should be dried before storage and packaging factory.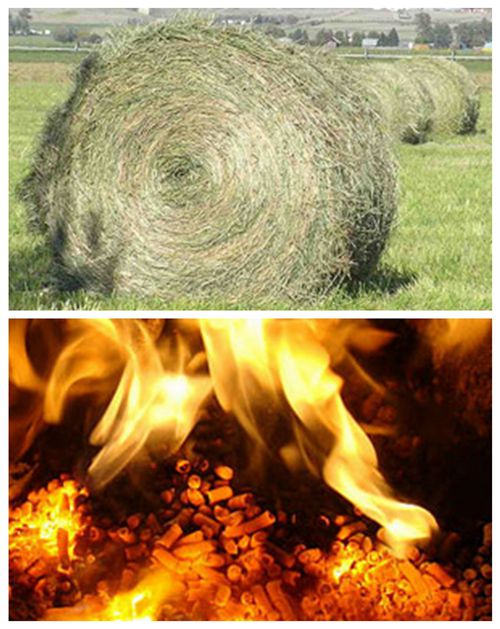 Hay pelletizer solves the problem of hay surplus, so that it turns waste into treasure, its own superior technical performance, by the majority of users, deal with the above three problems, make production easier.
Contact Address
Office Add: E-commerce Industrial Park, Zhengzhou City, Henan Province, China
Factory Add: Longhai 2nd Rd & 10th St, Longting District, Kaifeng City, Henan Province, China
Mail Address
enquiry@richipelletizer.com
Fax: 0086-371-63752859
Telephone
0086-158-37153047