Hops Pelletizer Machine
---
The hops pelletizer machine is a kind of high efficiency biomass pellet machine, which can be used for pelletizing all kinds of biomass pellets. Hops pellets are produced by a series of processing with hops as the raw material.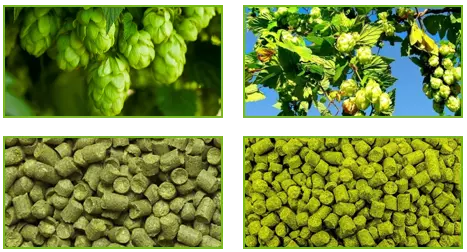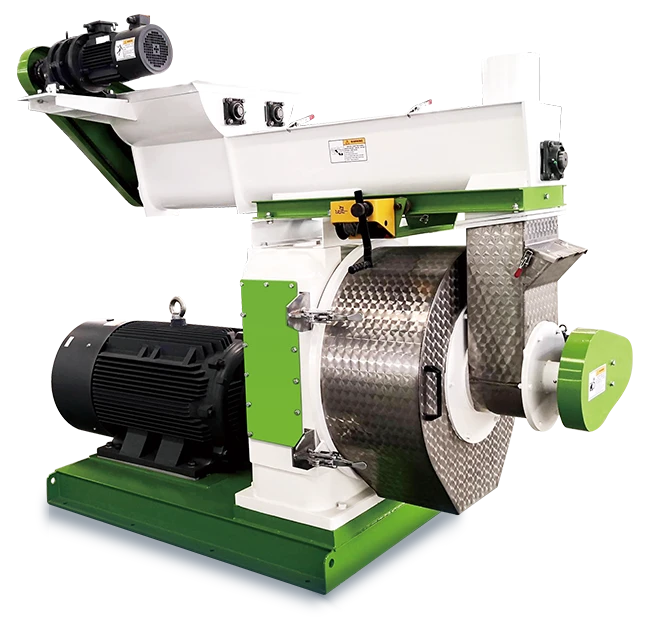 Video of hops pelletizer machine
It is a good choice to process hops into hop pellets by hops pelletizing equipment. It is convenient for storage and transportation, is not easy to go bad, and will not affect the freshness of hops.
In addition, hop pelletizer machine can also be used for various biomass pelletizing. It is understood that biomass pellet processing plants around the world are all over the country, from family-style small workshops to batch mass mold production to fully automatic biomass pellet production lines, biomass pellet plants at all levels have, and the situation of biomass pellet plants is also better year by year.
Because the renewable green energy investment of the hop pellet machine has great potential for biomass pellets.
RICHI Machinery is an expert in feed, wood, biomass, and organic fertilizer pelletizing solutions, we design every pellet production line according to customers' needs. We have provided thousands of customers from 127 countries with complete pelletizing projects. If you have any pelletizing needs, just send an inquiry to us.

Introduction of hops
---
Hops are known as the "soul of beer". It is a genus of humulus in the cannabis family.
Because it can give beer a special bitterness and unique style, and it is not easily spoiled, it is often used in beer brewing.
Hops are made up of a variety of organic compounds that were previously independent of each other and coordinated with each other, which is why hops can produce the flavor characteristics that give beer its unique style.
When brewing beer, the addition of hops can balance the sweetness of the wort and stimulate the appetite.
Hops exist in many forms, such as T45 pellets, T90 pellets and so on. At present, T90 hop pellets are the main existing form.
Benefits of hops pellets
What are the benefits of hop pellets? Let's take a look at it!
The hop pellets are dissolved and broken when they are put into the wheat wort, and the contact area with the wort is greatly increased.
The hop pellets are crushed and then pressed and extruded, so the serpentine glands of the hop pellets are already broken, and the isomerization process of the alpha acid will be much easier, and the bitterness will be increased significantly.
The utilization rate of hop pellets is better than that of dry hops, generally around 15%.
Easy to store and transport in a compact size
Hops pellets effectively reduce the contact area with air, inhibit oxidation reactions, and also greatly save storage space as well as transportation costs.


High quality hops pelletizer machine make high-quality hop pellets
Customize a hop pellet machine
Various capacities of RICHI's hops pelletizer machine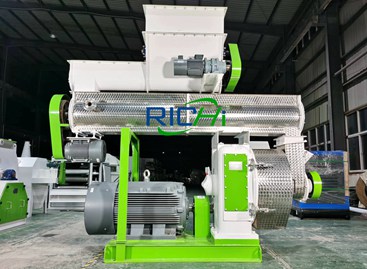 MZLH320 hop pellet mill for sale
The hop pellet mill is designed for process various biomass raw materials.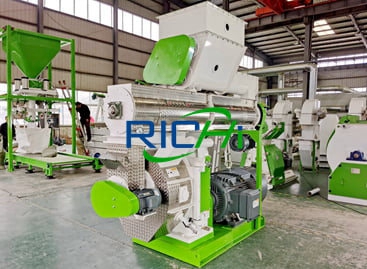 MZLH350 hop pellet machine for sale
The hop pellet machine adopts a unique design, and advanced technology.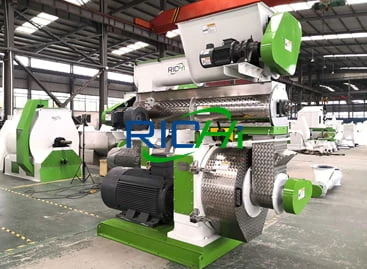 MZLH420 hop pellet machine
The hop pellet mill is suitable for middle and large biomass pellet factories.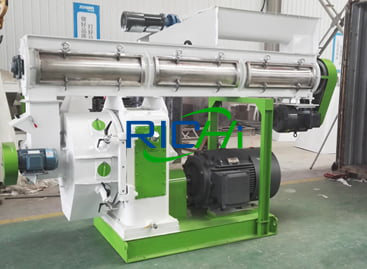 MZLH520 hop pelletizer
It has the characteristic of high efficiency, and low power consumption.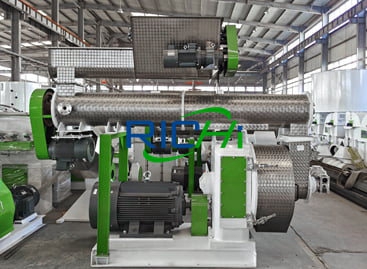 MZLH768 hops pelletizer for sale
The hops pelletizer can process the straw, rice husk, hops, etc into biomass pellets.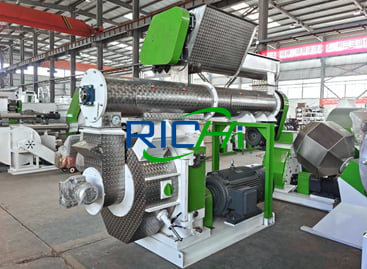 MZLH858 hop pelletizer machine for sale
The hops pelletizer machine adopts stainless steel design, has a long service time.
Specific parameters are as follows:
Model
MZLH320
MZLH350
MZLH420
MZLH520
MZLH768
MZLH858
Capacity(T/H)
0.6-0.8
0.8-1.0
1.5-2.0
3.0-4.0
5.0-7.0
8.0-10
Anti-caking
Feeder Power(kw)
1.5
1.5
1.5
2.2
3
3
Forced
Feeder Power(kw)
0.55
0.55
0.55
0.75
1
1
Main Motor
Power(kw)
37
55
110
160
250
280
Weight(KG)
2500
3500
4000
4500
5000
5500
Main Motor Series
6/8P
Ring Die Diameter (mm)
320
350
420
520
762
858
Pellet Length(mm)
6-12
(Note: RICHI Machinery's products are always updated and improved. Therefore, if there is any difference between the pictures, feature descriptions and performance parameters of the actual model, please refer to the actual product.)
technical features of the hops pelletizer machine
Hop pellet machine adopts advanced gear transmission system, the output is about 15% higher than the belt drive type
operation stable and reliable
Automatic control system, high degree of automation, easy to operate
Hop pellet machine adopts international advanced technology, total design, compact structure
The hopper feeder is equipped with a reverse vault to ensure a smooth and even flow of material into the granulator
Using Siemens motors and high-quality SKF bearings
The main parts are made of high quality stainless steel with long service life
Hop pellet machine has large output, high efficiency and low power consumption
Simple structure, easy to install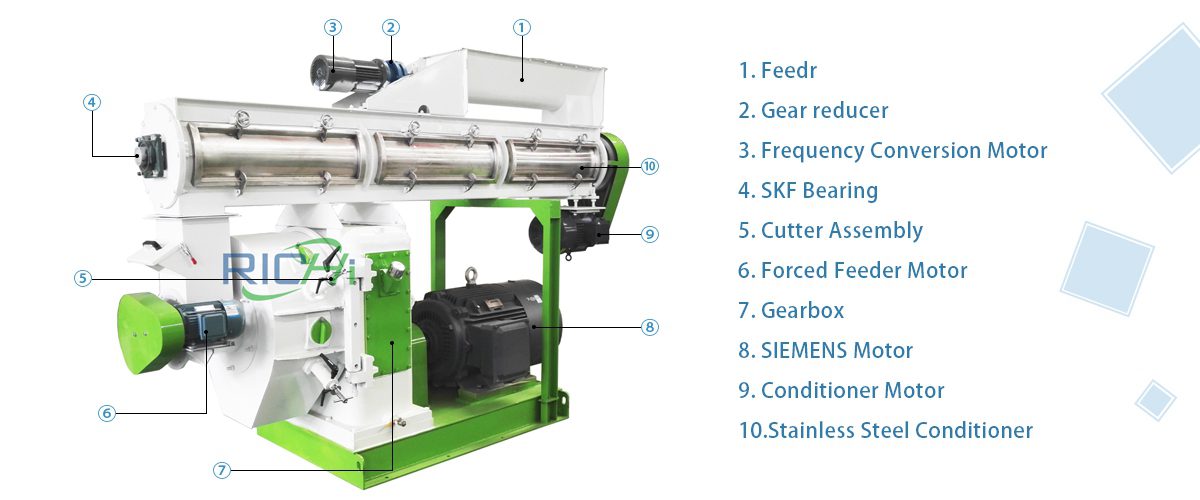 Application of the hops pelletizer machine
The hop pellet mill has a wide range of applications, and I'll list some of them below.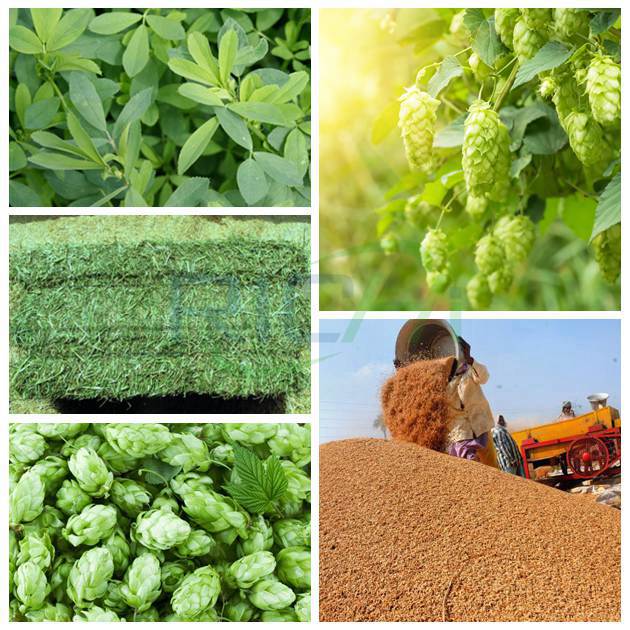 suitable for various raw materials
Can process all kinds of biomass raw materials, such as wood chips, straw, grass, rice husk, hay, hops, and etc.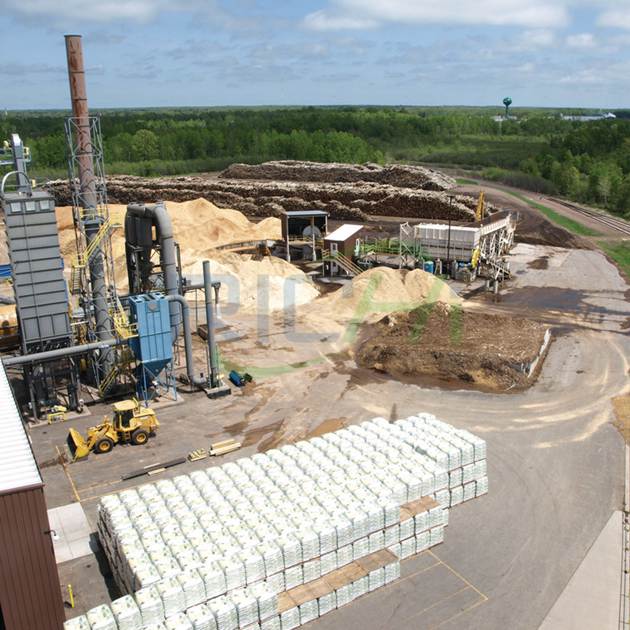 This hops pelletizer machine can not only produce hops pellets as an individual machine, but also can be combined with other hops pelletizing equipment to form a hop pellet production line.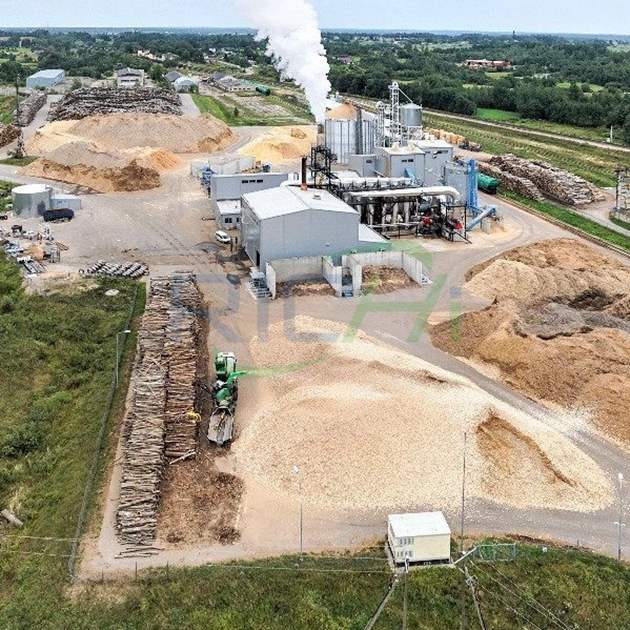 Wide applicability
The core equipment of the hop pellet line is hops pelletizing equipment, which is applicable to small, middle, and large hop pellet faxtories.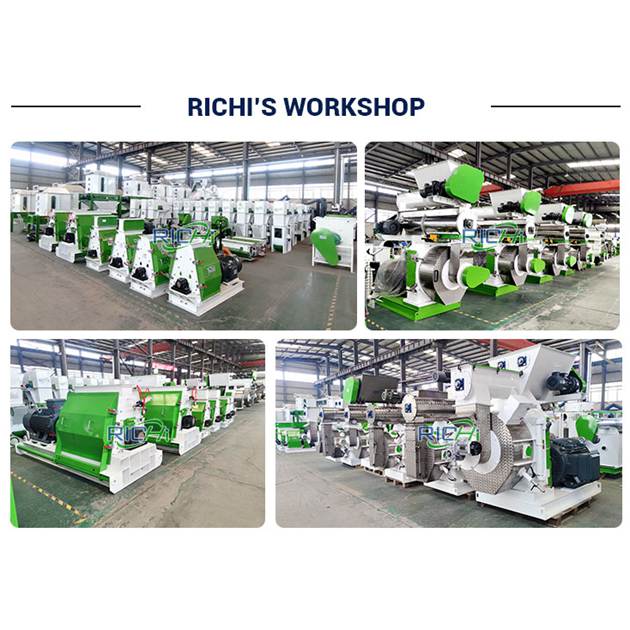 Complete range of models
The model of hops pelletizer machine is complete, can meet the different needs of users of all scales and needs. In addition, RICHI can customize one according to your needs.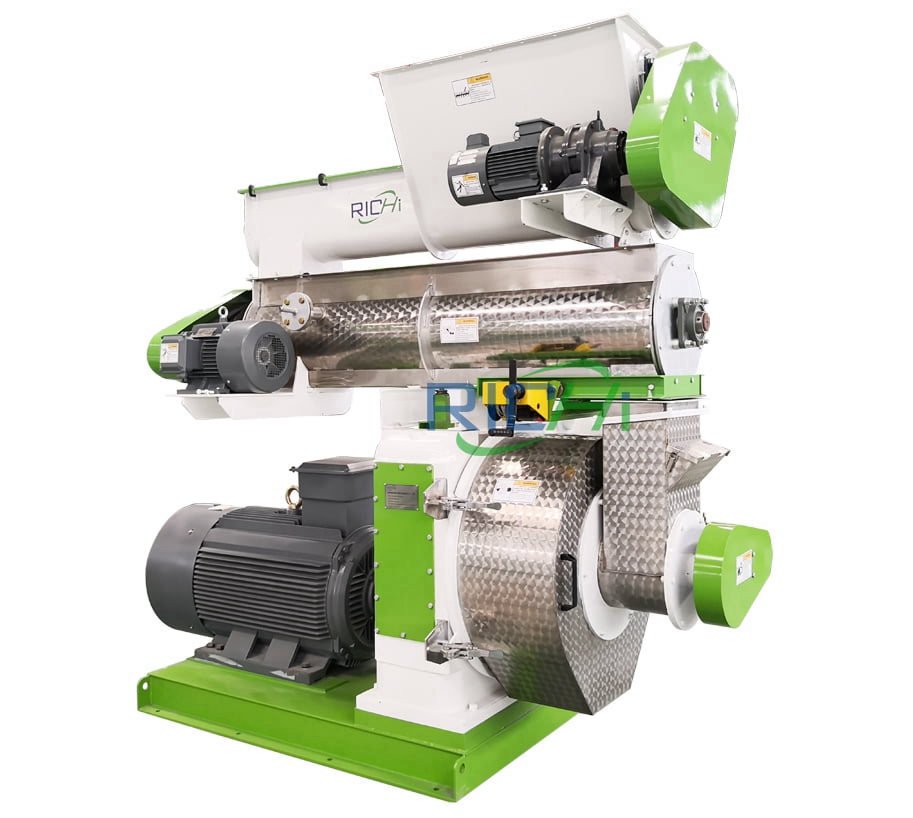 Raw materials suitable for hops pelletizer machine
Waste crop stalks, such as: corn stalks, wheatgrass, straw, peanut husks, corn cobs, cotton stalks, sorghum stalks, soybean stalks, husks, weeds,etc
Forest waste: trees, branches, leaves, bark, etc
Sawdust from a lumber mill, shavings from a furniture factory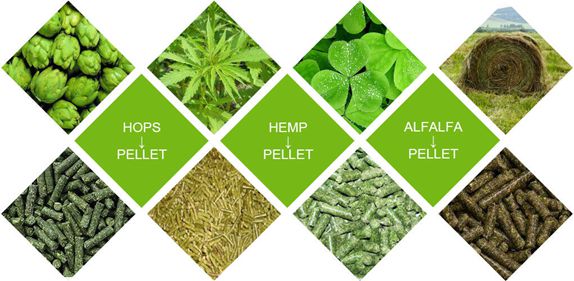 How to make hop pellets?
how to pelletize hops? Let's take a look at the production process of hop pellets.

01

Crushing process: hop crushing machine
First of all, according to the thickness and hardness of the raw material, the raw material is ground into powder by crusher or hammer mill and put into the buffer bin.
02

drying process: drying machine
After crushing, The moisture of raw material required for pelletizing hops pellets is below 20%. So this step varies depending on the situation, if the moisture of the material is too high, it needs to be dried.
03

Pelletizing process: hop pelletizer
The third step, is pelletizing. After drying and crushing the hops, through the hop pellet mill, for pressing molding.
04

Cooling process: feed cooling machine
The pressing process is a physical extrusion, and friction process, so it will produce high temperature. Hop pellets need to be cooled down after they are made
05

Packaging process: feed pellet packing machine
After the production of these finished pellets, the packaging can be neatly stored, whether it is for transportation, storage, or use, are very clean and convenient, can be widely used in industrial production, and even can be used for biomass power generation, whether in factories or families are very suitable, the market is very broad.

Want to know more about how to make hop pellets content, welcome to RICHI Machinery consultation, for you to configure the most suitable hop pellet production line program.

Why choose RICHI Machinery?
Devoted to the pellet machinery industry for 27years
All products have passed ISO, CE, SGS, BV, and other international certifications.
Have a perfect sales system and a complete service network
Can customize a turnkey pellet production line project according to your need.
FAQ of hops pelletizer machine

what need to prepare to start a biomass pellet business?
The following conditions are required to invest in the production of biomass pellets:
market prospects
first of all, biomass particles in what circumstances will someone buy, banned coal! Yes, the market price of biomass pellets is higher than that of coal, and the calorific value is not as high as that of coal, can't help but buy coal? Therefore, it involves environmental protection issues, only in areas where coal is banned, there will be a large number of biomass boilers that need biomass fuel as fuel.
sales
even if the region has banned coal, but the market share of coal-fired boilers to transform biomass boilers is low, it will not be too large. Without sales, investment is equal to failure.
reliable quality equipment
In the case of meeting the first two conditions, the stability of the equipment is the key factor related to your money, hop pellet machine is a non-standard product, there is no corresponding, so the choice of equipment manufacturers must look at the market, the effect of its users is good.
Other points need to be considered
After the inspection of the above points need to be further considered: raw material inspection, plant inspection, power inspection, investment budget, sales market.
Inspection of raw materials. There are many raw materials that can be used for biomass particles, such as corn stalks, wood chips, bamboo chips, rice husks, furniture factory scraps, and building templates. The profitability of straw raw materials is more difficult, half of the recommended collection of wood chips raw materials. The key to examining raw materials is to examine these points: raw material type, raw material size, raw material moisture, and how much raw material there is.
Workshop. Make a preliminary survey to see how big the plant can be for production.
Electricity. Check the power capacity of the transformer.
When the above points are ready, you can sign a contract with the manufacturer to prepare for the introduction of equipment, and collect raw materials in advance, so that the equipment can be directly produced after installation and debugging.

Contact Address
Office Add: E-commerce Industrial Park, Zhengzhou City, Henan Province, China
Factory Add: Longhai 2nd Rd & 10th St, Longting District, Kaifeng City, Henan Province, China
Mail Address
enquiry@richipelletizer.com
Fax: 0086-371-63752859
Telephone
0086-158-37153047