Shrimp feed plant
---
Shrimp feed plant is a production line used to produce shrimp feed pellets, fish feed pellets and so on. This article focuses on shrimp feed plant through shrimp feed production line in Indonesia,which was built on June 2, 2022 . The customer wants a complete shrimp feed production line from receiving system to packing system, the production capacity is 2T/H.
Shrimp feed plant setup In Indonesia
Today, I will take the 2T/H shrimp feed production line setup in Indonesia as an example for you to introduce the shrimp feed plant in detail.
The basic info of this shrimp feed production line setup in indonesia is listed below:
Project name: 2 T/H Shrimp Feed Plant
Country: Indonesia
Date: June 2, 2022
Production Capacity: Can produce 2ton/h shrimp feed pellets
The install period: 90 Days
Manufacturing Period: 60 Days
Shipping Period: 40 Days
Container Information: 7*40HQ +1*20FR+3*40HQ
Voltage: 80V, 50HZ, 3 phase
The above is a brief information about this shrimp feed plant setup in Indonesia, next, I will introduce more details about this line, such as the shrimp feed production process, the application, and the main equipment of this line.
More detailed information of this line:
Feed processing: Batching and mixing→crushing→secondary crushing→second mixing→pelletizing and cooling→screening and packing
Main Equipment: Shrimp Feed Hammer Mill, Shrimp Feed Mixer, Shrimp Feed Making Machine, Shrimp Feed Pellet Cooling Machine, Shrimp Feed Crumbler Machine, Screen Machine, Automatic Packing Machine and Other Auxiliary Equipment.
Application: It is designed for the production of shrimp feed pellets. Besides, This set of shrimp feed pellet manufacturing equipment can also produce feed pellets for other aqua animals, such as fish feed pellets, crab fish feed pellets and etc.

Guiding Shrimp Feed Plant Price: FOB $400,000-$700,000 USD. Different pelletizing solutions are available.
Final shrimp feed pellets: 1.2mm, 1.4mm, 1.5mm, 1.6mm, 1.8mm, 2.0mm
Guarantee Period: Except for the wearing parts, our company offers 1 year free warranty and permanent free technical support.
Our company provides drawing details: 1. Flow Chart; 2. installed drawings 3. pit drawings; 4 equipment layout; 5. the production construction design drawings; 6. steel structure full drawing and steel material list; 7 plan and sectional layout graph of workshop drawings; 8. steel structure construction drawings; 9. the detailed steel structure drawings and material list; 10. diagram of the floor; 11. roof and wall reserved hole; 12. oscillatory coefficients of equipment; 13. operating instruction.
RICHI Machinery is an expert in feed, wood, biomass, and organic fertilizer pelletizing solutions, we design every pellet production line according to customers' needs. We have provided thousands of customers from 127 countries with complete pelletizing projects. If you have any pelletizing needs, just send an inquiry to us.
Main equipment in this line is listed below:
| Equipment | Model | QTY |
| --- | --- | --- |
| Draught fan | 4-72-3.2A | 1 |
| Pulse dust collector | TBLMB.12B | 1 |
| Air lock | GF.5 | 1 |
| Drum type precleaner | SCY63 | 1 |
| Permanent magnetic sleeve | TCXT20 | 1 |
| Batching scale | PLC0.5A | 1 |
| Pneumatic gate valve | TZMQS40A*2 | 1 |
| Mixing machine | SLHY.0.5A | 1 |
| Hammer mill | SFSP56*40 | 2 |
| Draft fan | 4-72-3.2A | 1 |
| Single-shaft mixer | SLHJ0.5A | 1 |
| Feeder | WLQ25 | 1 |
| Conditioners | TZ42*300 | 3 |
| Prawn feed manufacturing machine | SZLH420 | 1 |
| Shrimp Feed Pellet Cooling Machine | SKLN11*11 | 1 |
| Shrimp feed Crumbler | SSLG20*80X | 1 |
| Vibrating sifter | ZDS80 | 1 |
| Square plansifter | SFSJ.100X1 | 1 |
| Automatic Packing machine | DSC-50 | 1 |
| Sewing machine and belt conveyor | / | 1 |
(Note: These equipment above are only part of the shipment list and are not listed them all here. Detailed shipping lists will be made for customers for equipment and components that we provide.)

Business opportunities of aqua Feed Production Industry in Indonesia
---
Indonesia's excellent geographical location as the world's largest archipelago country has also led to the rapid development of aquaculture in Indonesia. With the increasing global demand for aquatic products, the production of aqua feed pellets has also increased. It is profitable to start an aquaculture business in Indonesia, especially the highly profitable shrimp feed business.
Overview of the 2 T/H shrimp feed plant in Indonesia
This 2T/H shrimp feed plant was ordered by one of our customers in Indonesia. The customer purchased the complete set of shrimp feed mill to produce high quality shrimp feed pellets for sale since there is great demand for high quality feed for shrimp, fish, crab, etc. (Related post: Aqua Feed Plant >>)

We customized this shrimp feed production process based on customers' requirements, including batching, mixing, crushing, pelletizing, cooling, crumbling, screening and packaging. After we customized the shrimp feed production process to the customer's satisfaction, we started the manufacturing of the equipment, and it took us 60 days to produce the equipment for the whole production line. Below are the photos of our manufacturing equipment. We use the most advanced equipment for processing pelletizing machinery, and strictly controlled all materials and production processes.

After completing all the equipment production, we will also test the machine to show customers the operation process of the machine. Of course, we will also provide the whole production line working procedure, and guide and train the workers how to operate.

After completion of the equipment manufacturing, we pack up all the equipment and parts to contact for shipment. We choose to ship by sea, and the shipping period is 40 days. After completed the shipment, we help the customer to install the equipment and help the customer to start stable shrimp feed production! If you are interested in knowing more about the shrimp feed plant, just leave your information message, and we will contact you within one business day.
shrimp feed production process of the 2 TPH line
The complete shrimp feed production process of the line in Indonesia includes the raw materials receiving section, batching and mixing section, first crushing section, second crushing section, secondary mixing system, pelletizing system, cooling system, and packing system. Below is a production flow chart of the 2T/H shrimp feed plant and a description of the shrimp feed production process of this line.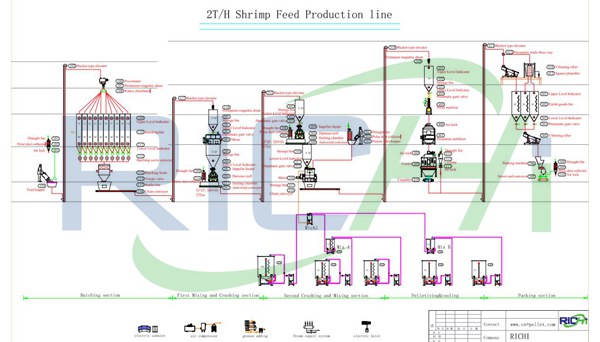 01

Batching and mixing section
First of all, workers need to put the raw materials into the feeding port, where we are equipped with a centralized dust removal device, which can help to improve the operating environment of the factory and reduce the dust generated during the production process. Then, the raw material enters into the batching silo through bucket elevator, in the middle of which the raw material needs to be cleaned by the cleaning equipment first, to reduce the possible stones and impurities in the raw material, so as to avoid damaging the machine and increasing the cost of the equipment. This is of course what we do not want to see, so we have to do a good job of cleaning in advance.
RICHI design to be crushed bin above and below the level device, can be stored in the bin of raw materials to display the storage capacity, showing the bin empty and full state. Below the bin is a dosage scale, which is computerized for accurate dosage. Each batch of mixed raw materials will enter into the mixer through the bucket elevator for mixing, of course, before the material enters into the mixer。
02

Primary crushing section
Each batch of mixed materials directly into the water drop pulverizer for a pulverization, pulverizer equipped with frequency feeder, customers can adjust the feeding speed according to their needs, so that the pulverizer to meet the needs of users to maximize the efficiency of the work performance. Crushed material has a negative pressure air system and fall into the settling room, and then transported by the conveyor equipment to the second crushing to be crushed bin.
03

First crushing section
The materials need crushing in the pre-crushing bins enter into the crushing section for crushing. The main machine in this section is single-shaft paddle mixer, which adopts double-layer rotor design, and its mixing uniformity can reach up to 97.7% with short mixing time.
04

Secondary crushing section
As the shrimp itself is relatively small, the stomach is also relatively small, in order to improve the digestibility of shrimp feed, we have to make the raw materials as much as possible to crush the finer the better, the finer the raw materials crushed, the mixing uniformity is also higher, shrimp feed particles are also more easily absorbed by the shrimp digestion.
So in order to meet the shrimp feed on the fineness of raw material crushing, this shrimp feed plant is equipped with two crushing section, two crusher. After the first crushing, the raw materials are crushed again by the water drop type pulverizer.
05

Secondary Mixing section
After the second pulverization, the raw material enters the mixer for the second mixing. The next step is the mixing of fats and oils with the pre-mixed and pulverized raw materials. The customzers can adjust these according to the specific recipe.
06

Pelletizing and cooling section
When all the raw materials, fats, oils and premixes have been mixed according to the recipe, the most anticipated part of the process is pelletizing! The raw materials enter the prawn feed manufacturing machine through conveyor equipment. The material passes through the feeder and enters into the conditioner. After three layers of conditioner, the starch in the raw material pasturized, and the raw material becomes mature, which is easier to be digested and absorbed by the animals. Inside the pelleting chamber, through the extrusion of the ring die and the press rollers, the material is converted into shrimp feed pellets, which are extruded from the die holes.
The cooked pellets cannot be used for packing immediately, because the temperature and humidity of the pellets are very high at this time, and they need to be cooled to avoid surface breakage. After cooling, if the size of shrimp feed pellets needed is relatively small, shrimp feed pellets can be put into the shrimp feed crumbler for crumbling.
07

Sieving and packing section
Already here the customzer has made shrimp feed pellets. But in the granulation process will inevitably appear unqualified feed pellets, so after cooling shrimp feed pellets need screening. This time the need to use the equipment is a vibrating screen, which can divide the shrimp feed pellets into three parts, suitable shrimp feed pellets from the middle outflow into the finish goods bin.
The customer can directly pack the qualified shrimp feed pellets into the finished product warehouse. Small pellets and crushed materials enter into the crusher for crushing, and loaded into the prawn feed making machine for secondary pelletizing. At this time, it is necessary to mention the high square screen, which can screen smaller size shrimp feed pellets, that is, the shrimp feed pellets crumbled by the shrimp feed crumbler. Once you have ensured that you have shrimp feed pellets that meet your requirements, you can pack the finished product with a packing machine.
shrimp feed making machine
---
RICHI SZLH series shrimp feed pellet machine is mainly suitable for large-scale feed mills to process and make all kinds of shrimp pellet feed, which can reduce the processing cost. Applicable to the production of fish, shrimp, crab and other feed pellets feed mill. This ring die prawn feed making machine is more suitable for large-scale feed mills to produce a variety of high-quality shrimp feed pellets and other aquatic feed pellets. So what are the benefits of prawn feed making machine for making feed? Shrimp feed pellet mill can mix many kinds of raw materials together and press them, while the pressed shrimp feed pellets are still cooked and easy to digest for the shrimp who take them. In addition, the more types of raw materials, the more nutritious feed pellets made. And making solid feed pellets also revolutionizes the habit of shrimp picking at their food.
Features of shrimp feed pellet mill
Shrimp feed mill equip with three-layer modulator, longer tempering time, resulting in high quality feed pellets
Adopting stainless steel design, preventing the raw material from corrosion and affecting the health of shrimp, and longer service life.
The shrimp feed making machine adopts Siemens motor and SKF bearings
Adopting gear type rotation, about 15% higher output than belt-driven type.
Simple structure, easy to operate, novice learners can also be very fast.
High output, low energy consumption and low noise.
The shrimp feed mill equip frequency conversion speed feeder, easy to adjust the speed.
Equipped with 2 cutting knives, which can effectively control the length of finished pellet material.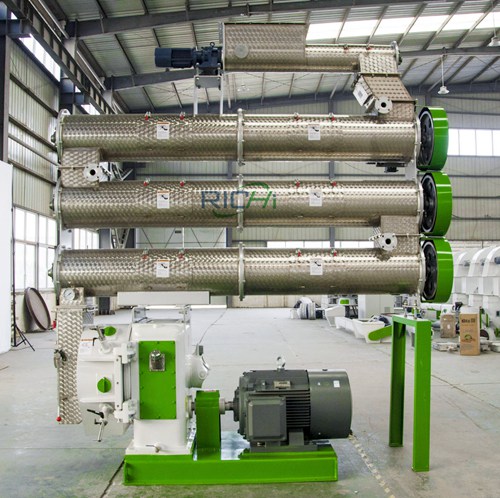 The production capacity of RICHI pellet mill is 1-45T/H. Our prawn feed making machine for a variety of products has the perfect pelletizing capacity, dry in dry out, body uniformity, glossy, and moderate hardness, which is the reason why our prawn feed manufacturing machine for many years of production is not declining.

Why choose RICHI Machinery?
Devoted to the pellet machinery industry for 27years
All products have passed ISO, CE, SGS, BV, and other international certifications.
Have a perfect sales system and a complete service network
Can customize a turnkey pellet production line project according to your need.
Project cases related to shrimp feed pellet machine
The following are some of the aqua feed plant projects that RICHI Machinery has done for your reference. Mainly fish feed production line, shrimp feed production line. If you want to know more about the project cases we have done, you can see Project Cases.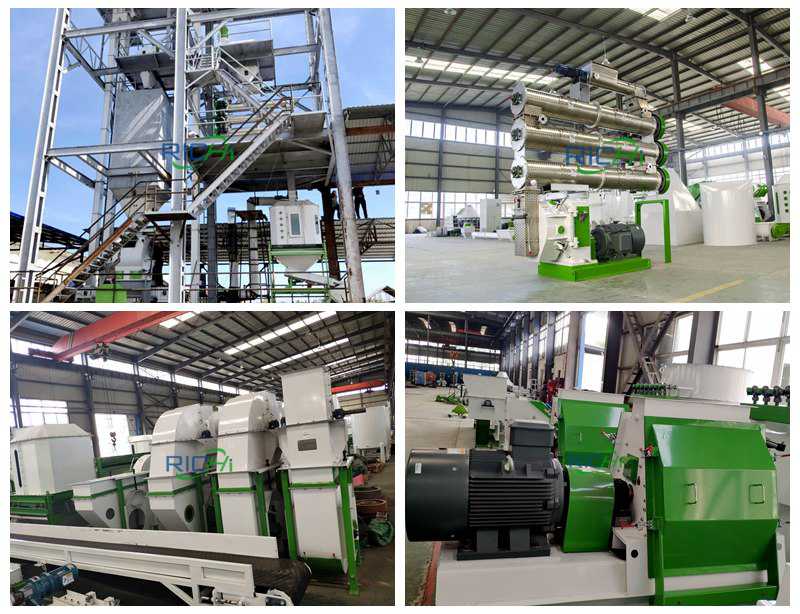 5T/H Fish and shrimp Feed Plant In Uzbekistan
Country:Uzbekistan
Date:Nov 21th,2017
The install period: 30 Days
The operate worker in this line: 5-6 person
Workshop size about this project:8m*5m*14m(L*W*H)
Main Machines in this line:shrimp feed crushing machine, shrimp feed mixing machine, prawn feed manufacturing machine, cooling machine, pellet crumber, screen and packing machine, and other auxiliary equipment.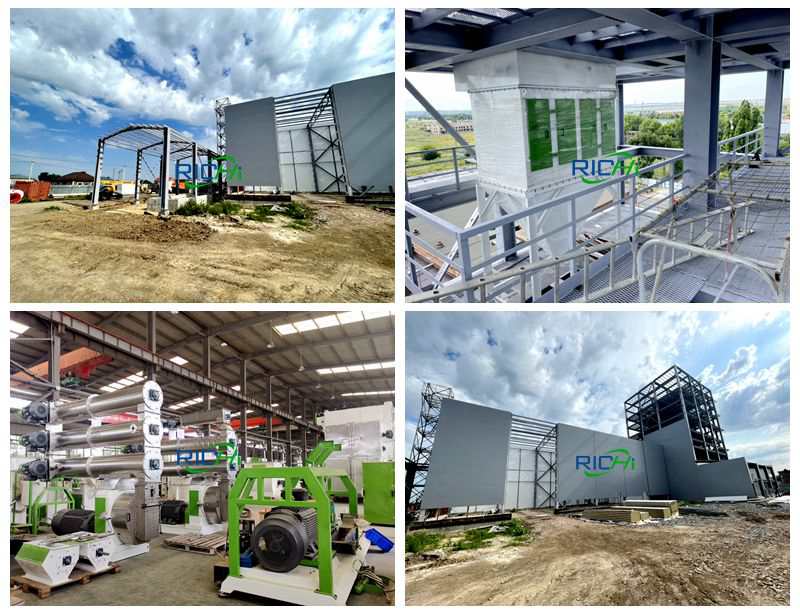 Country: Russia
Date: August 17th, 2021
Name: 5-6 T/H Fish Feed Processing Line
Final Feed Pellets: 0.6-20mm
The install period: 90 Days
Main machines in this line: Fish feed grinder machine, fish feed mixing machine, fish feed making machine, fish feed pellet cooling machine, pellet crumbler, screening machine, automatic packing machine,etc.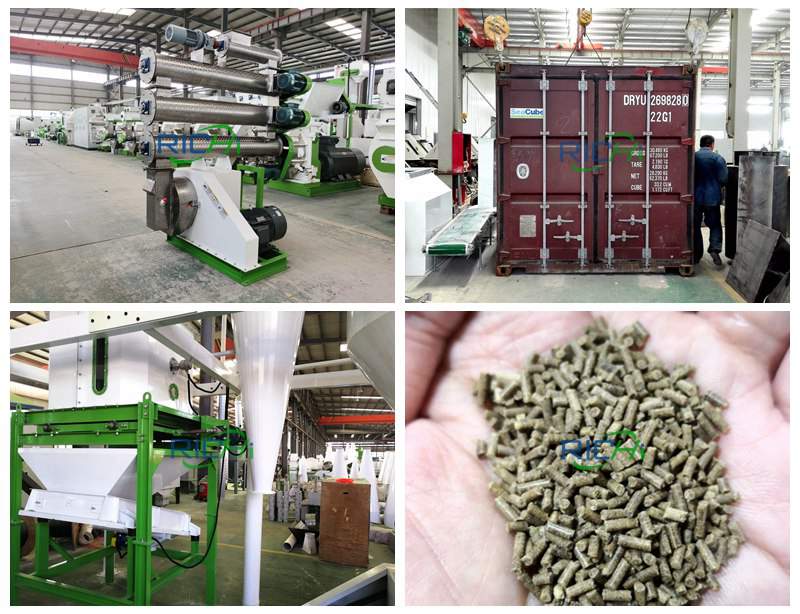 1-2T/H Shrimp Feed plant Project in Ecuador
Country: Ecuador
Date: Sep 3th,2018
Name: Shrimp feed pellet processing line
Workshop size about this project: 9m*6m*13m (L*W*H)
Main Machines in this line: shrimp feed pellet mill, shrimp feed mixing machine, shrimp feed pellet cooling machine, automatic packaging machine, etc.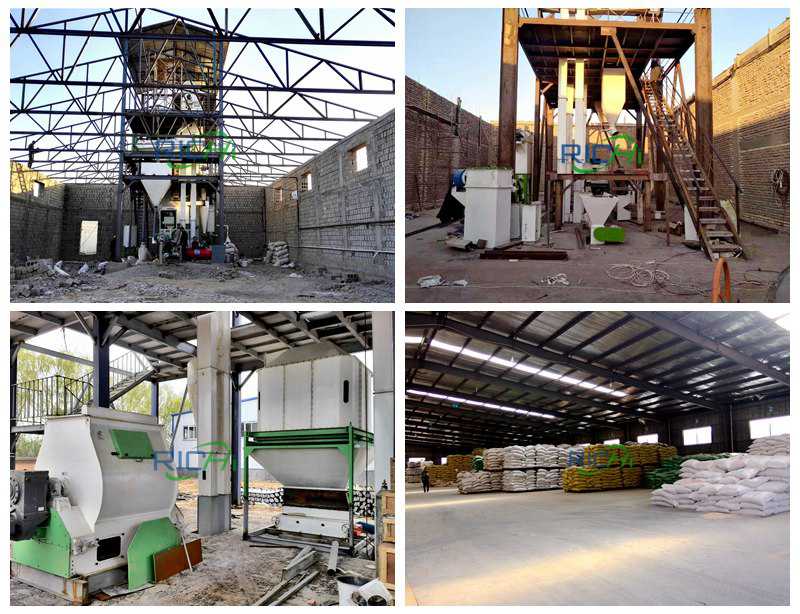 3-4 T/H Fish and Chicken Feed Pellet Line In Uzbekistan
Country: Uzbekistan
Date: Aug 07th,2017
Name: aquatic and pet feed pellet line
The install period: 20 days
Workshop size of this project: 7.5m*7m*7.7m (L*H*W)
Main Machines in this line: feed hammer mill, feed mixer, feed pellet making machine, spraying equipment packing machine, and other auxiliary equipment

CUSTOM SOLUTIONS
—— GET A QUOTE ——
Accurate control of cost accounting, scientific calculation of expected profits, to achieve cost reduction and efficiency, profit can be expected.From equipment selection and program planning in the early stage
Quality Test Before Delivery
Contact Address
Office Add: E-commerce Industrial Park, Zhengzhou City, Henan Province, China
Factory Add: Longhai 2nd Rd & 10th St, Longting District, Kaifeng City, Henan Province, China
Mail Address
enquiry@richipelletizer.com
Fax: 0086-371-63752859
Telephone
0086-158-37153047