biomass pellets making machine
---
The biomass pellets making machine can process rice husk, straw, wood chips, efb and other biomass materials into biomass pellets for heating, cooking, animal feed, or animal bedding. It is a high efficiency pelletizing equipment with reasonable price, well loved by customers.
Capacity: 1-12T/H
Final pellet diameter: 6-12mm
Raw materials: wood chips, stalk, grass, hay, alflafa, efb, etc.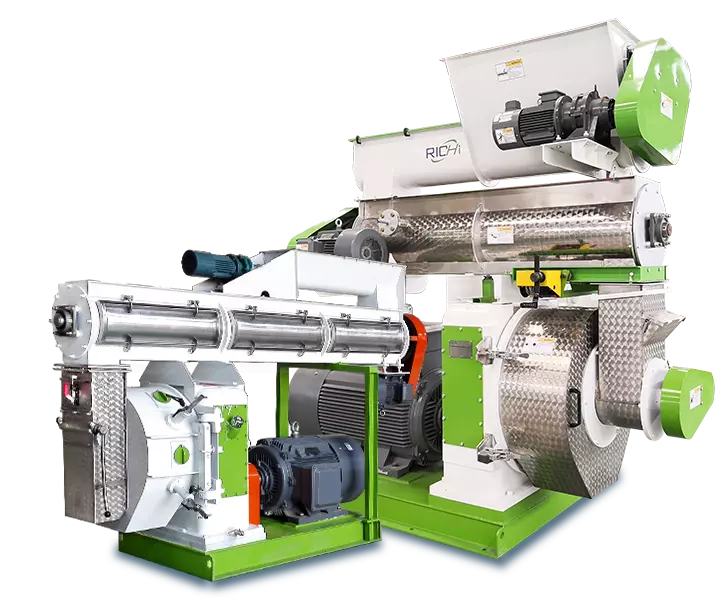 Video of biomass pellets making machine
This video is a trial video of one of our customer's biomass pellet plant. This video shows the pelletizing section of the biomass pellet production line, and the main equipment in this section is the biomass pellets making machine. The customer's raw material is hay, which is crushed by the crusher and converted into high-density pellet fuel by the extrusion of the pressure rollers and ring die of the biomass fuel pellet machine.
Biomass pellet maker is the key equipment for producing biomass pellets, which can process all kinds of agricultural and forestry wastes such as rice husk, straw, wood chips, peanut shells and other biomass materials into pellet fuel. The produced biomass pellets have very high calorific value and do not pollute the environment, and they are small in size and high in specific gravity, which makes them easy to transport and store.
RICHI Machinery is a professional pelletizing machine manufacturer, which not only provides high capacity and low consumption biomass pellets making machine, but also customizes the production line according to the customer's actual needs. The biomass pelletizing machine and biomass pellet production line we offer are all customizable, you just need to tell us your production requirements.
advantages of biomass pellets
Biomass pellet is the fuel formed by the machining of biomass pellet. Biomass pellets have large calorific value, high combustion efficiency, combustion efficiency of up to 95%, calorific value of about 3900-4800 kcal, kg, is an ideal fuel to replace coal. In addition, biomass pellets are also used for civil heating, industrial boilers and biomass power generation, which is both energy saving and environmental protection.
The advantages of biomass pellets are:
The calorific value is high, about 3900~4800 kcal/kg, and the calorific value after carbonization is as high as 7000 ~ 8000 kcal/kg.
No sulfur, phosphorus, combustion does not produce sulfur dioxide and phosphorus pentoxide, so it will not cause acid rain, pollution of the atmosphere or the environment.
The ash residue after burning the fuel is very small, which greatly reduces the site for stacking ash residue and reduces the cost of slagging
The burned ash is a high-grade organic potash fertilizer that can be recycled profitably
Biomass pellets have wide applicability and can be widely used in industrial and agricultural production, and can also be used for burning boilers and other household use
Space saving, because the straw fuel is compressed at high temperature, the storage space is greatly saved, and it is also easy to transport.
Production costs are low, raw materials are cheap and easy to obtain, inexhaustible
Increase the value of agricultural waste and increase farmers' income

Raw materials suitable for the biomass pellets making machine
Biopellets mainly are made from the agricultural and forestry waste with the biomass pellet maker. The raw materials suitable for the biomass pellet machine are:
Wood: board factory, furniture factory waste wood chips, shavings, lumber yard waste sawdust, scraps, building board waste, garden pruning, forest logs and so on.
Bamboo debris: bamboo crafts waste, such as chopsticks, toothpick factory waste, etc.
Straw and grass: cotton straw, corn straw, soybean stalk, rapeseed stalk, wheat stalk, rice stalk, cassava stalk, bagasse, tobacco stalk, sea buckthorn stalk and other herbaceous plant stalk; Energy grass, elephant grass, king grass, alfalfa grass (mainly used as fodder for cattle and sheep).
Other categories: rice husk, peanut shell; Bagasse, palm silk, coconut shell, tea seed shell, cow dung, fruit residue, etc.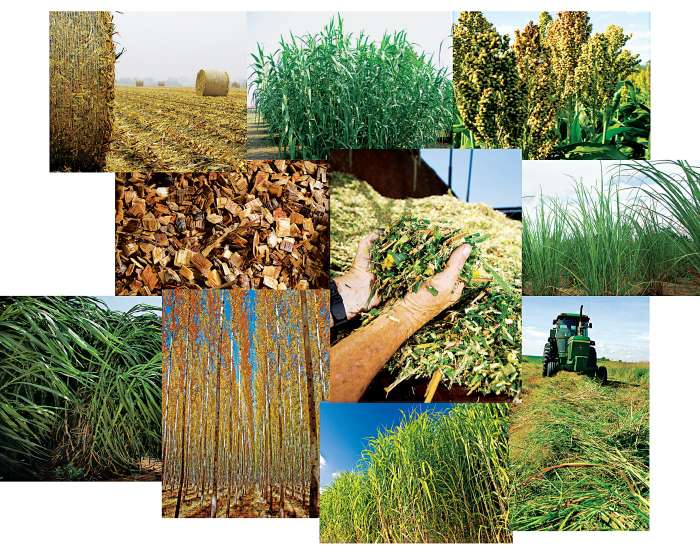 RICHI Machinery is an expert in feed, wood, biomass, and organic fertilizer pelletizing solutions, we design every pellet production line according to customers' needs. We have provided thousands of customers from 127 countries with complete pelletizing projects. If you have any pelletizing needs, just send an inquiry to us.
Various capacities of RICHI biomass pellet maker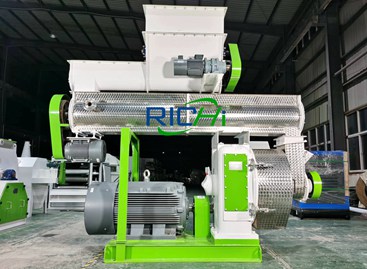 This kind of biomass pellet mill capacity ranges are from 600-800kg/h. With this pellet machine, you can make biomass pellets easily and efficiently.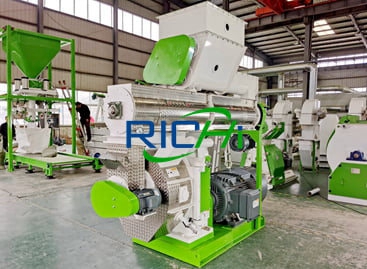 MZLH350 biomass pellet mill for sale
RICHI biomass pellet mill for sale is widely used in biomass pellet for various production capacities. Capacity ranges from 800kg/h to 1000kg/h.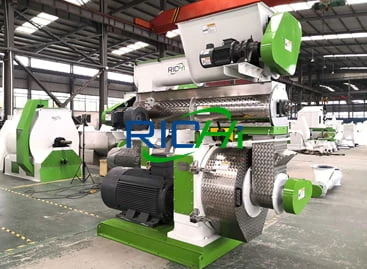 MZLH420 biomass pellet maker
The biomass pellet maker can process various biomass materials into high quality biomass pellets for heating, animal feed and animal bedding.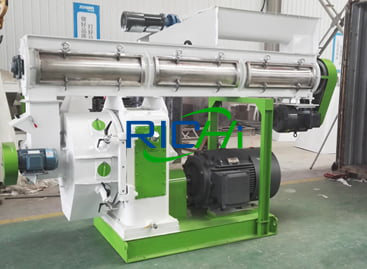 MZLH520 biomass wood pellet machine
The biomass wood pellet machine is designed for making biomass pellets from any type of biomass pellets with output from 3tons to 4tons per hour.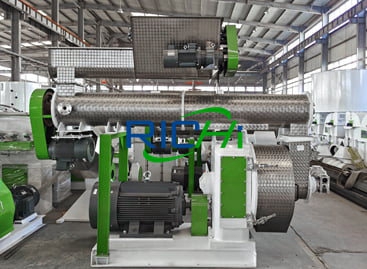 MZLH768 biomass fuel pellet machine
It is suitable for processing biomass pellets with production capacity of 5-7T/H. We can give you reasonable suggestions on how to choose a suitable biomass pellet mill.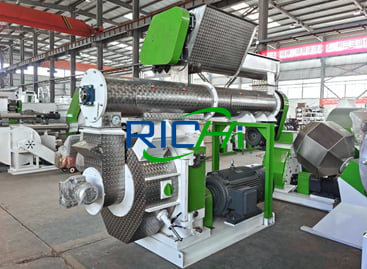 MZLH858 biomass pellets making machine
The biomass pellets making machine is an ideal pelletizing equipment for making various types of biomass products. Especially suitable for large scale industrial production lines.
Specific parameters are as follows:
Model
MZLH320
MZLH350
MZLH420
MZLH520
MZLH768
MZLH858
Capacity(T/H)
0.6-0.8
0.8-1.0
1.5-2.0
3.0-4.0
5.0-7.0
8.0-10
Anti-caking
Feeder Power(kw)
1.5
1.5
1.5
2.2
3
3
Forced
Feeder Power(kw)
0.55
0.55
0.55
0.75
1
1
Main Motor
Power(kw)
37
55
110
160
250
280
Weight(KG)
2500
3500
4000
4500
5000
5500
Main Motor Series
6/8P
Ring Die Diameter (mm)
320
350
420
520
762
858
Pellet Length(mm)
6-12
(Note: RICHI Machinery's products are always updated and improved. Therefore, if there is any difference between the pictures, feature descriptions and performance parameters of the actual model, please refer to the actual product.)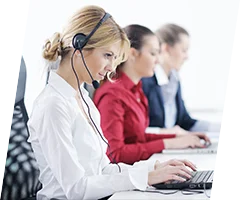 Can't find the wood pellet mill equipment you want?
Contact us to customize for you
Technical features of RICHI biomass Pellets making Machine
The main drive of the pelletizer adopts high-precision gear rotation, the efficiency is about 15% higher than that of the belt drive type, and the ring die adopts quick-discharge hoop type;
Adopts high quality imported SKF bearings, durable and long working life.
The international advanced level of compensation type snake spring coupling, with novel structure, compact, safe, low fault and other performance.
Spindle adopts forging material, long service life, stable and reliable quality;
There are a number of innovative designs on the ring die, which mainly solves the problem of the ring die cracking and effectively improves the output.
Automatic grease lubrication system, can realize automatic refueling without stopping, easy to operate;
Gearbox thin oil automatic circulation cooling system, effectively reduce gearbox oil temperature, extend the life of gear transmission components, make the main transmission more reliable;
Overload protection device to improve the service life of the equipment;
Arch breaking feeding device is used to avoid arch formation of materials;
Specially designed forced feeding structure, using spiral + blade mixed structure, make feeding more effective;
Forced feeding using worm gear reducer direct transmission, transmission efficiency is higher.


High quality biomass pellet machines make high-quality biomass pellets
Contact us to get customizable pelletizing solutions
How to make biomass pellets?
The major operations involved in processing biomass pellets are: biomass raw materials preparation, crushing, drying(If the moisture content of the raw materials is more than 20%), pelletizing, biomass pellets cooling, biomass pellets packaging(optional).

The biomass pellets processing steps are as follows:
01

Crushing section
First of all, put the prepared raw materials into the crusher and crush them into 2-3mm powdery materials.
02

Drying the crushed materials
Whether you need this step is according to your raw materials. Evidence confirmed that the most suitable moisture content of the raw materials for pelletizing is 13%-18%, if your raw materials are too wet, then you need a dryer to dry them.
03

pelletizing section
It is a critical step to make biomass pellets, which directly determines the quality of biomass pellets. the crushed and dried materials are converted into biomass pellets in this step and the main working machine is biomass pellets making machine.
04

biomass pellets cooling
The method of cooling is according to your production needs, if you make biomass pellets for a small output, you can choose to cool the pellets naturally. But if your production capacity is high, We strongly recommend you to equip a cooler machine, which not only has high cooling efficiency and ensures the cooling effect but also can save you time.
Cases related to biomass pellets making machine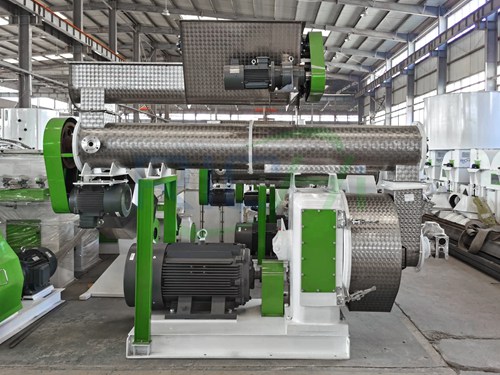 2T/H biomass wood pellet maker
Country: Romania
Guiding biomass pellet mill price: $30,000-$50,000
Date:April 23, 2020
Capacity: 2T/H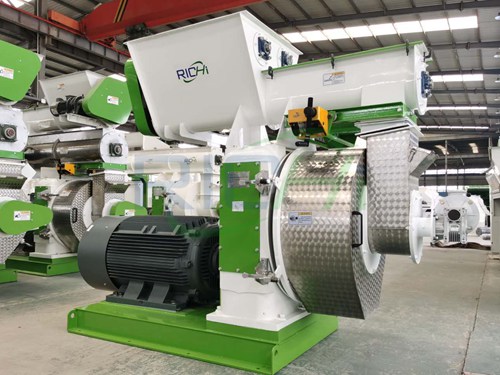 5-7T/H Cat Litter Pellet Machine
Country: England
Guiding biomass pellet machine price: $50,000-$100,000
Date:February 5, 2022
Capacity:5-7T/H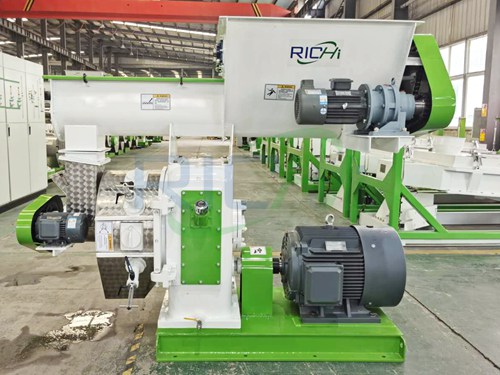 Date: September 29, 2021
Country: Thailand
Guiding biomass pellet mill price: $40,000-$80,000
Capacity: 3-4T/H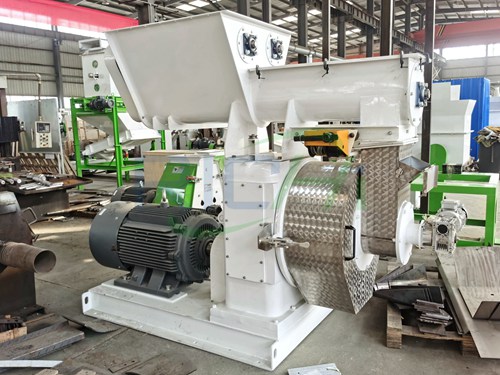 1-1.2T/H biomass wood pellet machine
Country: Malaysia
Date: December 29, 2020
Guiding biomass pellet machine price:$20,000-$40,000
Capacity: 1-1.2t/h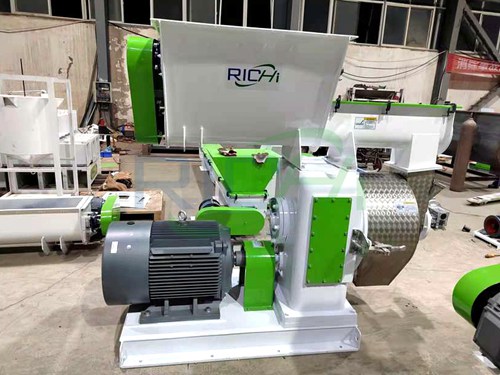 300-400kg/h wood pellet making machine
Country: Indonesia
Date: September 6, 2021
Guiding biomass pellet mill price:$1,000-$20,000
Capacity: 300-400kg/h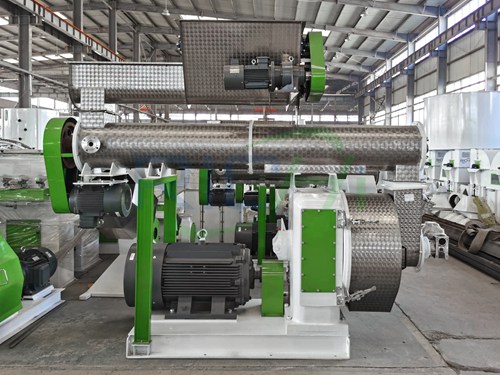 2-3T/H biomass fuel Pellet Machine
Country: Mexico
Date: September 2, 2019
Guiding biomass pellet machine price:$30,000-$60,000
Capacity: 2-3T/H

Why choose RICHI Machinery?
Devoted to the pellet machinery industry for 27years
All products have passed ISO, CE, SGS, BV, and other international certifications.
Have a perfect sales system and a complete service network
Can customize a turnkey pellet production line project according to your need.
What's biomass pellet machine price?
Generally speaking, our biomass pellet machine price is between $15,000 and $50,000USD. Differnent customers have differnent production requirements, so we design every biomass wood pellet machine we design are also have differnece in the details. Of course, the price of biomass pellets making machine is different. Usually the biomass wood pellet machine varies with production capacity, the higher output the machine is, the higher price the machine have.
Where to buy biomass pellet machines?
RICHI Machinery is a reliable biomass pellet making machine supplier and expert in biomass pellet plants. If you want to buy a biomass pelletizer but don't know where to buy it, then you can first consider our company's machines, which are available in various types and can be customized according to your needs. We are a leading manufacturer of biomass pellet making machine, provides high quality biomass pelletizing equipment and customizable biomass pellets making plant line.
How biomass pellets machine works?
The biomass pellets making machine can convert various biomass materials, such as wood chips, alfalfa, sawdust, grass, rice husk and etc, into biomass pellets efficiently. First of all, put the raw materials into the feeder with an anti-caking device, and ensure the biomass materials can enter the pelletizing machine smoothly. Then they are transmitted to the pelletizing room. Under the pressure of the ring die and rollers, the crushed raw materials are distributed on the inside of the ring die. Finally, the biomass pellets are squeezed out from the die hole and cut by the cutting device.
The feeding speed, pelletizing speed, pellet size and so on can be adjusted according to your production needs. Our biomass pellets making machine is high efficient and reasonable price, pls rest assured to choose us.
Contact Address
Office Add: E-commerce Industrial Park, Zhengzhou City, Henan Province, China
Factory Add: Longhai 2nd Rd & 10th St, Longting District, Kaifeng City, Henan Province, China
Mail Address
enquiry@richipelletizer.com
Fax: 0086-371-63752859
Telephone
0086-158-37153047