Rice Husk pellet Machine
---
RICHI rice husk pellet machine is a new developed machine for large scale pellet production, which is innovated from ring die pellet mill. It is featured with high output and low consumption, low failture, is specially designed for process rice husk into compact high quality biomass pellets or feed pellets. And we can provide various ring dies so that you can adjust the size of the rice husk pellets according to your needs. If you are interested in making rice husk pellets, RICHI rice husk pellet making machine is definitely the best choice for you.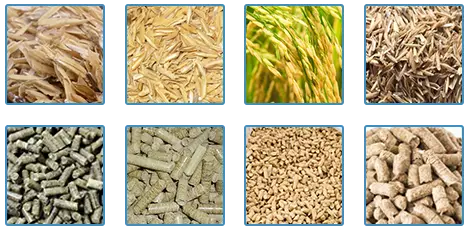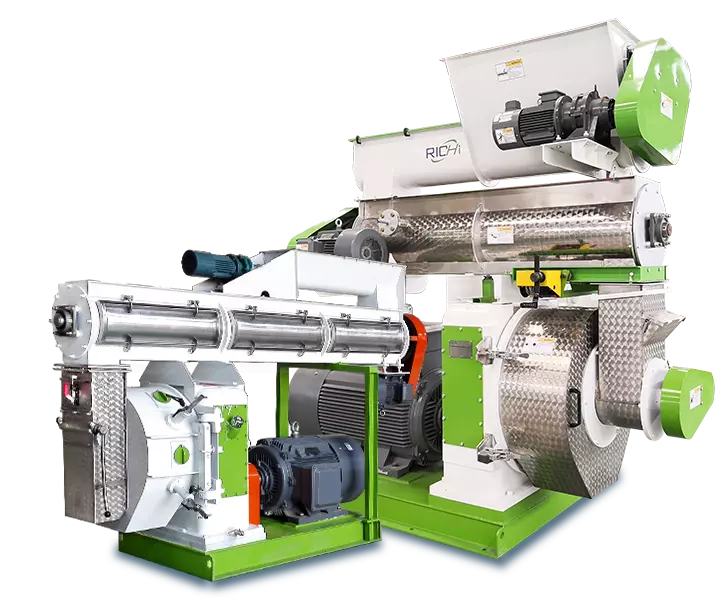 Introduction of Rice husk pellet machine
The rice husk pellet machine can use rice husk, straw, and wood chips as raw materials, made of biomass pellets that can be used as fuel, large market, small investment, wide raw materials, suitable for investment and entrepreneurship.

Rice husk pellet fuel because of clean environmental protection, and far lower than the price of coal, has a wide range of applications, including urban heating, heating and hotels, bathing, and other industries. It can replace wood, raw coal, liquefied gas, etc., and is widely used in domestic stoves, heating furnaces, hot water boilers, industrial boilers, biomass power plants, etc
Application of rice husk pellets
Nowadays, more and more people choose to join the rice husk pellet industry, because the raw materials for making rice husk pellets are abundant and cheap, and with the development of technology, the rice husk pellet machine can also efficiently and conveniently produce high-quality pellets. The most important thing is that the rice husk pellet machine has many uses and benefits. Here are some applications of rice husk pellets.
Rice husk for animal feed
Rice husk is rich in nutrients, can be made into feed for livestock consumption, the production of it and legume straw together with the addition of yeast, fibrinolytic enzymes and lactobacilli and other micro-substances for processing, processing of the feed obtained after the more suitable for animals to eat, but also allows animals to absorb the nutrients from the feed as soon as possible from the body's need for nutrients.
Make substrate
Compared with logs, wood pellets have lower moisture content, are firmer, and have greater density, which made pellets produce less ash and less smoke.
rice husk pellets Fuel
Rice husk is polished into 8mm pellet fuel by professional machine, chopstick thickness, cylindrical shape. It is cheaper and more environmentally friendly than peanut shells and wood pellet fuel.
rice husk pellet fertilizer
Usually rice husk is burned into rice husk ash fertilizer, and then laid on the pot surface of the plant pots, generally can enhance the plant's ability to resist the cold, improve the soil aeration as well as nutrient status.

The benefits of rice husk pellets are:
When rice husk is pressed into pellets, the bulk density is greatly increased, making it easy to transport and store in large quantities.
Rice husk pellets burn cleaner. Before being made into pellets, rice husk leaves 15-16% ash when burned. After pelletizing, the ash content is only about 6-7%.
The biomass rice husk pellets can be fully and efficiently burned with a calorific value of 3200-3500 calories, which is moderate and suitable for large boilers.

High-quality rice husk pellet machines make high-quality rice husk pellets
RICHI's Rice husk pellet machine Price
RICHI Machinery can provide various rice husk pellet machines for different production capacities, just tell us your needs, we will provide high-quality pelletizing equipment according to your needs. Many people are concerned about the rice husk pellet machine price, below are some displays of our various models of machines, and the price of each output is also attached below for your reference.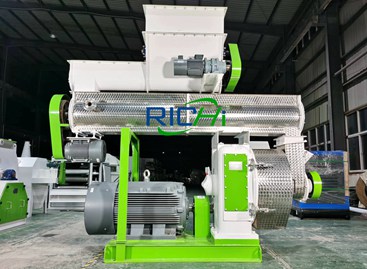 MZLH320 husk pellet machine
Reference Price:
$10,000-$20,000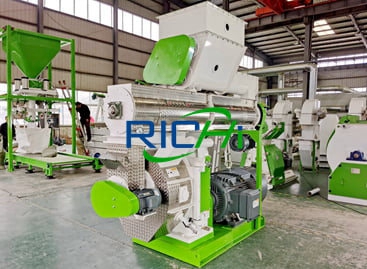 MZLH350 Rice husk pellet mill
Reference Price:
$20,000-$30,000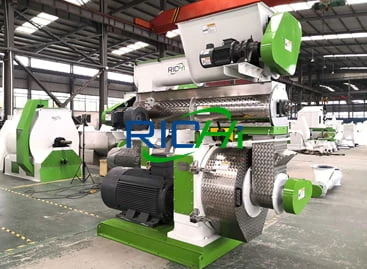 MZLH420 Rice bran pellet machine
Reference Price:
$30,000-$40,000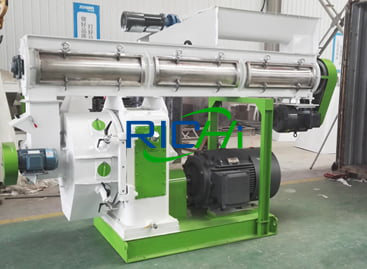 MZLH520 Rice husk pellet mill
Reference Price:
$40,000-$60,000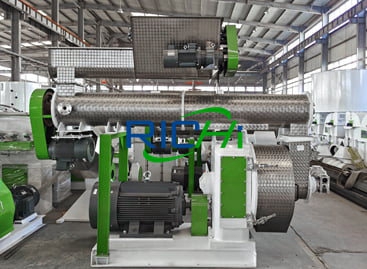 MZLH768 Rice husk Pellet Making Machine
Reference Price:
$50,000-$80,000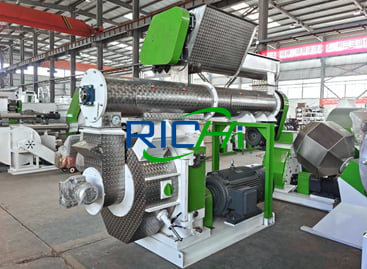 MZLH858 Rice husk pellet machine
Reference Price:
$60,000-$100,000
Specific parameters are as follows:
Model
MZLH320
MZLH350
MZLH420
MZLH520
MZLH768
MZLH858
Capacity(T/H)
0.3-0.4
0.5-0.7
1-1.2
2-2.5
2.5-4
3-4.5
Main Motor
Power(kw)
22
37
90
132
250
280
Main Motor Series
6/8P
Ring Die Diameter (mm)
320
350
420
520
762
858
Pellet Length(mm)
2-12
(Note: RICHI Machinery's products are always updated and improved. Therefore, if there is any difference between the pictures, feature descriptions and performance parameters of the actual model, please refer to the actual product.)
Features of rice husk pellet making machine
Reasonable structure, reliable manufacturing quality, simple structure, easy to operate, small size, occupies less space, labor-saving, electricity-saving features.
Full-automatic control of the electric heating device, can be randomly adjusted to the humidity and dryness of the material to ensure that the material molding stability, improve work efficiency.
The main parts of the wear-resistant materials by special treatment, so can be continuously pressed production, durable.
Change the three bearings of the old machine center to four, increase the stability and durability of the machine.
Change the old oil lubrication to oil-immersed lubrication, as long as there is no lack of oil, can be used for many years.
Increase the pitch of screw to increase the feeding volume, thus greatly improving the output.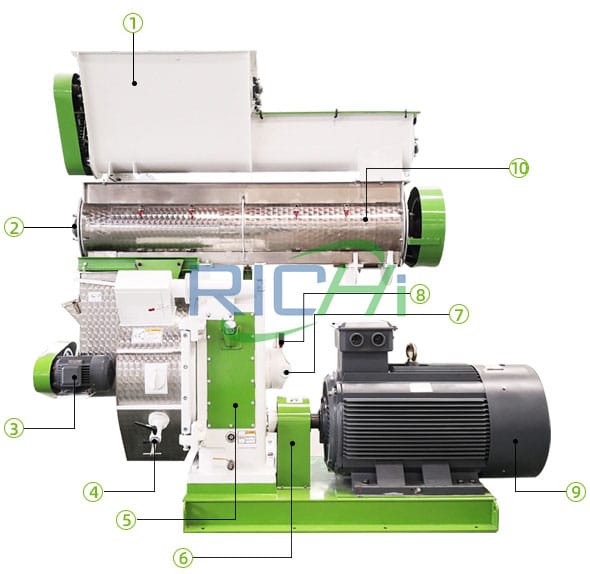 1. Feeder with anti-caking bins, ensure smooth and uniform feeding
2. SKF bearing
3. Forced feeder motor
4. Cutter assembly
5. Gearbox
6. Shaft coupling
7. Safety assembly
8. Limit Switch
9. Siemens motor
10. Stainless steel containers, long use time
What are the types of rice husk pellet making machine?
There are two types of common rice husk pellet mills: Ring die rice husk pellet making machines and flat die husk pellet machines.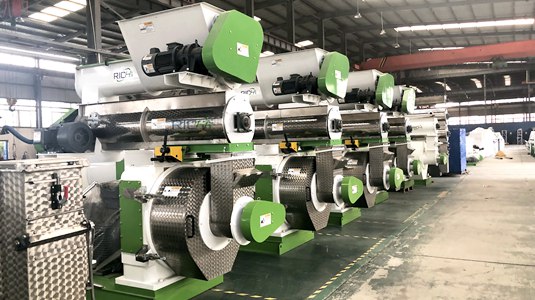 Ring Die rice husk Pellet Making Machine
Mainly composed of a feeder, conditioner, press rollers and ring die, discharge port, electric motor, gearbox, and pedestal.
Have a large volume and high capacity, suitable for factory use and large-scale production.
Production capacity: 1T/H-45T/H or more, customizable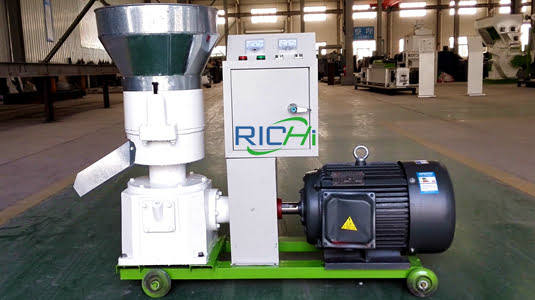 Flat Die rice husk pellet machine
Consists of a feed hopper, a discharge outlet, a spindle box, an electric control cabinet, an electric motor, an engine base, etc.
Have a lower capacity, suitable for home use and small-scale production.
Production capacity: Less than 1000KG/H
In addition, there are some differences in feeding methods and compression ratio between the two:
Feeding method: The flat die pellet mill enters the pressing chamber vertically by the weight of the material itself, and the ring die pellet machine adopts the curve feeding groove to roll compression feed, and rotates point-to-point into the compression bin at high speed to feed evenly.
Pellet smoothness and compression ratio: the ring die pellet machine's die roller clearance is usually 0.05~0.2mm, and the flat die's is usually 0.05~0.3, the ring die pellet machine's compression ratio has a larger adjustable range than the flat die pellet machine, and the pellet smoothness manufactured is better than the flat die's!
In general, if you have high requirements for the compression ratio and appearance of pelleting products, and the output is large, it is better to choose a ring die rice husk pellet mill.
Reasons to buy a Rice husk pellet making machine
Can solve the basic living energy in rural areas and improve the income of farmers.
It is an emerging special fuel for biomass power generation and can be directly used in traditional coal-fired boiler equipment in cities.
The straw pellets produced by rice husk pellet mill can replace the traditional coal.
The key parts of the template, pressure wheel using high-quality alloy steel materials, than the general manufacturers of biomass pellet machine life 5-7 times longer.
Reasonable compression ratio of the mold hole, so that sawdust, corn stalks, peanut shells, straw, cotton stalks, tree branches, edible fungi waste and other raw materials can be made into high-quality particles without adding water.
The pellets produced by rice husk pellet machine is the ideal product for straw gasifier, gas station, power plant, export and so on.
Simple structure, wide adaptability, small footprint, low noise.
Powdered feed and grass powder can be pelletized without or little liquid addition, so the moisture content of rice husk pellet is basically the moisture content of the material before pelletizing, which is more conducive to storage.
Dry material processing, the production of feed pellets with high hardness, smooth surface, internal maturation, can improve the digestion and absorption of nutrition.
Rice husk pellet machine turns rice husk into treasure bringing economic and social benefits to farmers.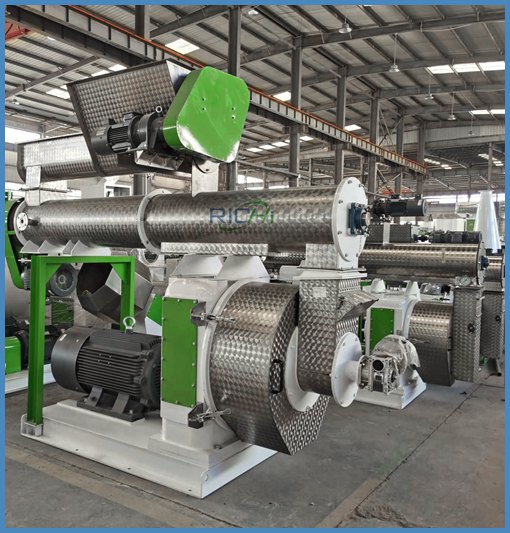 The Production process of rice husk pellet plant
The rice husk pellet plant mainly includes raw material crushing systems, drying systems, pelletizing systems, cooling systems, and packaging systems. Different raw materials and different production requirements will be configured in different procedures. RICHI can provide various biomass pellet plants according to your needs, and if you want to kown more details about it, you can see biomass pellet production line.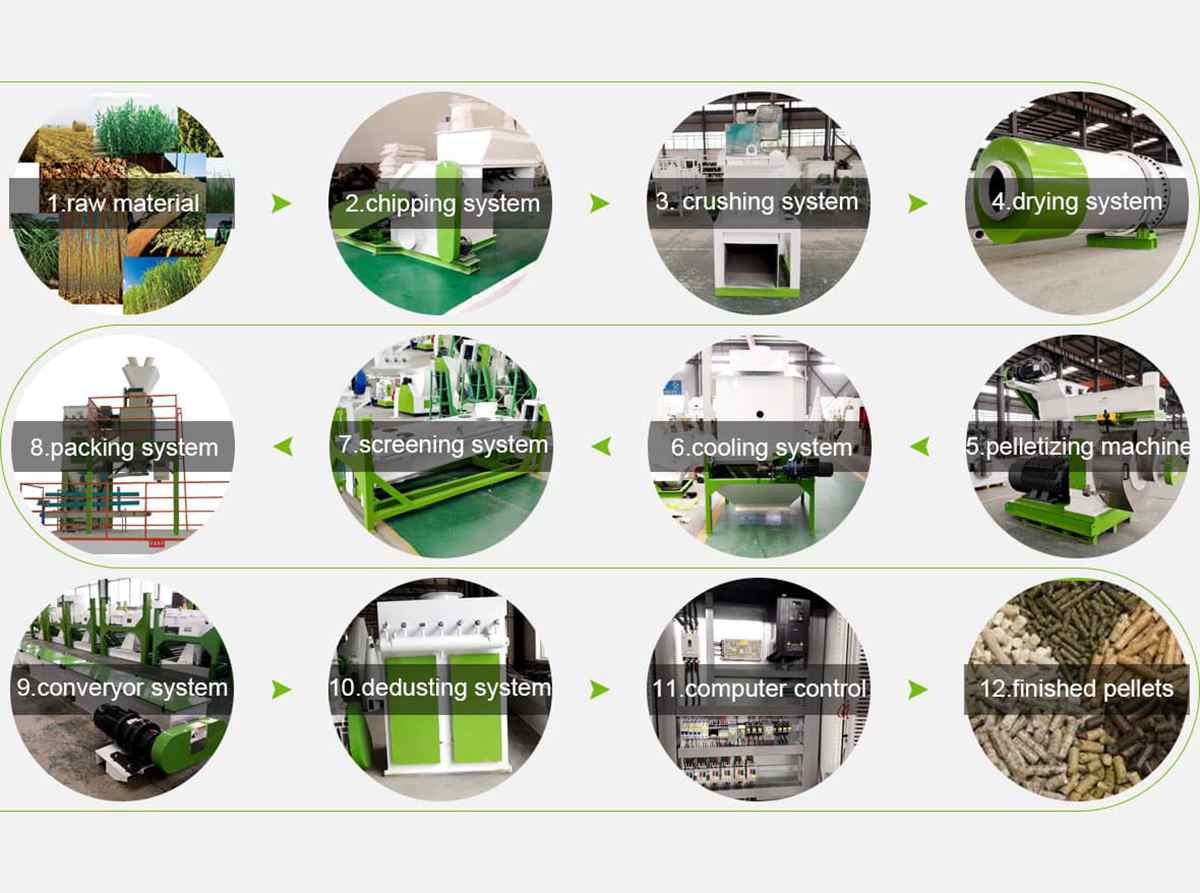 01

Crushing procedure
The water-drop hammer mill is the main equipment in this section. It can crush the raw materials to make it suitable to make pellets. You need to feed the raw materials into the hammer mill through conveying machine. Of course, if your raw material size is smaller than 5mm, then do not need the crushing section.
02

Drying procedure
The most suitable moisture content of raw materials for pelletizing is 13-15%, so if the raw materials' moisture is too high, you need a dryer to reduce the moisture content. Then RICHI rotary dryer is recommended to you, which can reduce the moisture of the raw material from 60% to 15% with high efficiency. If your raw material is already lower than 15%, you do not need the drying procedure. After crushing and drying, the prepared raw material is ready for pelletizing.
03

Pelletizing procedure
The rice husk pellet machine is the core equipment in the rice husk plant to make pellets, which directly determined the quality of rice husk pellets. It can compress the dry finely pulverized material and transform them into superior and smooth rice husk pellets. The final pellets are extruded from the die holes.
04

Cooling procedure
The freshly made rice husk pellets are very hot and soft and need to be cooled down, RICHI counterflow cooler is a good choice, which is vital for larger biomass pellet manufacturing operations.
05

Packaging procedure
When everything is ready the cooled biomass pellets can be bagged and stored in the necessary environment to maintain the condition and quality of the pellets —a dry and ventilated area!

Why choose RICHI Machinery?
Devoted to the pellet machinery industry for 27years
All products have passed ISO, CE, SGS, BV, and other international certifications.
Have a perfect sales system and a complete service network
Can customize a turnkey pellet production line project according to your need.
Project cases related to rice bran pellet machine
These are part of the engineering cases of the rice husk pellet mill that RICHI has done for your reference, if you want to know more production cases that RICHI Machinery has done, you can see project case!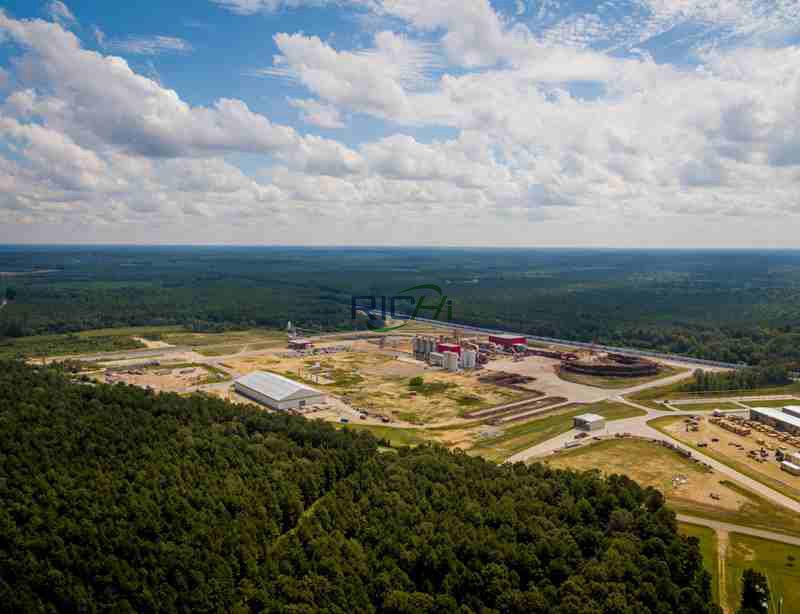 28t/H Wood Rice Husk Pellet Plant Project
Country:Anhui Province, China
Date:October 2020
Name:Wood rice husk pellet plant
Total Power:4314KW
The workshop size about this project:7500m²
Main Machines in thisline:High efficiency wood chipper, water-drop hammer mill, rice husk pellet mill for wood rice husk pellet making, rotary dryer, rice husk pellet cooling machine, automatic packing machine, conveying machine, pulse dust collectors, etc.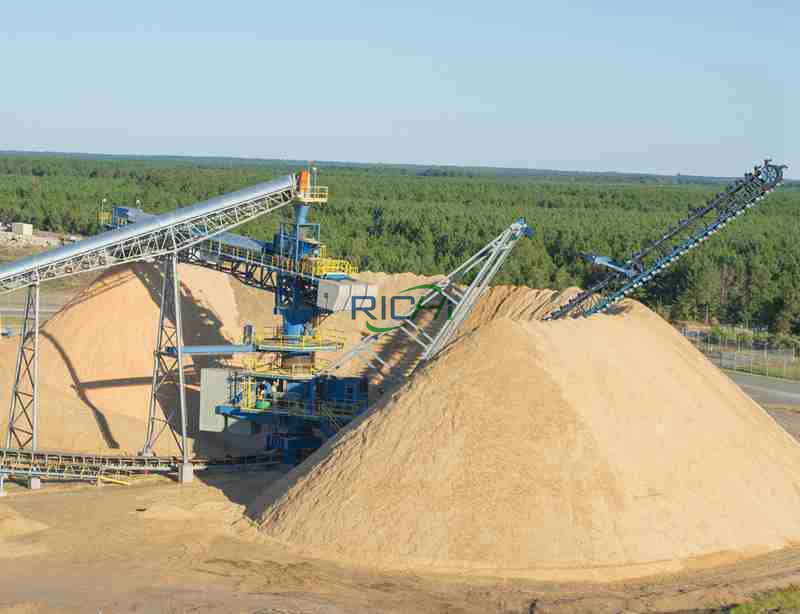 10 T/H automatic Biomass rice husk Pellet Plant
Country: USA
Date: September 2019
Name: rice husk pelletizing plant
Total Power:655KW
Workshop size about this project:16680m²
Main Machines in this line: high efficiency water-drop hammer mill, pulse dust collector, rotary dryer, Ring die commercial rice husk pellet making machine, pellet cooling machine, screening machine, automatic packing machine, sewing machine, etc.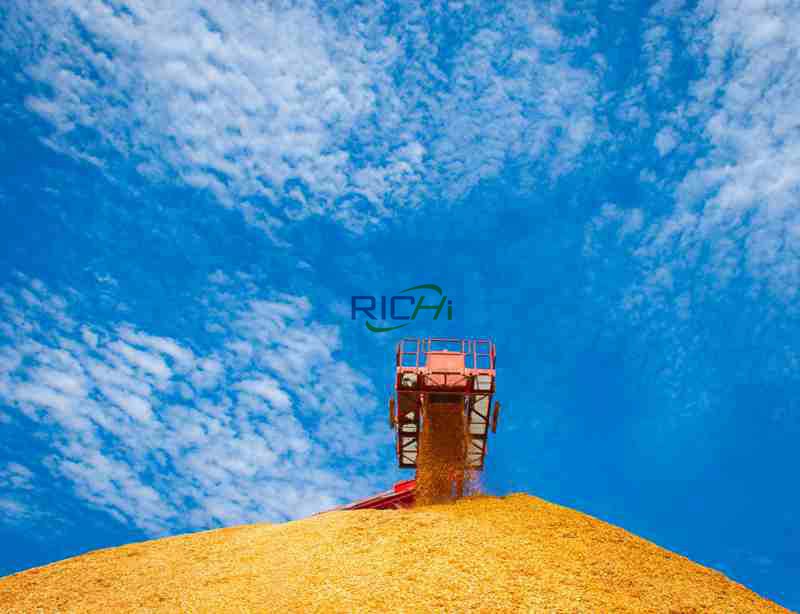 2-2.5tph Ce wood pellet making Line In Brazil
Country: Brazil
Date: 2021
Name: wood pellet making Line
Total Power: 426.18 KW
Workshop size about this project: 15M*19.5M*18M (L*W*H)
Main Machines in this line: Wood peeling machine, wood spliter, wood chipper, high quality hammer mill ,pulse dust collector, rotary dryer, industrial husk pellet machine, pellet cooling machine,etc.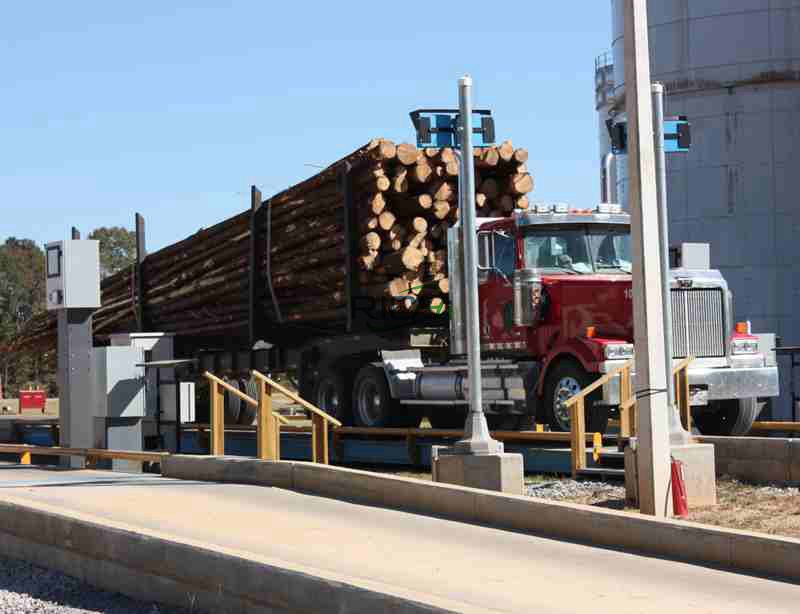 10 T/H Wood Pellet Manufacturing Plant In Mexico
Country: Mexico
Date: Sep,2018
Capacity: 10T/H
Total Power: 715KW
Workshop size about this project: 29m*24m*21m(L*W*H)
Main Machines in this line: hot selling wood crusher machine,biomass rotary dryer, high capacity wood chip pellet machine, wood pellet cooling machine, wood pellet packing machine and other auxiliary equipment.
FAQ about the rice husk pellet machine

What do you need to consider before buying a pellet machine?
5 things you need to confirm before buying a rice husk pellet machine:
In order to get a considerable return on your investment, we need to provide you with the most suitable biomass pellet mill and related supporting equipment, so please confirm the following 5 things:
What do you use as raw material?

Richi biomass pellet mill can process raw materials including but not limited to wood chips, straw, bamboo chips, rice husk, sawdust, peanut shells, bark, cotton stalks, straw, coconut shells, etc. But which one is your raw material?
What is the diameter and moisture content of your raw material respectively?

We are glad that we have confirmed your raw material type, its diameter and moisture content relates to the need of corresponding supporting equipment, so if the raw material's diameter is 2-5mm and the moisture content is less than 10%, we can make pellets directly, otherwise you need to equip the project with a crusher and a dryer. But you are not sure about these complex data either? Don't worry, just send us your raw material and we will provide you with a free test.
What is the price of the raw material?

You also need to investigate the prices of raw materials in your country or region. Prices vary greatly from region to region and this will directly affect the profitability later on, so it is a wise choice to investigate and choose a more profitable raw material.
What is the industrial AC voltage in your area?

The customized voltage will increase the investment cost, which we may not want to see, so you need to know the local industrial AC voltage first.
What is the purpose of your biomass pellets?

Sell the pellets directly or use them as fuel for other projects, which is your use? Tell us what you want to do and our professional engineers will recommend the most suitable machine and supporting equipment for you. Whether it is flat die pellet mill, ring die pellet mill or crushing, drying, cooling, packaging and other related equipment, just tell us what you think, and leave the rest to us!

Contact Address
Office Add: E-commerce Industrial Park, Zhengzhou City, Henan Province, China
Factory Add: Longhai 2nd Rd & 10th St, Longting District, Kaifeng City, Henan Province, China
Mail Address
enquiry@richipelletizer.com
Fax: 0086-371-63752859
Telephone
0086-158-37153047