Biomass Pellet Mill
---
Biomass pellet mill can process all kinds of biomass raw materials, such as wood chips, logs, sawdust,wood waste, branches, straw, grass, rice husk, etc.
Capacity: 0.6-10T/H
Main power: 37-280KW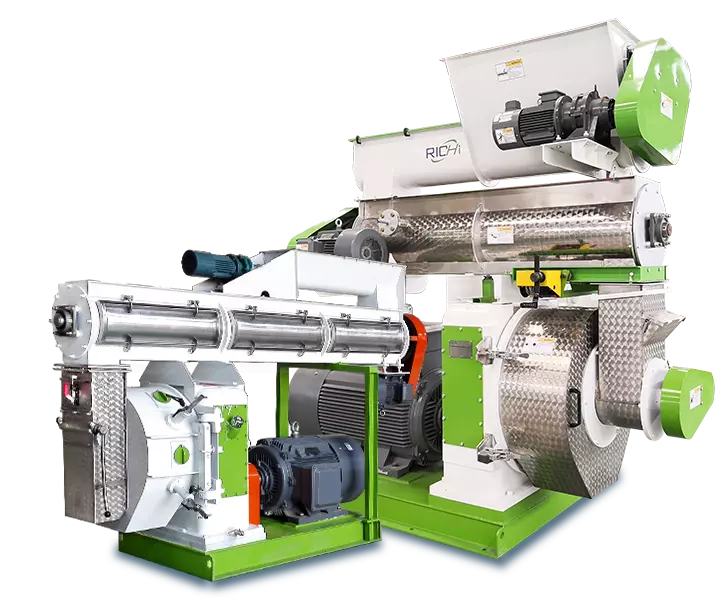 Video of Biomass pellet mill
This video shows you how biomass pellets are produced by a biomass pellet machine. This is a trial video of a customer we sold to South Africa. The raw material for the customer is straw. We customized the production line for the customer according to the customer's needs, the customer is very satisfied and it is currently running well.
Biomass pellet maker is the core equipment of biomass pellet production line, which directly determines the quality of biomass pellets. Therefore, it is crucial to choose a reliable and guaranteed biomass pellet equipment when making biomass pellets, which is why we recommend that you must shop around when choosing granulator manufacturers, and it is best to carry out field inspections to ensure the authenticity of manufacturers and the reliability of equipment quality.
RICHI Machinery is a manufacturer specializing in the production of pelletizer for many years, we not only provide customers with high-quality pelletizer equipment, but also help customers customize the production process according to customer needs, and provide customers with satisfactory pelletizing solutions. For nearly 30 years, we have served thousands of customers, helping them make their fortune in the pellet business industry. This is also the direction we have been committed to, that is, to provide customers with high-quality granulation production equipment, to help customers achieve wealth!

High quality niomass pellet mill make high-quality biomass pellets
Choose a high quality biomass pellet maker
Various capacities of RICHI Biomass Pellet mill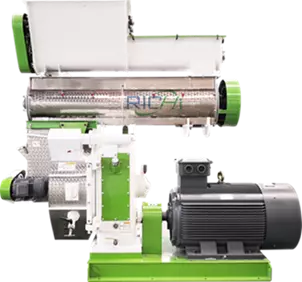 Biomass pellet mill is a new type of equipment for producing biomass fuel pellets, which is suitable for biomass fuel production in rural areas and is often used in biomass pellet production lines. It can crush crop stalks, corn cobs, wood chips and other biomass raw materials and then press them into pelletized fuel, which can save a lot of crop stalks and can also be used for heating and power generation in rural areas.
Biomass pelletizer can not only crush crop straw and wood chips and other biomass raw materials into granular fuel, but also wood chips and straw and other biomass raw materials can be used for power generation and heating. Because its fuel is more environmentally friendly, it is a good clean energy that can be used in rural areas with a very broad market space, so investing in biomass pellet production line is a good choice to get rich.
Below are the specific models of our biomass pelletizers and the parameter table.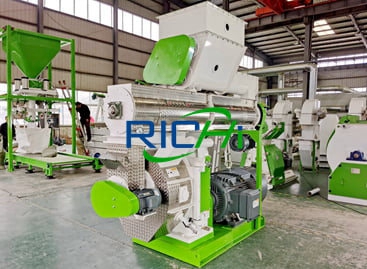 MZLH320 biomass pellet machine for sale
RICHI biomass pellet mill for sale is suitable for all kinds of biomass materials.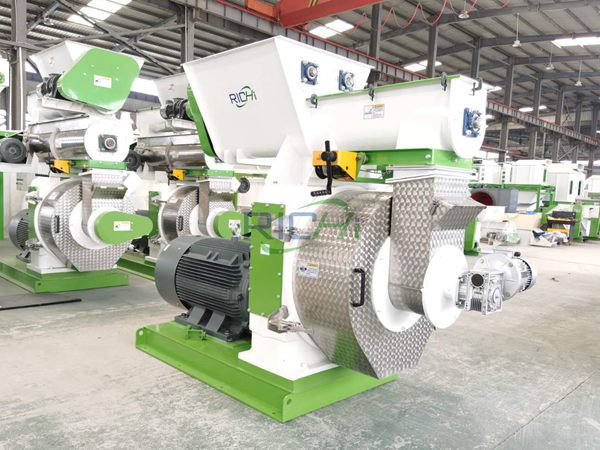 MZLH350 biomass pellet mill for sale
Our biomass pellet mill for sale adopt the most advanced technology, well loved by our cuctomers.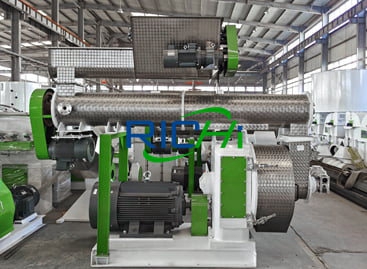 MZLH420 biomass pellet mill machine
The ring die pellet machine adopts stainless steel design, long service time.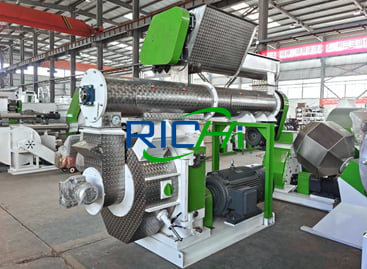 MZLH520 biomass pelletizer
The biomass pelletizer is widely used in biomass pellet production line with other pellet processing equipment.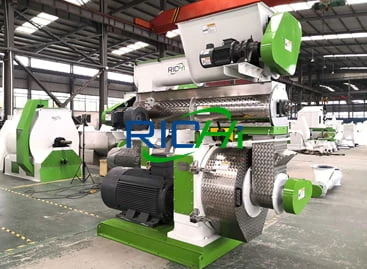 MZLH768 biomass pellet maker
The machine has the performance of novel structure, compactness, safety, low failure, etc.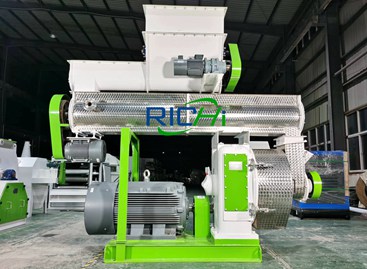 MZLH858 biomass pellet mill
The biomass pellet mill has the characteristic of high production capacity and low power consumption.
Specific parameters of RICHI biomass pellet machine are as follows:
Model
MZLH320
MZLH350
MZLH420
MZLH520
MZLH768
MZLH858
Capacity(T/H)
0.6-0.8
0.8-1.0
1.5-2.0
3.0-4.0
5.0-7.0
8.0-10
Anti-caking
Feeder Power(kw)
1.5
1.5
1.5
2.2
3
3
Forced
Feeder Power(kw)
0.55
0.55
0.55
0.75
1
1
Main Motor
Power(kw)
37
55
110
160
250
280
Weight(KG)
2500
3500
4000
4500
5000
5500
Main Motor Series
6/8P
Ring Die Diameter (mm)
320
350
420
520
762
858
Pellet Length(mm)
6-12
(Note: RICHI Machinery's products are always updated and improved. Therefore, if there is any difference between the pictures, feature descriptions and performance parameters of the actual model, please refer to the actual product.)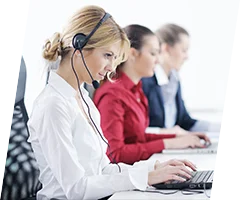 Can't find the biomass pellet mill equipment you want?
Contact us to customize for you
technical Features of Biomass pellet mill
The core step of making biomass pellets is preparing a high-quality biomass pellet maker. Here we recommend you RICHI high quality MZLH series biomass pelletizer of RICHI Machinery. Below is the features of the biomass pelletizer machine.
The main drive of the biomass pellets making machine adopts high-precision gear rotation, the efficiency is about 15% higher than that of the belt drive type, and the ring die adopts quick-discharge hoop type;
High quality imported bearings and oil seals are selected for the transmission part of the whole machine to ensure high efficiency, stability and low noise.
The international advanced level of compensation type snake spring coupling, with novel structure, compact, safe, low fault and other performance.
Spindle adopts forging material, long service life, stable and reliable quality;
There are a number of innovative designs on the ring die, which mainly solves the problem of the ring die cracking and effectively improves the output.
Automatic grease lubrication system, can realize automatic refueling without stopping, easy to operate;
Gearbox thin oil automatic circulation cooling system, effectively reduce gearbox oil temperature, extend the life of gear transmission components, make the main transmission more reliable;
Overload protection device to improve the service life of the equipment;
Arch breaking feeding device is used to avoid arch formation of materials;
The feeder, door cover and chute are made of stainless steel, durable;
Specially designed forced feeding structure, using spiral + blade mixed structure, make feeding more effective;
Forced feeding using worm gear reducer direct transmission, transmission efficiency is higher.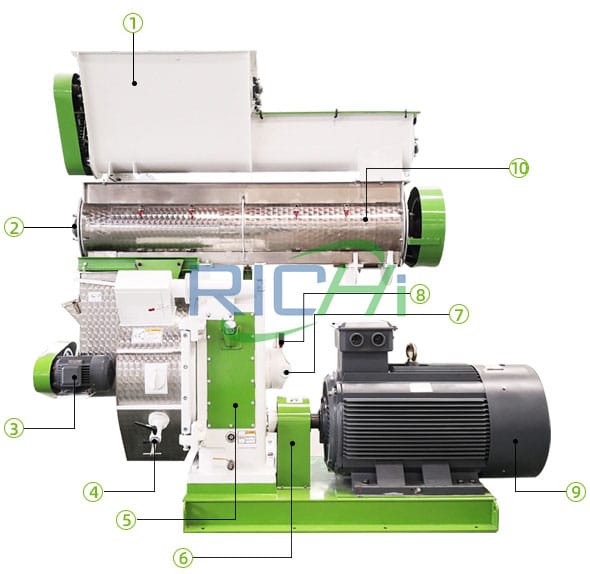 1. Feeder with anti-caking bins, ensure smooth and uniform feeding
2. SKF bearing
3. Forced feeder motor
4. Cutter assembly
5. Gearbox
6. Shaft coupling
7. Safety assembly
8. Limit Switch
9. Siemens motor
10. Stainless steel containers, long use time

Why choose RICHI Machinery?
Devoted to the pellet machinery industry for 27years
All products have passed ISO, CE, SGS, BV, and other international certifications.
Have a perfect sales system and a complete service network
Can customize a turnkey pellet production line project according to your need.
Project cases related to biomass pellet mill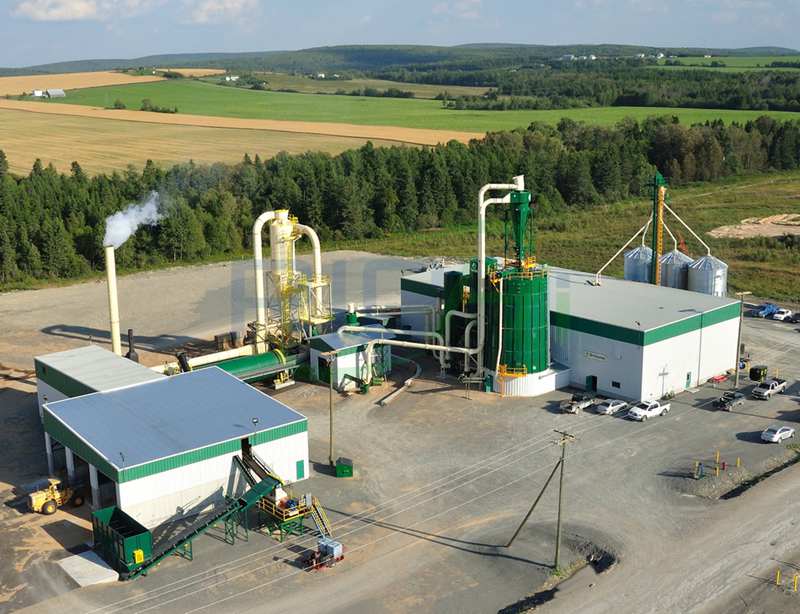 2-3T/H Biomass Pellet production Line In Canada
Country: Canada
Date: Aug 00th,2018
Name: biomass pellet production line
Capacity:2-3T/H
Total Power:385KW
Workshop size about this project: 26m20m12m(LWH)
Main equipment in this line:high efficiency wood chipper, wood crusher, shifter, rotary dryer for biomass pellet production line,storage bin, straw pellet mill, biomass pellet cooler, auto-packing machine and other auxiliary equipment
Main raw materials: 50% moisture wood chips , 50% moisture sawdust
Final biomass pellet size: 6-12mm
The install period: 60 Days
Number of installation engineers assisted by our company:1 person
The operate worker in this line:5-6 person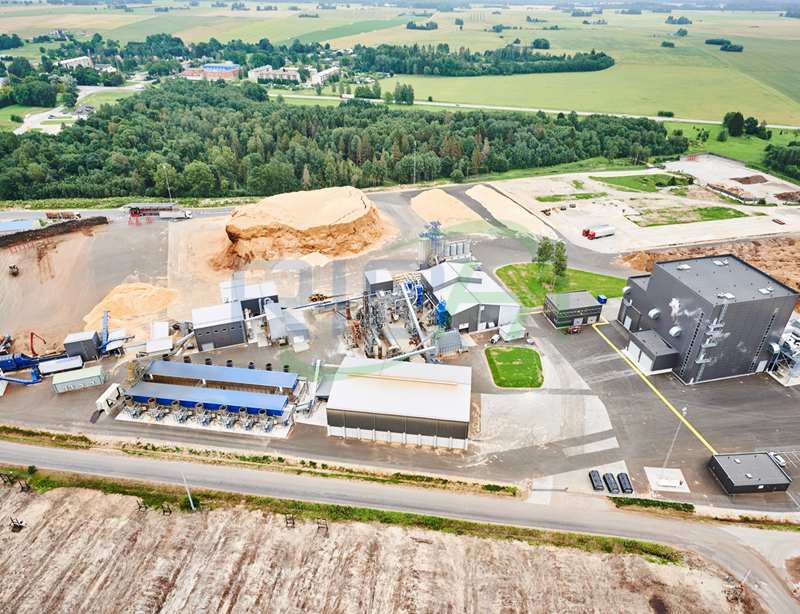 Turn-key 10TPH biomass pellet Making line In China
Country: China
Date: 2019
Name: Biomass pellet production line for wood straw waste
Capacity: 10T/H
Total Power: 1187kw
Workshop size about this project: 5333m²
Main equipment in this line:wood chipper machine, biomass materials hammer mill, biomass drying equipment, multifunctional biomass pellet machine, bucket elevator, screening machine, biomass pellet cooling machine, automatic bagging scale, etc.
Main raw materials: Wood log, wood sawdust, straw
Final biomass pellet size: 6-8mm
The install period: two months
The operate worker in this line:8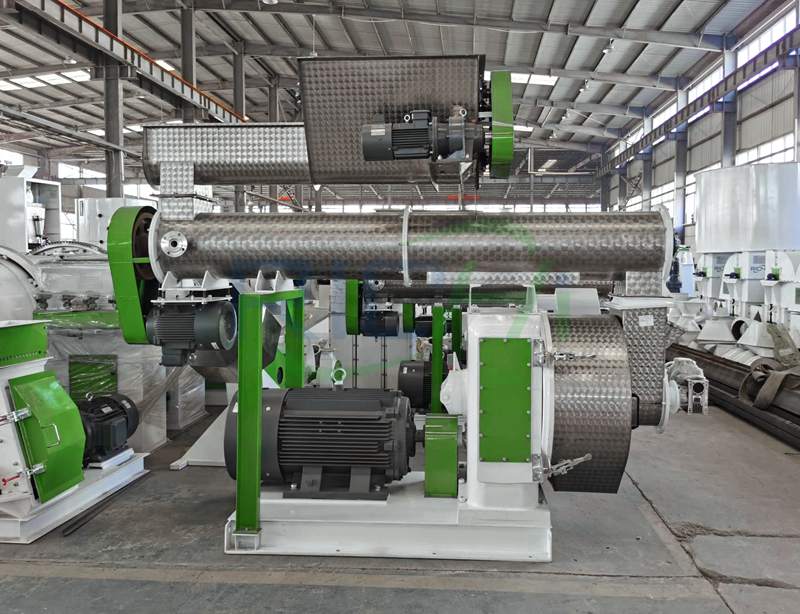 Country: Katar
Capacity: 3-5T/H
Guiding biomass pellet mill price: $50,000-$100,000
Date: January 16, 2020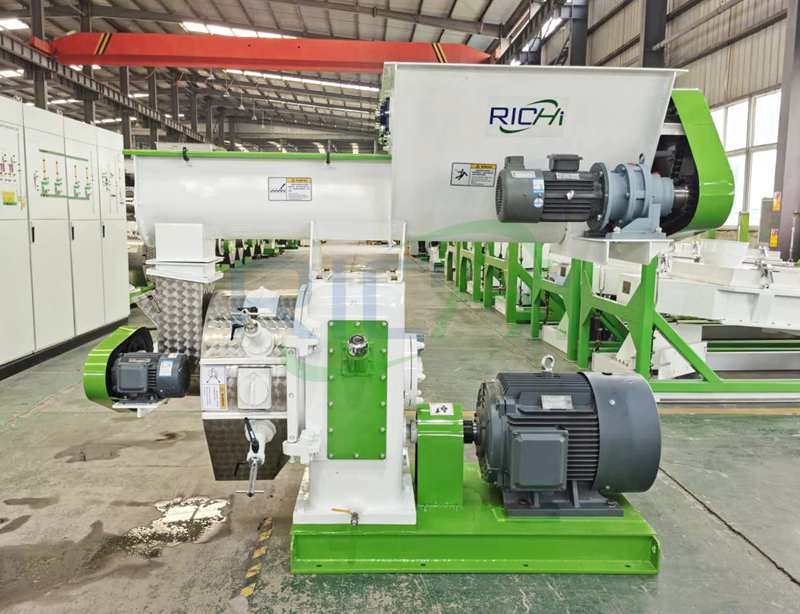 2-3T/H biomass pellet mill machine to Mexico
Name:520 biomass pellet machine
Country: Mexico
Capacity: 2-3T/H
Date: September 2, 2019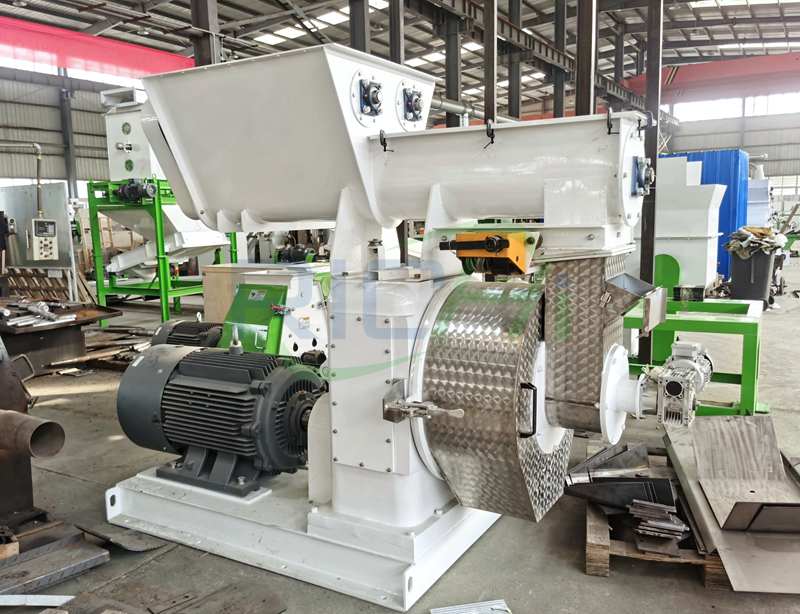 2-3 T/H biomass pelletizer
Country: Trinidad and Tobago
Capacity: 2-3T/H
Guiding biomass pellet mill price: $30,000-$50,000
Date: April 9, 2021

CUSTOM SOLUTIONS
—— GET A QUOTE ——
Accurate control of cost accounting, scientific calculation of expected profits, to achieve cost reduction and efficiency, profit can be expected.From equipment selection and program planning in the early stage
Quality Test Before Delivery
FAQ about the biomass pelelt mill

What are the suitable raw materials for biomass pellet mill?
There are many suitable raw materials for biomass pellet mill, almost all biomass raw materials are suitable for biomass pellet machine.
Crop stalks: such as corn stalks, soybean stalks, wheat stalks, rice stalks and so on.
Grass: All kinds of grass can be processed into biomass pellets. Such as alfalfa grass, hay, giant king grass, etc.
Wood: logs, furniture factory waste boards, wood chips, shavings, sawdust, construction logging waste and other wood raw materials can be used as biomass raw materials for biomass pellet maker processing.
Bamboo chips: chopsticks, toothpick factory and other bamboo products waste.
Others: rice husk, peanut shell, coconut shell, cow dung, chicken manure, palm shell and so on.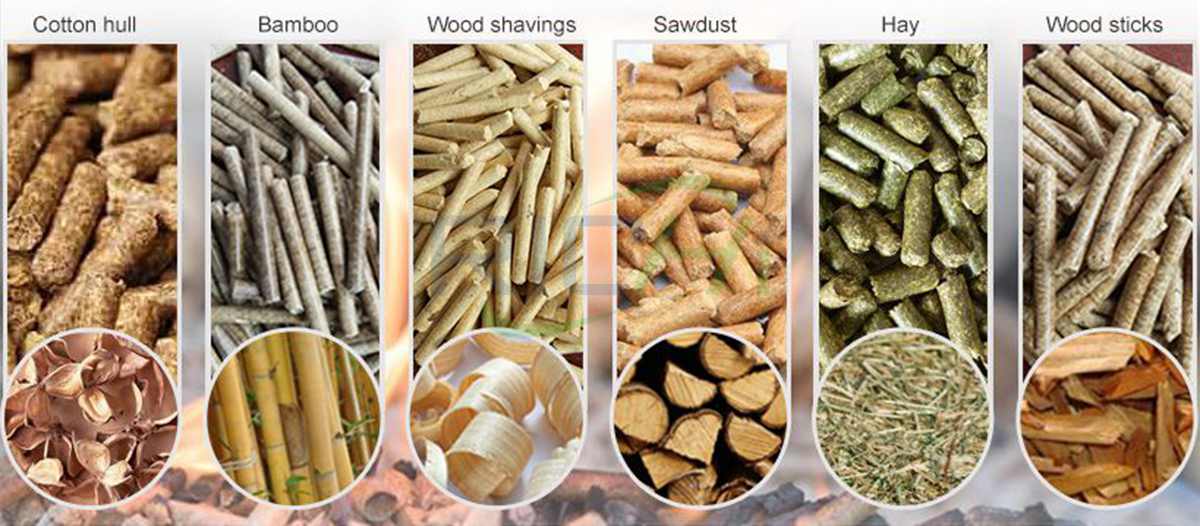 How does biomass pelletizer work?
Here we are mainly talking about the ring die biomass pellet maker, which mainly consists of stainless steel feeder, conditioner, pelletizing chamber and motor.
The processed biomass raw material enters into the conditioner through the frequency conversion feeder, whether the conditioner is equipped or not depends on the demand of your pellet production. If it is used for biomass pellet combustion, it does not need to be equipped with a conditioner. If it is used for animal feed like processing alfalfa grass pellets, then it can be equipped with a conditioner. The role of the conditioner is mainly to pass into the steam, so that the material becomes cooked, the starch in the material is gelatinizated, more conducive to animal digestion and absorption. Biomass raw materials are converted into biomass pellets in the pelletizing room, which is mainly composed of the main motor, transmission organization, cutter, stainless steel ring die and pressure rollers, etc. The main working principle is that the biomass raw materials are converted into biomass pellets in the pelletizing room.
The main working principle is that the biomass raw material in the ring die and pressure roller under the extrusion, biomass materials, the internal void rate is reduced, with the gradual increase in pressure, biomass particles rupture into more tiny pellets, the pellets gradually filled with voids, the pellets between the combination of the more solid, the material is converted into biomass pellets.

What are the requirements of biomass pellet mill machine on raw materials
We all know that the biomass pellet mill can process all kinds of biomass raw materials into multifunctional biomass pellets, so what are the requirements of the pellet mill on raw materials are you clear? The following is my summary of some of the requirements of the pellet machine on raw materials, hope it will help you.
moisture content
Different production needs have different requirements for raw materials. Pellet machine for different raw materials also have different moisture requirements, usually the moisture content of raw materials to maintain 12% -18% range is more appropriate, the best moisture content of 15%. The moisture content should not be too high or too low, which will affect the pelletizing effect. If your raw material is 50% moisture content in the straw, then we suggest that you can be equipped with a drying machine to dry the material and then pelletizing.
raw material size
In addition to the moisture content, the biomass pellet maker also has strict requirements on the size of the raw material. First of all, because too large size of the raw material is not easy to enter the pelletizing chamber, and the size is too large will be easy to block the mold hole, affecting the normal work of the pelletizing machine.
So the size of biomass raw materials should not exceed the diameter of the mold hole. The larger the size of the raw material, the density of the molded particles will gradually decrease, when the size of the raw material is greater than 10mm, the molding effect is very poor, or even not molded. But the raw material particle size is too small will also affect the density of pellets. It is generally recommended that the raw materials in the crushing before sent to the pulverizer for crushing, crushing to the size of 2-3mm size, and then into the granulator for granulation.
raw material components
Biomass pellet mill is not only a kind of wood chips to make pellets, can also be mixed with other varieties of wood chips or coarse fiber wood chips, can also be mixed with crop straw, husk, peanut shells, straw and so on. But mixing other materials may have some effect on the quality of the generated biomass pellets. Raw materials must not be mixed with iron, stone and other hard objects, otherwise the equipment will be damaged. So before the material enters into the pelletizer, it can be cleaned and screened by the cleaning equipment such as pre-cleaner, permanent magnetic cylinder and so on.

Contact Address
Office Add: E-commerce Industrial Park, Zhengzhou City, Henan Province, China
Factory Add: Longhai 2nd Rd & 10th St, Longting District, Kaifeng City, Henan Province, China
Mail Address
enquiry@richipelletizer.com
Fax: 0086-371-63752859
Telephone
0086-158-37153047