Feed Pellet Line
---
The feed pellet line can process various animal feed pellets, such as cattle feed pellets, chicken feed pellets, rabbit feed pellets, pig feed pellets, etc. The line mainly consists of feed hammer mill, feed mixer, feed pellet machine, feed pellet cooling machine, feed pellet packaging machine. If you want to buy a feed pellet production line, this article will tell you what is a feed pellet line and give you advice on how to build a feed pellet line. Just let's have a look!
What is a feed pellet line?
Feed pellet line is a fully complete feed pellet production line for producing animal feed pellets like cattle feed pellets, chicken feed pellets, rabbit feed pellets etc. The feed pellet production line can produce 2-12mm of animal feed pellets, the production capacity is 0.5-40T/H. The complete set of feed pellet line is widely used in small, medium and large size of animal feed plant and animal farms.
The pellet line can be customized according to your animal feed kinds and production capacities. For example, if the animal you feed is cattle or you want to build a cattle feed pellet plant, the output is 3-5tons per hour, then you can choose to buy a 3-5t/h cattle feed pellet line. What more, the composition and configuration of the pellet line is also customizable.
Due to the rapid development of feed pellet machinery industry in recent years, more and more people who want join the pellet making business choose to buy a pellet line to produce feed pellets efficiently. Another reason for more and more people choose to join the pellet making business is the traditional powdered
feed can no longer meet the animals' demand for feed. Powdered feed is easily graded, resulting in wasted feed and unbalanced nutrition. Moreover, powdered feed is very difficult to carry, transport and store, occupying a large space. While the feed pellet can be said to be a product that completely overcomes the disadvantages of powdered feed. Feed pellets are more nutritious, easier to digest and easier to store and transport.
What capacity of feed pellet lines we can design?
RICHI can design feed pellet production lines of different production capacities for various animals. The following is the capacity of animal feed production lines we can design.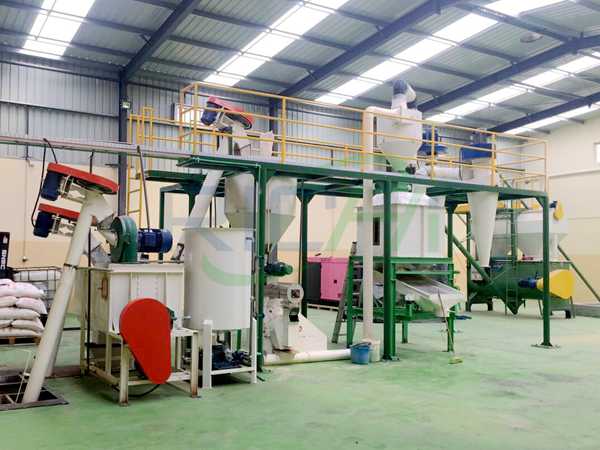 0.5-2T/H
Chicken feed production line is a fully complete pellet line from raw materials preparation to chicken feed pellets packaging.
This line can make various chicken feed pellets, such as hen feed pellets, broiler feed pellets and etc. The pellet line is widely used for chicken farms and chicken feed pellet plant for any type of scales.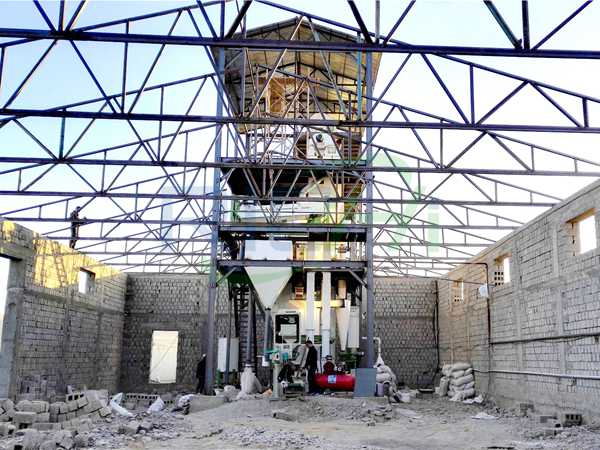 2-3T/H
Cattle feed pellet plant
Cattle feed pellet plant can make cattle feed pellets, which is mainly composed of cattle feed pellet machine, feed mixer, feed mill, conveyor, feed cooler, baler and so on.
Besides cattle feed, it can also be used to make all kinds of feed pellets, such as chicken feed pellets, duck feed pellets, sheep feed pellets and so on. The length and diameter of feed pellets can be adjusted.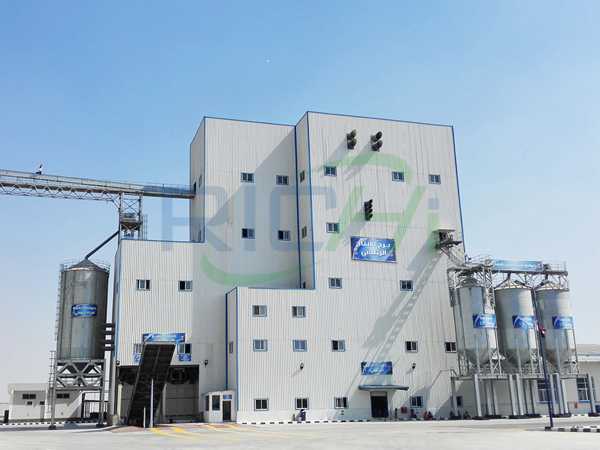 3-5T/H
Fish feed production line is a complete aquatic feed processing system, which can make fish feed pellets from corn, maize, fish meal, soybean meal , and etc with capacity of 1-20T/H.
The pellet line has a wide range of of applications, which can not only make various fish feed pellets, such as goldfish feed pellets, catfish feed pellets, tropical feed pellets, and so on, but also can make other aquatoc feed pelles like shrimp feed pellets and crab feed pellets and pet feed pellets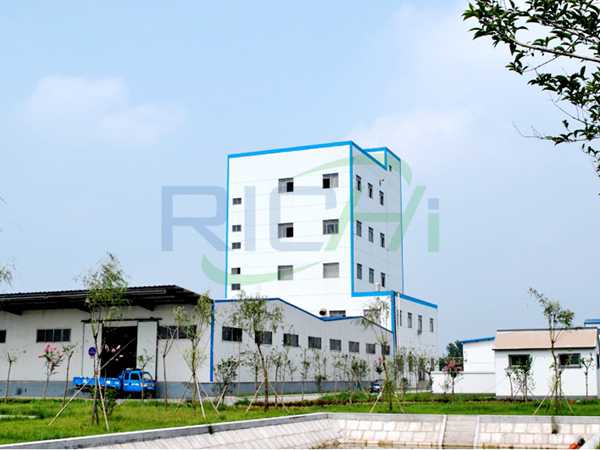 5-10T/H
The shrimp feed plant mainly consists of first crushing, batching and mixing, secondary crushing, mixing, pelletizing, cooling, screening and packaging.
The main pelletizing equipment of this line is shrimp feed machine equipped with three-layer conditioner, which can last long conditioning time and make the feed materials totally cooked and matured.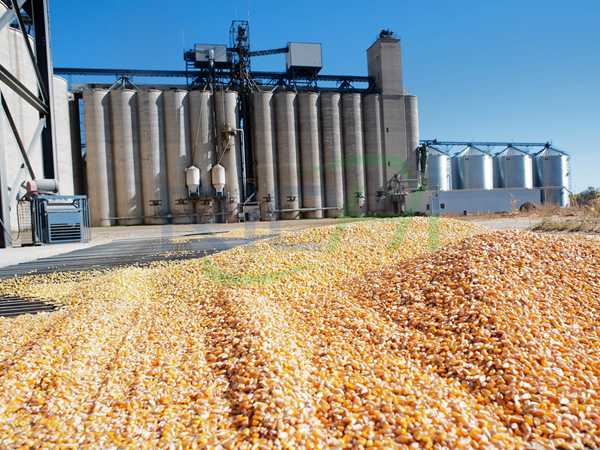 10-20T/H
Pig feed pellet plant mainly used to produce pig feed pellets eith output of 1-40T/H.
The pellet line can process corn, soybean meal, wheat bran, fish meal, wheat, etc. into high quality pig feed pellets.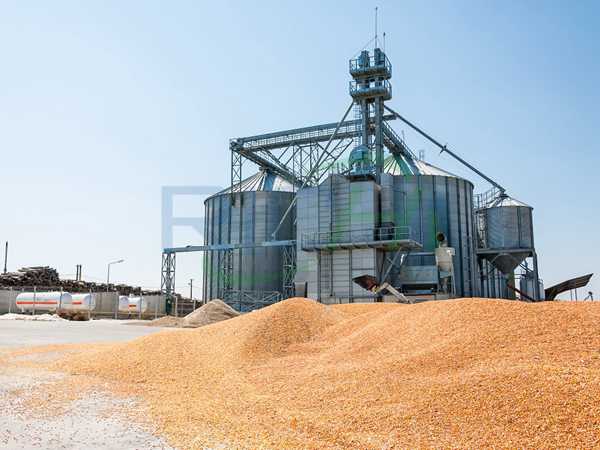 20-40T/H
Poultry feed plant
Poultry feed plant is also called poultry feed production line, which consists of raw materials crushing, mixing, pelletizing, crumbling, cooling, pellet screening and poultry feed pellet packging.
The pellet line has the characteristic of high efficiency, low power consumption, is a ideal choice who want to join the poultry feed pellet making business.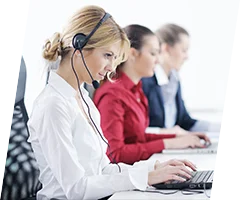 Can't find the pellet feed plant line you want?
Contact us to customize for you
Production process of the feed pellet line
There are various kinds of feed pellet plant lines various from the production process, output, configuration, etc. Next, I will take the general animal feed pellet production line process as an example to explain to you. If you have definite production requirements, you can leave your contact information and tell us your need, then we will customize a pelletizing solution for you.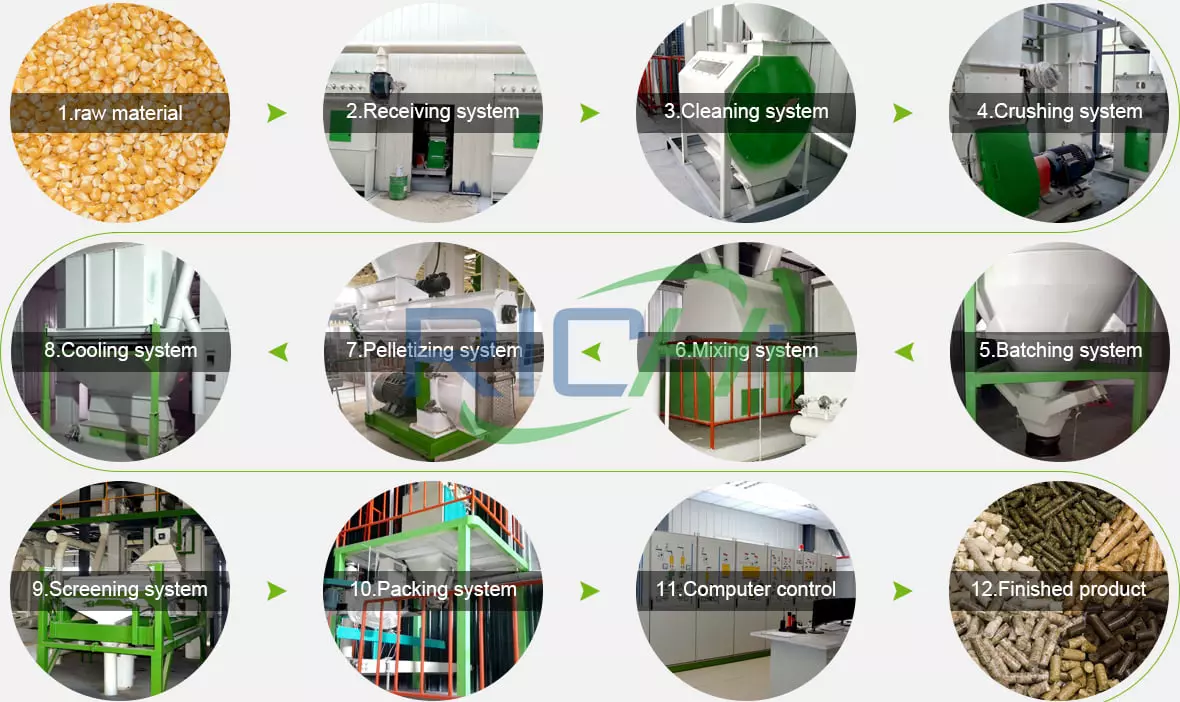 01

Crushing section
First of all, it is necessary to crush the food materials which are prepared according to the formula. This can ensure the pelletizing effect of the pelletizer, and at the same time can make the raw materials easier to digest and absorb by the animals. Our crusher is equipped with frequency conversion feeder, you can adjust the crushing speed according to your needs. Different animal feed on the material crushing fineness requirements are not the same, such as shrimp feed on the raw material crushing fineness is relatively high, need to be equipped with two crushing process. While the general livestock and poultry feed on the fineness of the raw material crushing requirements are not so high, only need to be equipped with a crushing process is enough.
02

Mixing section
After crushing, we need a feed mixer to mix the crushed raw materials evenly. It can make the made feed pellets nutritionally balanced, and promote the healthy growth of animals.
03

Pelleting section
After mixing, it comes to the most critical step—pelleting. Pelleting machine is the key equipment of the feed production line, which directly determines the output of the production line and the quality of the pellets. Therefore, the equipment selection and operation of this step must be emphasized.
04

Cooling section
The just-made feed pellets temperature and humidity are very high, can not be immediately bagged, easy to cause pellets cracked and easy to go bad. Therefore, it is necessary to utilize the cooling machine to cool the feed pellets to room temperature before packing.
05

Packing section
After cooling, customers can choose packing method according to their needs. Most customers choose to use automatic packing machine to pack the feed pellets in bags.
How to build a feed pellet production line
In short, building a feed pellet production line requires:
Prepare adequate raw material supplies and have a place to store them.
Locate your plant and design the layout.
Design the production process according to the production needs
Purchase feed processing equipment and recruit employees as required
Packaging and marketing of ready-made feed pellets

Preparation of raw materials
First of all, having enough raw materials is the basis for making feed pellets. It depends on your production needs and recipe as to prepare raw materials, if you don't know how to determine your raw materials, you can tell us the type of feed pellets you intend to produce and we can give you professional advice.
Locate the plant
The area of the plant needs to be able to meet your production needs. Including raw material warehouse, production workshop, finished product workshop and so on. The layout of the plant should be as compact as possible to save floor space.
Design the production process
The design of the production process needs to be based on your plant and your production needs. The layout of the equipment should be reasonably arranged according to the layout of the plant, to ensure that the operators operate and maintain conveniently. Reasonable feed production process design is essential to improve the efficiency of the production line and control your costs, RICHI Machinery as a professional machinery production equipment manufacturers, has nearly 30 years of experience in the industry, according to your needs and the actual situation of your customized production process and plant layout, and provide professional technical support and advice. If you have any needs or questions, please leave us a message.
Buy Feed Processing Equipment
To build a feed pellet production line, you need to buy pelletizing equipment: crusher, mixer, pelletizer, cooler, packaging machine and other auxiliary equipment. The specific equipment depends on your production needs.
Recruitment
After building the production line, you can determine the number of plant operators according to the size of the production line. Generally speaking a 1-2T/H feed production line only needs 2 people.
Packaging and selling feed pellets
After making feed pellets, you can develop your customers and suppliers and sell your feed pellets.

Why choose RICHI Machinery?
Devoted to the pellet machinery industry for 27years
All products have passed ISO, CE, SGS, BV, and other international certifications.
Have a perfect sales system and a complete service network
Can customize a turnkey pellet production line project according to your need.
Project cases of feed pellet production line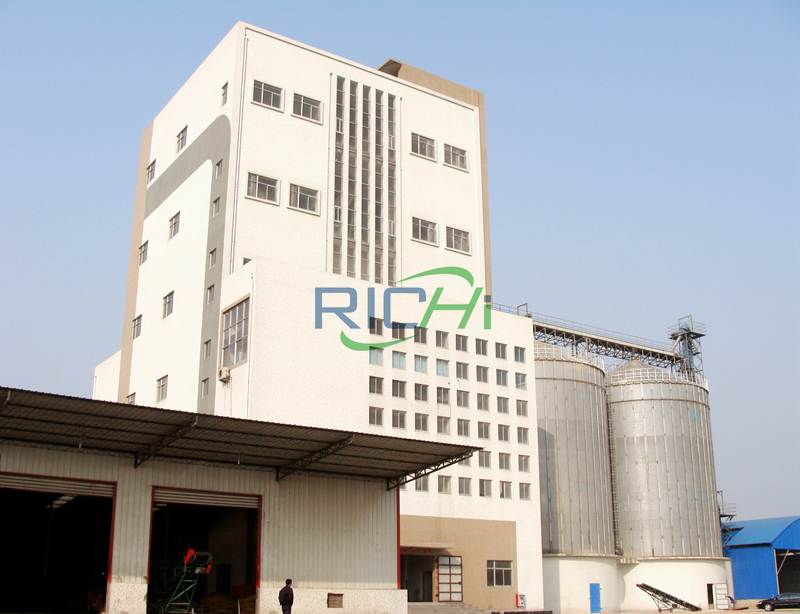 16t/h animal feed pellet line in china
Country: China
Date:June 2016
Capacity: 16T/H
Total Power: 805KW
Workshop size about this project: 20000m²
Main Raw material: corn, soybean meal, bran and fish meal, salt, soda, soybean skip, cotton meal, etc.
Final Feed Pellet Size:3-8 mm
The install period: two months
The operate worker in this line: 8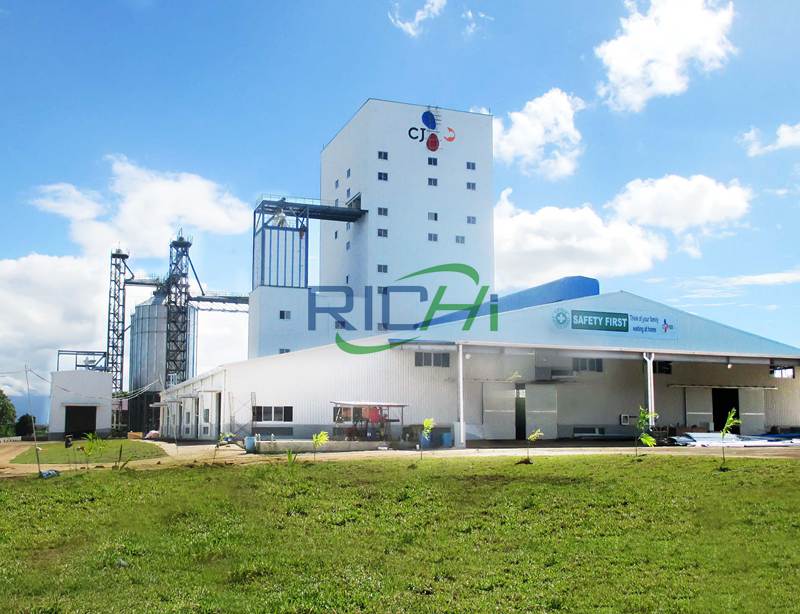 3-5T/H Ruminant Animal Feed Pellet Line In Indonesia
Country: Indonesia
Date: April 9th,2018
Capacity: 3-5T/H
Total Power: 305KW
Workshop size about this project: 10m*5m*12m (L*W*H)
Main Raw materials: Straw, Alfalfa, Husk, corn, soybean meal
Final Feed Pellet Size: 6-12mm ruminant feed pellet
The install period: 30 Days
Number of installation engineers assisted by our company: 2 person
The operate worker in this line: 4 person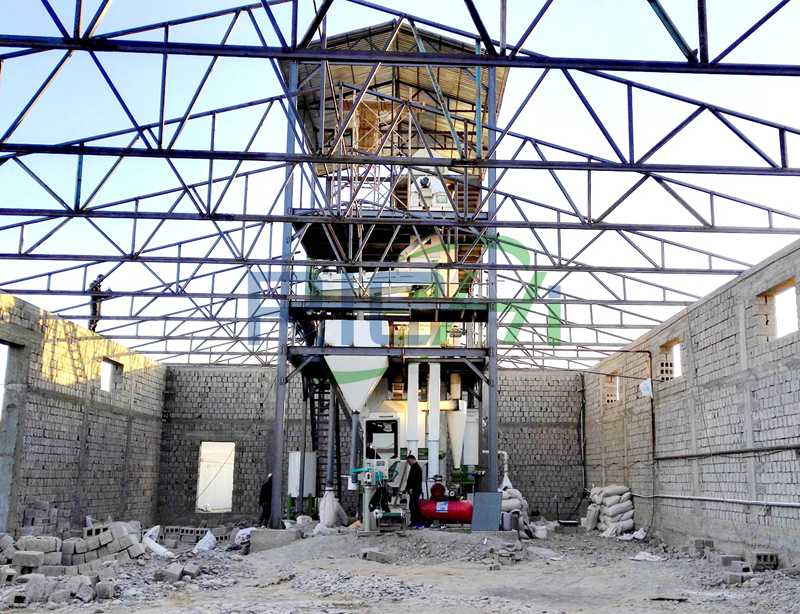 3-5T/H feed pellet line in Uzbekistan
Country: Uzbekistan
Date: Oct 13th,2015
Capacity: 3-5T/H
Total Power: 110KW
Workshop size about this project: 9m*5m*13m (L*W*H)
Main Raw materials: Corn, wheat, Soybean Meal, and other Grain.
Final Feed Pellet Size: powder feed and 3mm, 4mm pellet feed
The install period: 30 Days
Number of installation engineers assisted by our company: 2 person
The operate worker in this line: 5-6 person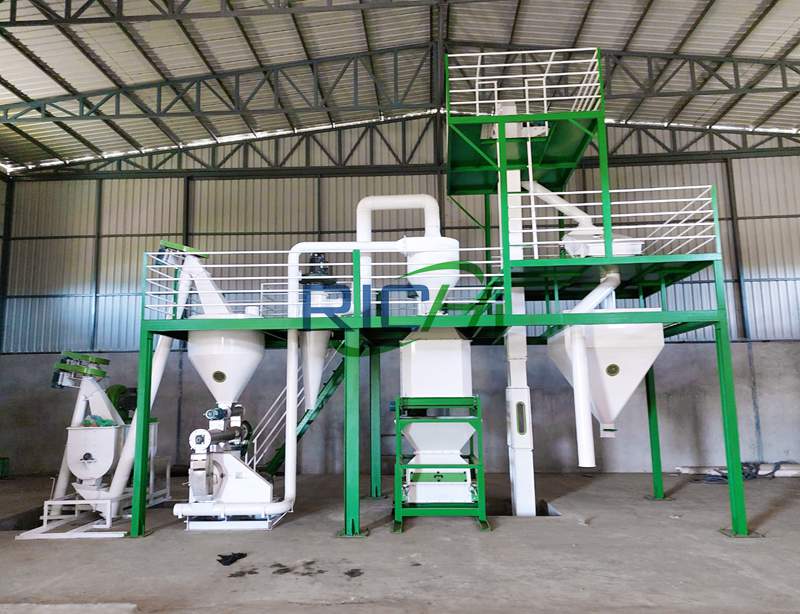 1-2 T/H Chicken Feed pellet Making Line Project In Uzbekistan
Country: Uzbekistan
Date: April 2021
Capacity: 1-2TPH
Total Power: 52KW
Workshop size about this project: 6m*4m*5.5m (L*W*H)
Main Raw materials: Corn, wheat,Soybean Meal, and other Grain.
Customer's Feed Pellet Size: Powder feed
The install period: 30 days
Number of installation engineers assisted by our company: 2 person
The operate worker in this line: 2 person
Contact Address
Office Add: E-commerce Industrial Park, Zhengzhou City, Henan Province, China
Factory Add: Longhai 2nd Rd & 10th St, Longting District, Kaifeng City, Henan Province, China
Mail Address
enquiry@richipelletizer.com
Fax: 0086-371-63752859
Telephone
0086-158-37153047